Neighborhoods battle absentee landlords (part 1 of 2)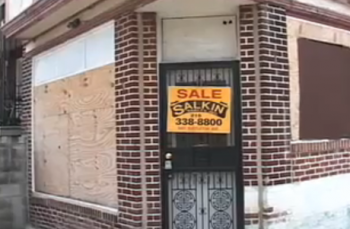 In this two–part series, we examine the effects absentee landlords have on neighborhoods, and what residents are doing to fight them. In the first part, we hear from Mayfair residents.
During their patrols as Mayfair Town Watch President and Vice President, John Vearling and Len Roberts heard the same complaints from residents over and over again.
The owner of this property did not shovel his sidewalk when it snowed. This owner failed to maintain the lawn. The renters in this household would not put their trash outside at the proper time on the proper night. The sound of barking dogs and blasting music that came from this apartment never ceased, day or night.
Roberts said the gripes escalated as time passed. Some neighbors told him that certain properties on Cottman Avenue were known drug houses. Vearling heard from others that residents would move out in the middle of the night.
Eventually, Vearling, Roberts and rest of the Mayfair community found the common denominator among these problem properties – all were owned by offsite, absentee landlords. A quick examination of the 3200-block of Cottman Avenue, for instance, reveals seven properties that are owned by individuals in New York. Two properties on the 4500-block of Bleigh Avenue and two properties on the 4000-block of Aldine Street have owners with permanent addresses in northern New Jersey and New York, as well.
"When blocks aren't 100 percent owner-occupied, it can disrupt the harmony of the block," Mayfair Civic Association President Joe DeFelice said. "I don't want to begrudge people their investments, but I don't want to see it at the expense of the community if the properties are not maintained or rented to respectable individuals."
Mayfair community leaders agreed that residents began mentioning offsite, absentee landlords to them about 10 years ago around the beginning of the 2000s. They disagreed, however, on the reasons why absentee landlords began appearing in their specific neighborhood.
DeFelice said he believes the sheer affordability of housing in Mayfair, and the Lower Northeast in general, drew prospective owners. He estimated that a 1,500-square-foot row home in New York would cost about $450,000 compared to about $100,000 to $120,000 in Mayfair.
Vearling and Roberts said another rumor they have heard is that many northern New Jersey and New York residents bought properties in Mayfair and the Lower Northeast after Sept. 11 in case of another terrorist attack.
The process, Roberts said, begins when older, longtime residents die and leave their houses to their children. Those children, Roberts added, may not want or need the properties because they already own homes or do not want to live in Philadelphia, so they place the homes up for sale. That is when the offsite, absentee landlords enter the equation. They buy the properties and then split up the duplexes or triplexes into multiple apartments.
Sometimes, Mayfair Zoning Commissioner Chris Vogler said, offsite, absentee landlords honestly do not realize that their renters are causing problems in the community. That, Vogler said, is because they do not follow up on their renters or keep a close eye on their investments.
Regardless of whether or not the landlords are aware of the situation, Vearling said that once one property falls into disrepair on a block, other properties quickly go up for sale in what he called "the domino effect."
In the video, Lawncrest residents share their thoughts on absentee landlords — similar to those of Mayfair residents.
"All that needs to happen is that one more person sells because he or she got fed up, and then the absentee landlords own the whole block," Vearling said.
Unfortunately, residents who live on blocks with offsite, absentee landlords do not have much recourse. Roberts said they can call the town watch, which will call the police. Many individuals, however, are reluctant to report problems, Roberts said, because they do not want to bother the police when they might have more serious problems to handle. Until residents speak out, though, the town watch and civic association cannot look into the problem.
"I tell people that as soon as they have a problem, they need to tell us," Vogler said. "The first thing we'll do is make sure the property is being rented legally, that there is a rental license, that the owner has the proper permit and that the proper tax paperwork has been filed. We can levy fines against landlords [though there is no guarantee landlords will pay the fines since many list P.O. Boxes as their permanent addresses in other states].
"After that, we will check with the Department of Licenses and Inspections and local City Council representatives," Vogler added.
Roberts said he heard that 6th District Councilwoman Joan Krajewski was trying to pass a law that would make it illegal for anybody who owned or rented a home in Philadelphia to live outside the city or, at the very least, outside Pennsylvania. Krajewski's office did not respond to attempts to contact her.
The Mayfair Community Development Corporation is trying a slightly different approach. Not only has the CDC approached zoning officials in an effort to get duplexes and triplexes rezoned as single-family residences, but it has also purchased and rehabbed properties and tried to put them in the hands of families who want to move into the community and stay there, Executive Director Brian King said.
"We've tried to take back blocks," King said. "We're selling the properties at market value, but we're also helping families with the financing. Many of these houses were built either during or post-World War II to help families get in and get established, and that's what we're trying to do now."
Jennifer Reardon is a Temple University journalism student working with Philadelphia Neighborhoods, a class devoted to covering under-reported areas of Philadelphia.