Mayfair starts envisioning new futures for Frankford Avenue
On Thursday the Mayfair Business Improvement District (BID) held the first in a series of three community meetings to determine the nascent organization' objectives. As the local youth team, The Holy Terrors, played baseball on the diamond outside the rec center where roughly 30 people enthused and agonized over the future of the neighborhood.
The Mayfair BID is a government-created non-profit corporation funded by levies on the commercial properties within its boundaries. The concept of improvement districts became popular in the 1980s as the federal government cut aid to cities, which were forced to finally compensate for industrial and middle class flight. Business or neighborhood improvement districts are a way for the property owners within a particular geographic area to provide services and public space improvements to improve the district.
Established by Councilman Bobby Henon's legislation in 2015, the Mayfair BID is one of the only intuitions of its kind that isn't in a gentrifying neighborhood or a corner of the city dense with large institutions like University City District or Center City District.
Thursday's community meeting gave residents the opportunity to offer guidance to Sam Siegel, the executive director and only employee of the Mayfair BID. Framed as a chance to offer "community vision and brainstorm," the session was meant to be broader than the subsequent meetings, which will provide an opportunity to identify particular projects of interest.
Siegel structured the feedback around a SWOT analysis, which stands for "strengths, weaknesses, opportunities, and threats" (although he switched the last two around so the meeting would end on a high note). The attendees—who were mostly middle-aged, with barely a grey head of hair in the room— with divided into groups and discussed their feelings, in regards to each category, about Frankford Avenue, which serves as Mayfair's primary commercial strip.
Before Siegel even broke the attendees into smaller groups to consider Frankford Avenue's threats and opportunities, an audience member proffered the first piece of feedback. "Our biggest problem is parking," said Tony Natalini, owner of ESK Financial Inc. (a check cashing operation) who recommended installing a parking lot or a parking garage The second biggest, according to Natalini, is the Department of License and Inspections which apparently recently levied a fine against him. (That's an example of something a BID can't really help with, Siegel noted.)
But Natalini's crusade for more parking found relatively few fellow travelers. Instead much of the group's concerns were focused on diversifying the business activity in the neighborhood, establishing a pedestrian friendly environment, and reinforcing public safety in the neighborhood.
Antoinette Montgomery, for one, didn't think Mayfair necessarily needed more parking. After all East Passyunk, Manayunk, and Roxborough —other neighborhoods with BIDs—get along fine without making dramatic alterations to their streetscape to add more parking spaces.
For Montgomery, who owns Torresdale Flowers and Gift Baskets, the key is to incentivize businesses that will attract people from other communities. "We've got plenty of car dealerships, nail salons, and cheap haircuts, but we need diverse restaurants—not ten more Italian places."
Like many people in the crowd, Montgomery expressed appreciation for the neighborhood's communal events (including the biweekly Night Market and the Thanksgiving Day parade).
Everyone enthused about businesses like the Grey Lodge Tavern—where Siegel has "office hours" 3:00-6:00 every Monday—the iconic Mayfair Diner, and the House of Thai restaurant, identified as one of the better dinner options. Councilman Al Taubenberger, who stopped by during a session when the groups were announcing their favorite things to do on Frankford Avenue, rubbed his belly and answered, "my favorite thing is to eat pretzel dogs."
The BID's first meeting also revealed a lot of anxiety. Like many neighborhoods in the lower Northeast, the last twenty years have seen Mayfair altered by shifting racial demographics, slipping median incomes, and an influx of immigrant groups. Throughout the meeting, various speakers peppered the crowd with anecdotes of crimes they suffered or heard about.
But attendees did not strike a revanchist stance about neighborhood change.
"One of the things I hear is that we are trying to bring back the old Mayfair, well it's not coming back," one man in the back of the room said, to general murmurs of agreement from the crowd.
Many of the attendees felt frustrated that the neighborhood isn't attracting the young professionals and other moneyed residents who are transforming the city's core.
"We want young people to move in who will work and pay taxes," said Jugena Nodrio. "I work with young professionals, and I am one, and everyone [is surprised] I live in the Northeast. I love it, I can get downtown in 20 minutes. But it sucks that I have nowhere to go in the afternoon. There's no place for me to go that isn't Applebee's."
Many of the topics discussed at the Mayfair BID's meeting echoed the successes of similar institutions in other parts of the city. One woman suggested something like Center City Sips, while Natalini declared his appreciation for the light masts on North Broad Street. On a smaller scale level, the attendees wanted parklets, more trees, outdoor seating, and general improvements to pedestrian safety.
Security is another service often provided by larger BIDs. But the Mayfair BID will only have expected revenues of $270,000 a year. Siegel tells PlanPhilly those services are of interest to the BID, but there are obvious budgetary constraints.
For councilman Henon, who arrived about 40 minutes after the meeting started, but then stayed until well after the end, the BID is Mayfair's chance to put itself on the map.
"Look at communities like Passyunk or Roxborough where there was a ton of success," said Henon, in regards to those two similarly far flung communities' experiences with expired institutions of this kind. "Mayfair is the first community in ten years that started a new BID. In council today, people were talking about it. People are aware of Mayfair now in a big way."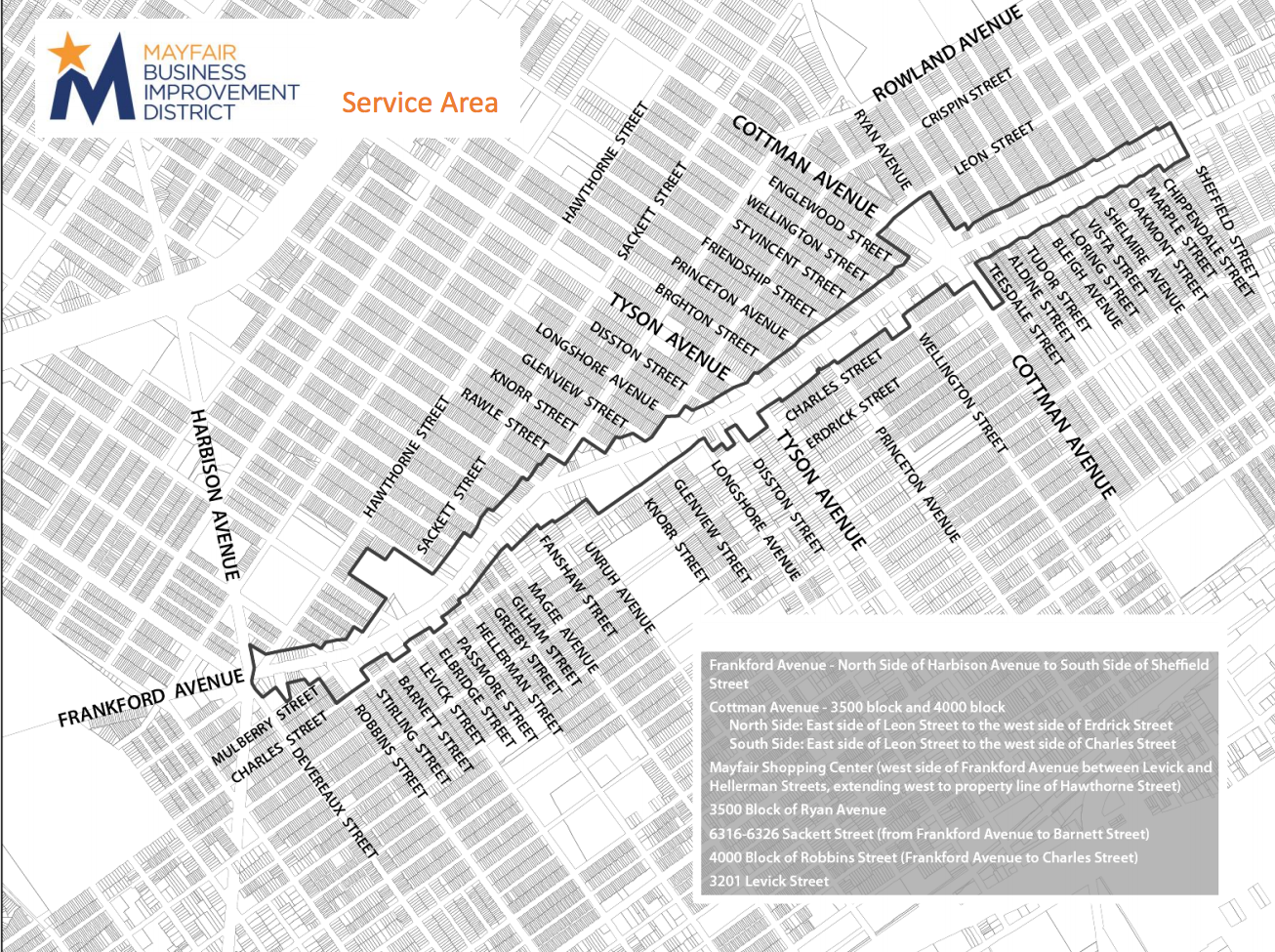 WHYY is your source for fact-based, in-depth journalism and information. As a nonprofit organization, we rely on financial support from readers like you. Please give today.