Mostly behind the scenes, the work of Rebuild begins
Rebuild is finally underway.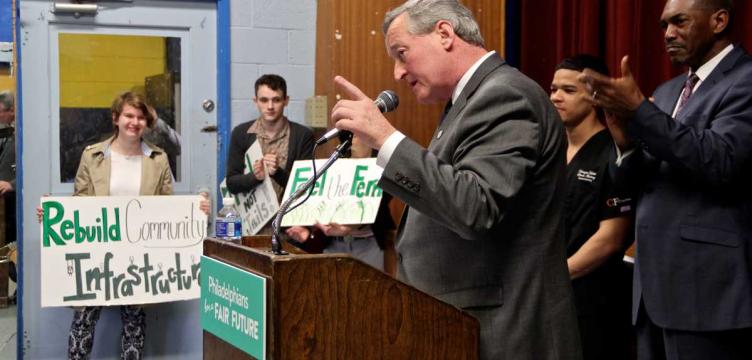 This story originally appeared on PlanPhilly
For more than two years, since the $500 million project to improve libraries, parks, playgrounds, and recreation centers was announced, anticipation for Mayor Jim Kenney's Rebuild initiative has been building.
Rebuild is finally underway now, although the work is still more behind-the-scenes than front-and-center for everyone to see. By the end of this year, the first tranche of bond proceeds becomes available, according to members of the Kenney administration. That follows the decision last month by the Pennsylvania Supreme Court to dismiss the long-running legal challenge to the Philadelphia Beverage Tax, which supplies key revenue for Rebuild.
Except for Vare and Olney Recreation Center, the first two sites expected to receive attention, the order of the Rebuild rollout remains fluid, although the team and City Council are hashing that out currently. Heitzman Playground in Harrowgate was the first project to be green-lighted since the ruling.
"Both the administration and City Council understand that these investments are long overdue and Philadelphians are eager to see improvements, especially after the delays caused by the court case," said David Gould, deputy director of communications and community engagement for Rebuild. "In conversations with council members, we're looking both at starting larger projects that will take more time to complete as well as opportunities to make some smaller but meaningful improvements in the near term."
Brand new facilities will take a while to sprout. Though wheels are in motion with respect to multiple facets of the Rebuild process — hiring additional staff, building online infrastructure for interacting with the firms that will be completing the work, designing grant applications for community-engagement work to begin — the tangible effects of the state Supreme Court's decision may not be felt in Philadelphia's neighborhoods for some time.
And that's by design. One of the more audacious and talked-about goals of Rebuild lies outside its broad upgrade of public facilities: It's the commitment to inclusion of under-represented workers and businesses throughout the contracting process. At least 30 percent of all professional contracts related to Rebuild are supposed to go to minority-owned businesses (an additional 20 percent going to women-owned businesses), while 45 percent of jobs on the construction sites are expected to be held by minorities. With money coming down the pike to create those contracting opportunities, now it's time for the Rebuild team to launch the process designed to achieve those numbers.
It actually began to do so in the fall, when 21 nonprofits were approved to be "project users" on Rebuild sites, effectively general managers — the first step toward issuing contracts for specific work at individual parks, recreation centers, libraries, and playgrounds. With the threat of the legal challenge to the so-called "soda tax" removed, the Rebuild staff will go forward with grant applications that will be open to those project users, starting next month.
Once a grant application is announced for a Rebuild site — say, one to manage the work at Vare Recreation Center in Point Breeze — the project user will have to put together a proposal that includes, in part, how it will reach the ambitious inclusion benchmarks. For example, a description of which minority- and women-owned businesses will be part of the community-engagement, design, and construction processes at Vare.
In all likelihood, the first community-engagement meetings at Vare won't start until the winter, after creation, vetting, and approval of project users' applications for specific sites.
"Currently, Rebuild is expecting about a three-month period from when grant applications open to when a grant is awarded to a project user," said Gould.
"The goal is to build in plenty of time for small contractors to find out about and pursue opportunities to work with project users," Gould said. "We think that built-in time will be critical to making sure minority- and women-owned businesses, many of which are smaller businesses, can access contract opportunities on Rebuild projects."
Already, a call for interest has been put out to establish a baseline list of contractors, including smaller firms that may have traditionally been overlooked for city contracts, that can link up with project users over the next few months. Another avenue for recruitment, an online portal for businesses to find out information about project users' evolving plans for Rebuild sites, is currently in development, now that funding for Rebuild is on more solid footing.
"Contractors will have access to a portal that will show available contracting opportunities with project users," Gould said. "This way, smaller firms won't have to reach out to multiple organizations to see what Rebuild contracting opportunities are available, they'll all be in one place. We'll also have other opportunities, such as networking events, to help connect smaller firms to project users."
That's not to say there won't be shovels in the ground in the meantime. Although the majority of large Rebuild projects will be delivered through this project-user structure, not every site improvement requires such a complicated structure, or a suite of community-engagement and design strategies. There are straightforward, lighter-touch projects — such as repairing broken sidewalks or replacing lighting — that can be fixed in the interim.
Rebuild officials expect that some of these smaller projects will begin by the end of 2018. Rather than assign a project user for this work, alternate procedures were established, such as having the Philadelphia Redevelopment Authority or skilled trades staff within the Department of Parks and Recreation take the lead. Work on smaller projects could begin in short order, Rebuild officials said, using the $8 million in capital funds previously banked for the initiative or bond proceeds once they are received.
One thing the bond proceeds won't be supporting is the significant step-up in Rebuild staffing that's underway, Gould said.
"All staff salaries and overhead for the Rebuild office are entirely grant-funded, which will continue moving forward," he said. Though the bonds will supply the bulk of the funding for actual construction, grants — namely, a $100 million commitment from the William Penn Foundation — will pay for administrative costs.
Over the next few months, the Rebuild team — which has consisted of four people prior to the state Supreme Court's ruling — will be scaling up to 10 or more positions, specializing in financial management, workforce development, and design and construction. The most recent hire came last week, when Tim Roundtree,  formerly a staffer in City Councilman Kenyatta Johnson's office, started work as deputy director of diversity and inclusion for Rebuild.
WHYY is your source for fact-based, in-depth journalism and information. As a nonprofit organization, we rely on financial support from readers like you. Please give today.