Metropolis: Animating one city's past and future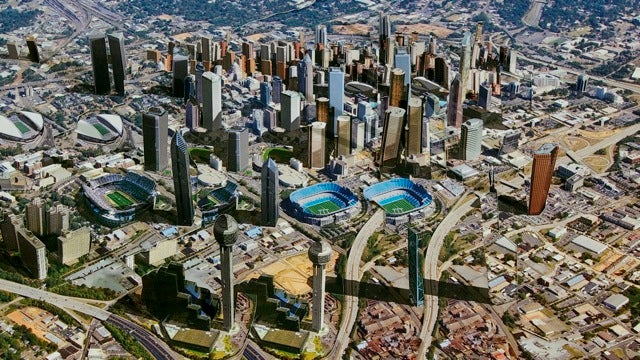 Jan. 15
By JoAnn Greco
For PlanPhilly
Rob Carter, a transported Brit now based in Brooklyn, uses video to tackle urban issues of rampant development and what he calls the "theatricality of architecture." This weekend, his "Metropolis" kicks off a new series of animated films at the Institute of Contemporary Arts (www.icaphila.org) that explore everyday reality.
In the 9 1/2 minute film, Carter takes a look at the incredible growth of Charlotte, N.C., where he lived during an artistic residency a few years back.
"It's an interesting example of a town that started from nothing and is really trying to design the 'new city,'" he says. "It's frightening how fast it's gone up and how its fate has been connected to the rise and fall of the banking industry."
Metropolis by Rob Carter – Last 3 minutes from Rob Carter on Vimeo.
Using stop-motion animation and sound effects humorously reminiscent of Monty Python's Terry Gilliam, Carter manipulates cut-up ephemera such as old maps and new photos to create a landscape that's in constant motion. We watch as farm tracts are overlaid by delicate ribbons (and, then, tangled messes) of highways, and cluttered with spaceship-like sports stadia (tossed gently from the sky). Along the way, the English crown is booted out, cotton fields sprout, and the steepled churches and, later, shiny skyscrapers that mark Charlotte's contemporary skyline rise.
The sped-up scenario suggests the frailty of the "urban planners' dream," Carter says. As the video continues — and the dream morphs into a fantastical, hubristic future of more and more skyscrapers and sports arenas — things turn bleak. Ultimately, the whole paper-thin canard of glass-and-steel lies in a desert-dry setting. "Cities aren't supposed to be built away from water," says Carter, half in amusement, half defiantly.
Carter has more specifically explored the creation and significance of sports stadium and ecclesiastical architecture in other works (his piece on New York's Cathedral of St. John is now on view at that city's Museum of Art and Design, www.madmuseum.org, until April 4). To learn more, visit www.robcarter.net.
Contact JoAnn Greco, ASJA, SATW, at 215 413 3137 or www.joanngreco.com
Check out her new online magazine, TheCityTraveler at www.thecitytraveler.com