May 11: Philadelphia Public Bank? | Port Richmond Grain Elevator | Penn Wynn eviction protest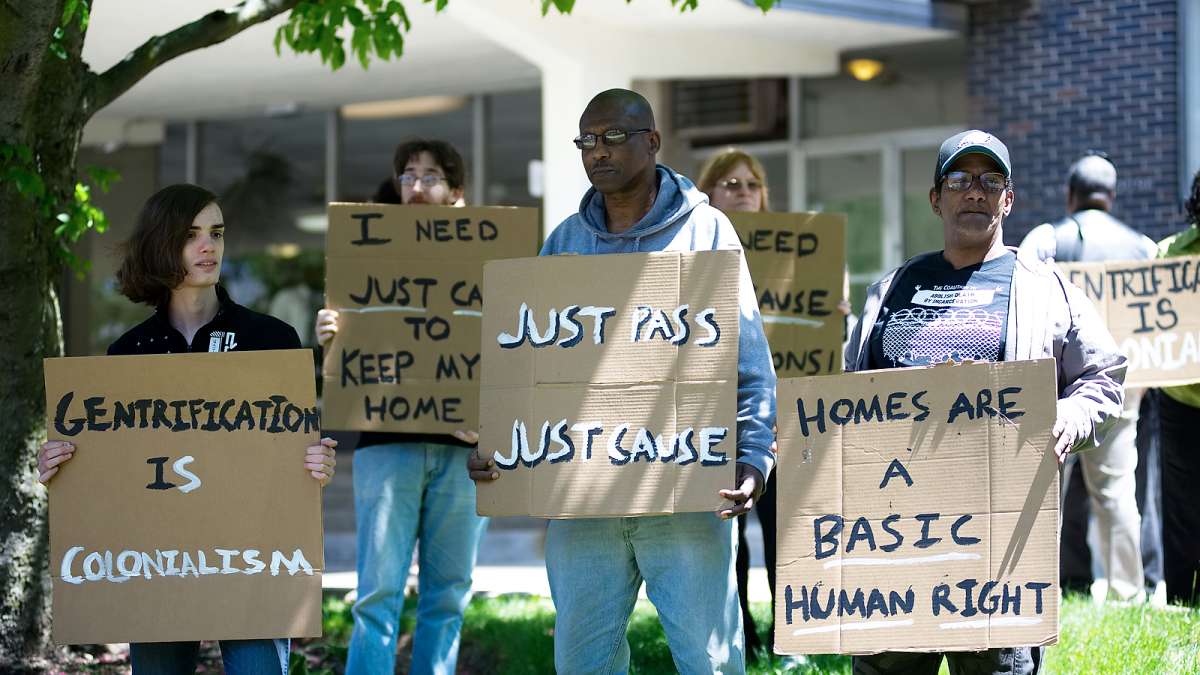 Councilmembers Cindy Bass and Derek Green are "exploring the possibility of setting up a public bank for the city of Philadelphia, which could take over payroll functions and city deposits permanently," NextCity's Oscar Perry Abello reports. In what began in 2016 as an exploration on the feasibility of removing Wells Fargo as a city depository, Council authorized a new bank for the city's payroll services earlier this month. Other local legislators and agencies, including in Oakland, Berkeley, and Santa Fe are also considering public bank model.
Plaintiffs lawyers representing victims' families from the Amtrak Train 118 crash urged the DA's Office on Wednesday to reverse course and criminally charge the Amtrak engineer Brandon Bostian with involuntary manslaughter and reckless endangerment, the Inquirer's Jason Laughlin and Chris Mondics report. The statute of limitations for a possible charge "will expire on Friday, the two-year anniversary of the derailment."
In West Philadelphia, longtime Penn Wynn House tenants facing eviction struggle to find affordable new homes while "being thrust into an already-strained affordable housing market," NewsWorks' Katie Colaneri reports. The new property owner, Cross Properties, purchased the high-rise in late 2016 with plans to redevelop the building with upscale amenities. Many tenants are low-income or rely on a federal housing voucher program for residents with HIV/AIDS, and have faced barriers in finding new adequate housing including non-refundable application fees, cash held up in security deposits, and a diminishing housing market that has lost roughly 1,000 affordable dwellings per year.
Hidden City's second installment of Hidden Lens features a photo essay by architectural photographer Betsy Manning on the Port Richmond Grain Elevator on the Delaware River. Manning's photos, shot in the late 1980s, capture the "tail end an era when the backbone of the city's industrial base lay broken, fragmented, and sinking into the abyss of decline."
Community Legal Services makes the case for why partnering with community-based organizations is integral to reach Philadelphia's underserved immigrant communities. Contributing to Generocity, CLS attorneys write about some obstacles immigrants face in to accessing legal services, and share examples of ongoing relationships in Olney, Chinatown, and South Philadelphia where, by "embedding legal services where immigrants live and work — and co-locating those services" at longstanding community organizations, they've been able to better serve their market in spite of working limited funds.
WHYY is your source for fact-based, in-depth journalism and information. As a nonprofit organization, we rely on financial support from readers like you. Please give today.