'Magdalene' and the modern woman, from Tribe of Fools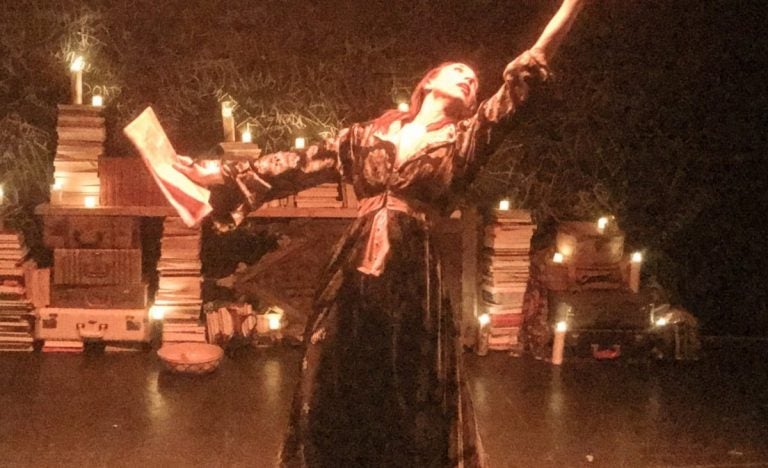 Mary Magdalene says she cannot give us truth. All she has are mysteries. And so she expounds on them in Rachel Gluck's play "Magdalene," an hour of musings by a woman who says she is Mary Magdalene and also says she is not.
By the end, she is Everywoman in what could be called theater of the spirit — a departure for Tribe of Fools, the stage company that's usually more interested in highly physical spoofs of Philadelphia life. There's no spoof in "Magdalene," but Colleen Hughes' polished portrayal of the Biblical figure in this one-woman show does include some stage movement: a dance with an unseen man who must have been Jesus, a series of back-bends that would be good practice for a limbo competition.
Brenna Geffers directs the play, always mindful to emphasize abrupt switches of story and time in a script that carries us through the ages, as the Mary Magdalene figure moves around a cave filled with candles and dishes, jewelry, books, and — in a clever turnabout — a wooden hymn board for church services, turned on its side. (Doug Greene designed the set and filled it with curios for the cave.)
The character calls up the souls of many women through wars and peacetimes. Their names all begin with "M" and like Magdalene, some are branded as prostitutes or are selling sex. Marie, for instance, was 16 when the German Army occupied her small town, leaving at the war's end in 1918. A German officer had stayed in her family's house, and when her brother and others came back from fighting, they forcibly shaved her head for consorting with the enemy and called her a whore.
Marie is one of the women who came to the cave to visit. So is Miriam, a Jewish women who paid little attention at services but remembers the notion of "tikkun olam" Hebrew for repairing the world. "It seems like Magdalenes wind up here at times when the world seems impossible to repair," the character tells us. You're not obligated to complete the repair work, she says, but you can't abandon it, either.
At one point, the character shifts to a student activist in the '60s. She sees that women's issues are being left out of the protest — just as Mary Magdalene has told us she's been largely written out of the Gospels. "The same radical men who passionately spoke about peace and love in theory got angry when we spoke about specifics like equal payment."
In the end, "Magdalene" is a sermon, an impressively literary one heightened by Colleen Hughes' down-to-earth portrayal of a character who is anything but earthbound.  It's Mary Magdalene's pep-talk for modern times aimed particularly at modern women. "There is in everyone," she tells us at the outset of Gluck's script, "divine power existing in a latent condition." What are you doing, the play asks, with yours?
—
"Magdalene," produced by Tribe of Fools, runs through April 22 on the second-floor theater at the Adrienne, on Sansom Street between 20th and 21st Streets. tribeoffools.org.