'Latin America Thrives' displays the diversity within Philly's Latino community
'Latin America Thrives' brought together unique cultures from 15 countries in South and Central America.
On Friday, the city of Philadelphia hosted a festival in LOVE Park representing the diversity of cultures within the city's Latino population.
The second annual "Latin American Thrives in Philadelphia" attracted local small businesses with cultural ties to 15 countries in Central and South America, including Mexico, Venezuela, Peru, Panama, El Salvador, Honduras, Brazil, Chile, and the Dominican Republic.
"In Philadelphia, each community has their own thing. So we finally brought them together," said Ana Omana, co-founder of Alianza Latina. "There were 11 countries last year. Here you have, today, 15 countries. So it's bigger."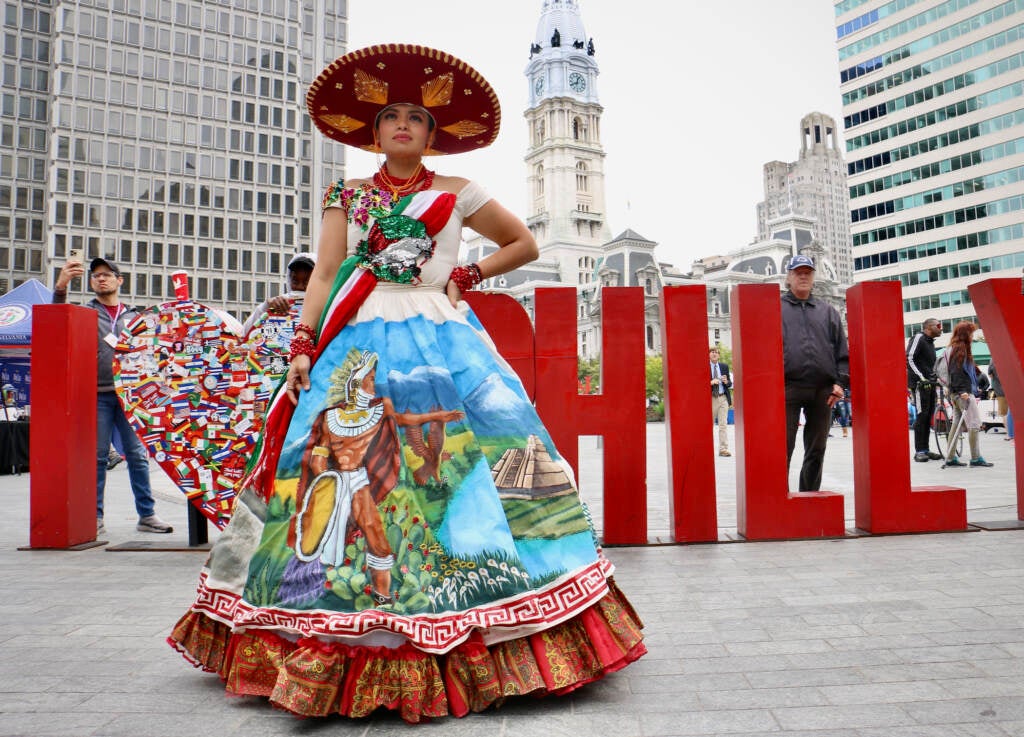 Omana, who is Venezuelan, created Alianza in 2020 with three partners – Leity Rodríguez Largo of Colombia, Edgar Ramirez from Mexico, and Juan Giarrizio of Venezuela – as a way to support Latinos in Philadelphia from a variety of nationalities.
Two years ago, the mission was to encourage Latinos to vote. Last year's "Latin America Thrives" event was focused on helping Latinos recover from the pandemic.
This year, Omana said the event has reached out to people from countries that are underrepresented in the city.
"We bring in, now, the Argentinians and we bring in the Uruguayans, communities that you never heard of because they are so small," she said. "We want to bring them together."
Omana also works as a community liaison in the office of City Councilman David Oh, who supported bringing the festival to the center of the city.
"The largest increase in our city in the last census was the Hispanic community at about 55,000 new people, growing Mexican, Colombian, Venezuelan, and other communities along with our traditional Puerto Rican communities," said Oh. "There's so much more that they can achieve in our city, and so much more we can do with them to benefit ourselves."
Felipa Ventura owner of Taqueria Morales offers soft tacos at her stand at the Latin America Thrives in Philadelphia event in Love Park. (Emma Lee/WHYY)

Philadelphia City Council member David Oh helped found the annual Latin America Thrives in Philadelphia event at Love Park last year. (Emma Lee/WHYY)

Local entrepreneurs representing fourteen countries set up shop at the Latin America Thrives in Philadelphia event at Love Park. (Emma Lee/WHYY)

A woman in a red and white dress representing Peru stops at a stall selling Mexican clothing and crafts at the Latin America Thrives in Philadelphia event in Love Park. (Emma Lee/WHYY)
The event features speeches by prominent figures in Philadelphia Latino communities, food, performances, and vendors selling goods imported from their country of origin.
Lili Daliessio was selling handmade goods from Colombia. She said she designs fashion items – including handbags, hats, and jewelry – some of which are made in Colombia by women with whom she partners.
"I feel represented when I'm here," she said. "To be in LOVE Park is different from being in another place. In Center City, we can see the beautiful diversity of the city. They appreciate us. They appreciate Latinos."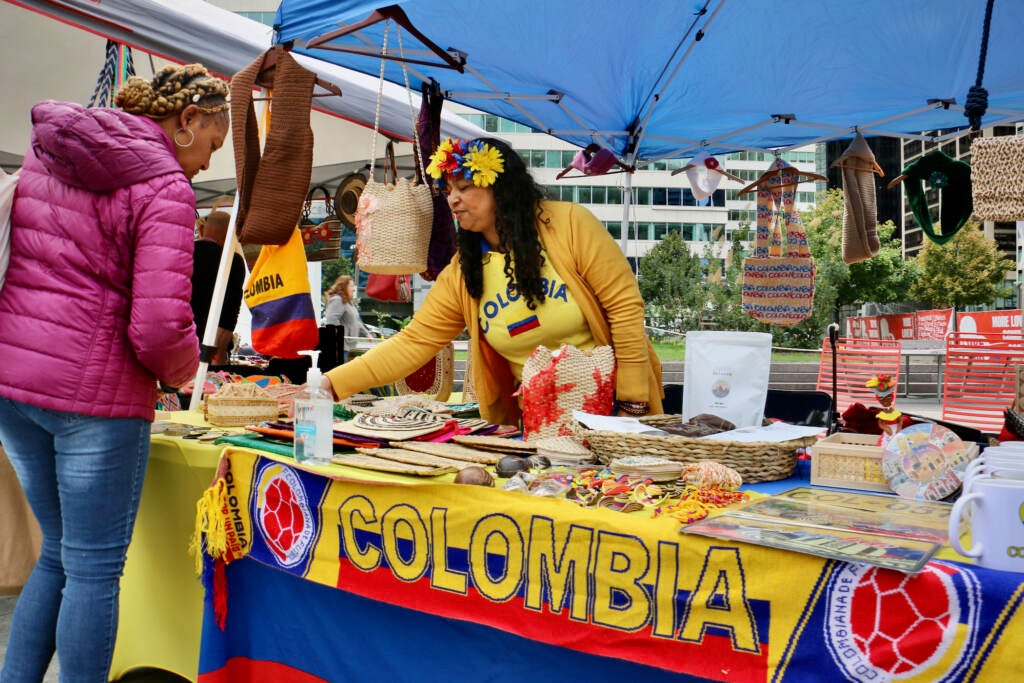 The festival features about a dozen women promenading in traditional dresses, each representing their country of origin, some with full skirts that showed off intricate patterning.
Olga Renteria wore a colorful dress made in Jalisco, Mexico, commonly worn during festivals for folk dancing.
"It's very important for me to bring this dress that was made in Mexico," she said. "It's very important for us to know that even though we are here, we still carry our country with us wherever we go."
WHYY is your source for fact-based, in-depth journalism and information. As a nonprofit organization, we rely on financial support from readers like you. Please give today.