Last hurrah: Space 1026 pulls out the stops for final Arch St. art auction
Listen
2:06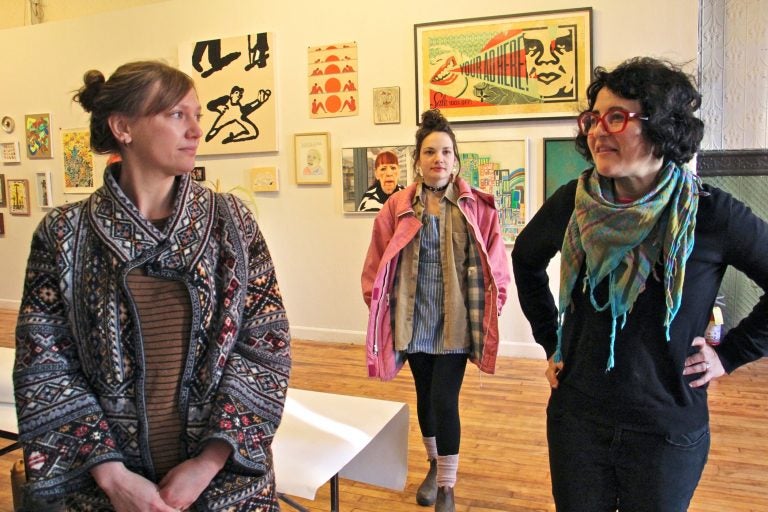 The annual Space 1026 art auction has always been a raucous affair, with a DJ spinning sound effects and a spirited audience cheering on high bidders. With the help of some nosh and custom-made homebrew, the energy on the floor crests when the gavel falls.
"I don't know if you've ever skated in a skate park. When someone does a trick, all the skaters grab their boards and start smacking stuff," said auctioneer Andrew Jeffrey Wright. "It's kind of like that. It gets rowdy as the price goes up."
The auction is its primary fundraising event, when the ever-widening circle of past, present, and associated artists involved with the collective donate work to help keep it going.
As a founding member of one of the city's oldest artist collectives, Wright has seen a lot of talent come and go through Space 1026. The building on Arch Street not only houses about 20 artists studios and a printmaking workshop, but an exhibition and performance space where you might see work by Shepard Fairey or Barry McGee. You could hear Body/Head (a side project of Sonic Youth's Kim Gordon) or comedian Maria Bamford. The parties have been legendary.
The auction this weekend will be the last at 1026 Arch St. Earlier this year, the building was sold, and the new landlord upped the rent by 40 percent. The collective, which has until the spring to move out, is seeking to buy its own building, somewhere in South Philadelphia or Center City.
The auction — along with an online GoFundMe campaign — will fund the costs of moving and securing the title of a new building. The collective already has the promise of a mortgage loan, said Miriam Singer, and members are looking at buildings almost every week.
"We don't want to move too far away," said Singer. "We want people to drop in, how they have been."
The collective wants to buy its own building without organizing itself into a nonprofit. The loose structure of a membership organization — held together by little more than handshake agreements and a member handbook — has sustained the creativity of the collective for more than two decades. Sometimes it's chaotic, but they don't want to stop that by becoming incorporated.
"Right now we can be who were are," said Singer. "If we had a board controlling what we're doing, it would change the nature of Space 1026. So, that is a problem."
To help pay for its uprooting and transformation, the collective has asked art donations of a higher than usual quality.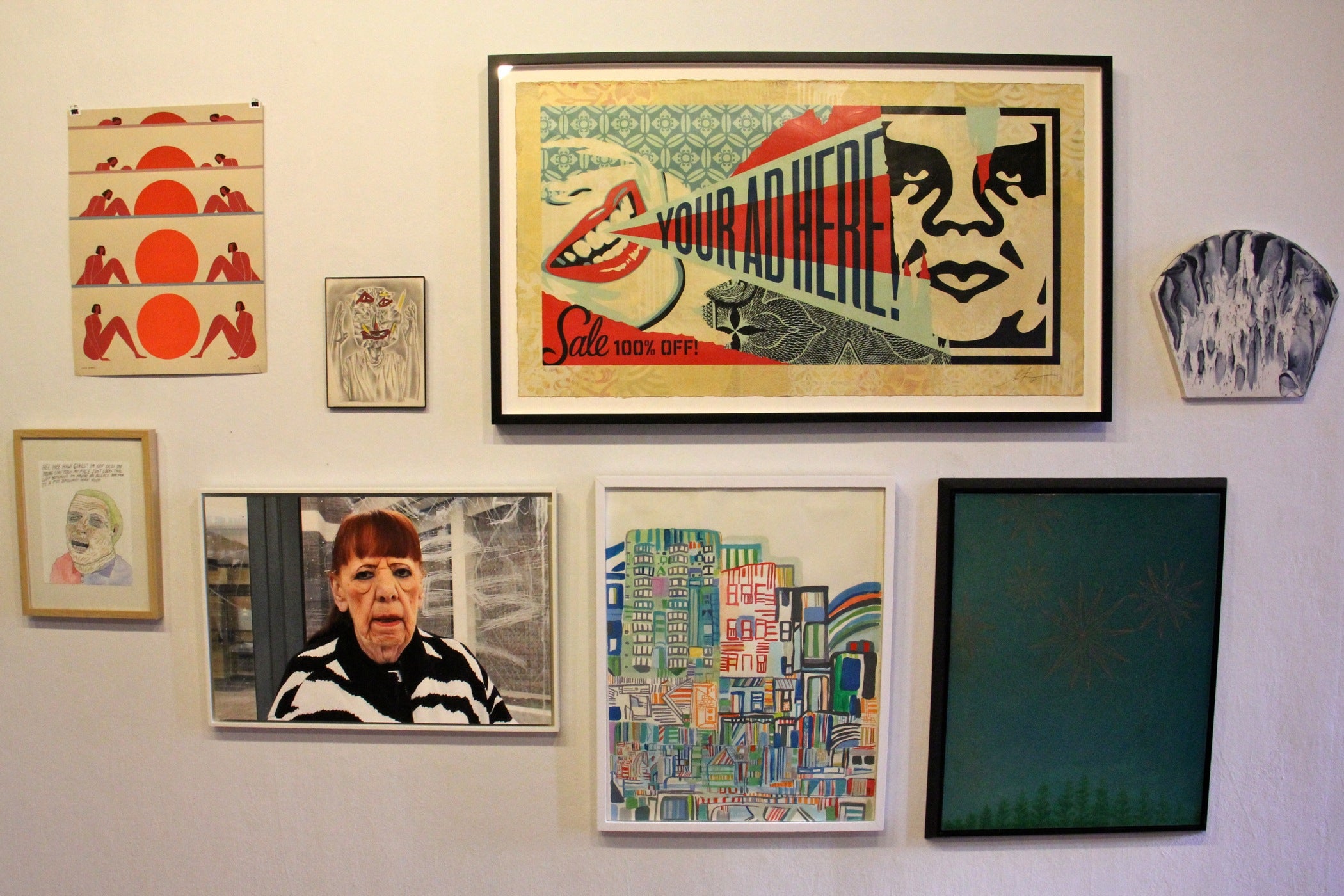 "This is the best-looking auction we've ever had," said Jackie Quinn, who also oversees the books. "This is about our community. These are all our friends' artwork. Even more awesome is that, on the night of the auction, more of our friends will buy our friends' artwork. It's all about the people."
Space 1026 urged artists to give original work, instead of prints or multiples. The auction normally brings in about $13,000; this year, the caliber of work is expected to bring in twice that much.
Some of the donating artists — Fairey, McGee, and James Ulmer, a former collective member — are well-known. Cartoonist Charles Burns and photographer Zoe Strauss contributed work, as they have in the past.
There are works by lesser-known artists, including Crystal Stokowski whose burned-wood illustration comes bundled with a three-day stay in the artist retreat trailer home she and her husband have in Rehoboth Beach, Delaware.
There are pastel cartoon figures by Mike Furie, who unwittingly stumbled into political hot water when his character Pepe the Frog was adopted as a meme by hate groups. He is currently issuing copyright infringement lawsuits to wrestle Pepe away from them.
Many of the artists were spurred to donate because this is the last auction at the old building, said Wright.
"That influenced them, for sure," he said. "They were more willing to donate. If this wasn't our last auction in the space, I wouldn't have asked."
In the past, Wright had held off requesting donations from better-known artists because the Space 1026 auction has become known as a place to get good art, cheap.
Auction-goers can buy artwork at much less than it is worth, then immediately sell it at a higher price, sometimes within days. The practice devalues an artist's worth, and is not in the "friends helping friends" spirit of the Space 1026 auction.
"That opportunist stuff really grosses us out. It's not good for the artists who submit," said Wright. "A lot of artists I asked this year I hadn't asked in a long time. I didn't feel right asking them to submit knowing there are opportunists coming to our auction looking for stuff to flip."
As auctioneer, Wright starts every bidding at $5. It gives everyone in the room confidence to raise their hands. But this year, in order to protect the artists, he will auction a handful of big-name artworks at a reserve, meaning some selected pieces will not sell unless bidding hits a predetermined minimum.
WHYY is your source for fact-based, in-depth journalism and information. As a nonprofit organization, we rely on financial support from readers like you. Please give today.