Killing SEPTA transfer fees, charging for parking differently — it's all in Philly's new transportation plan
The City of Philadelphia released what may be its most ambitious and concretely detailed transportation plan yet on Wednesday.
Listen
1:25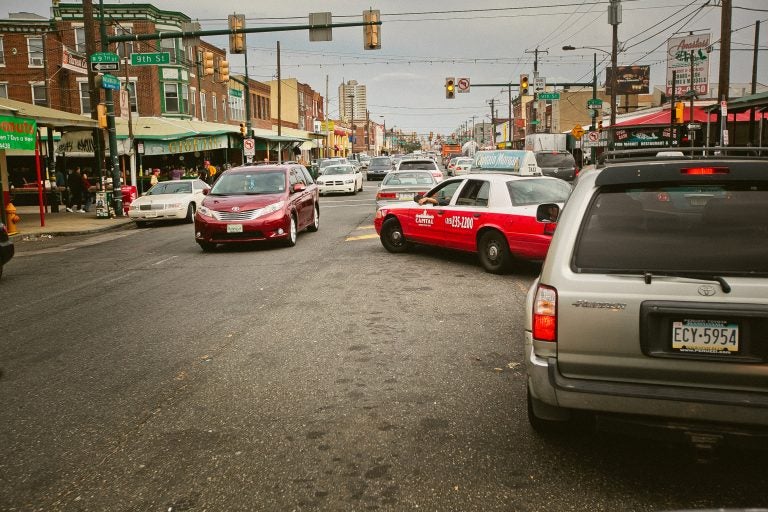 This story originally appeared on PlanPhilly.
—
The City of Philadelphia released what may be its most ambitious and concretely detailed transportation plan yet on Wednesday. Called CONNECT, the seven-year plan details the goals, strategies and tactics officials hope will address the city's most pressing transportation challenges, including increased congestion, declining bus ridership, and a bike commuting trend that's gone flat.
The plan represents the first time city officials have publicly endorsed a number of proposals long sought by Philadelphia's small but outspoken community of multimodal advocates, such as increasing local contributions to SEPTA's budget; providing free transit passes for college students; killing SEPTA transfer fees; introducing dynamic pricing to on-street parking; and deploying "speed cushions" and other traffic-slowing interventions to create "Neighborhood Slow Zones."
The trial balloons may not be enough to satisfy residents frustrated by the disheveled state of the city's streets and tired of slow pace of city planning efforts. But city officials say that this plan is different from the many others that have come before it.
CONNECT calls for specific deliverables by two deadlines: 2020 and 2025. Managing Director Mike DiBerardinis contrasted CONNECT from some earlier city-issued transportation plans that were more aspirational in nature. It's a "strategic plan, not a long term plan that's going to wait for hundreds of millions or billions of dollars of state and federal investment, but one that does better with what we have," DiBerardinis said.
"We can do a lot of this with existing resources," he added. "We have the financial commitment and political commitment to move those big pieces of this plan forward."
The plan was written by the newly renamed Office of Transportation, Infrastructure, and Sustainability (OTIS), which until recently was the Office of Transportation and Infrastructure Systems. The rebranding reflects the reshuffle of city government departments that brought the Office of Sustainability under the OTIS purview, along with the Streets Department and the Philadelphia Water Department. But OTIS Deputy Managing Director Mike Carroll emphasized that it was an "administration-wide strategic plan" that also includes input and support from outside agencies like SEPTA, the Philadelphia Parking Authority, and the Police Department.
The comprehensive transportation plan comes at a time when residents have grown increasingly disgusted with the city's streets.
When officials asked residents in a 2017 survey which city services most needed improvement, "Streets, Sanitation and Water" beat out every other contender, including public safety and education. More than a third of residents, 37.5 percent, said streets need the most work, compared to 21.9 percent who picked public safety and 9.25 percent who said schools. The survey also asked for resident's second and third picks, and again streets took the plurality in both, with 35 and 29 percent respectively. Residents' overwhelming focus was driven by the state of street repair, which 49 percent called poor, compared to just 18 percent rating it excellent or good, and street cleaning, which 56 percent rated poor.
Much of the strategic plan simply aims to thread together the disparate patchwork of existing and forthcoming planning efforts to create a coherent quilt of transportation network priorities in the coming years. It references prior plans – like the 2012 Bicycle and Pedestrian Plan, which laid out a vision for the city's bike lane network come 2035 – and plans currently in the works, like SEPTA's bus network redesign, while also calling for new plans, like a transit plan for the City of Philadelphia.
CONNECT's priorities are driven in large part by a few key data points. At six traffic deaths-a-year per 100,000 residents, Philadelphia has relatively dangerous streets. At 48 hours spent in traffic per resident per year, Philadelphia has relatively light congestion; and with 33 percent of residents without a car, Philadelphians depend more on other modes to get around than most Americans.
CONNECT makes improving bus service a top priority in the city, said its primary author, Chris Puchalsky, director of policy at OTIS. "Focusing on the bus network redesign will benefit not only [about] 26 percent of people that are currently using transit, but all the people that might want to use transit if it worked for them," he said. "It'll also benefit the 46 percent of people in poverty who ride the bus."
The plan calls for ending what it calls SEPTA's "transfer penalty," arguing that the charge "to switch between most transit lines is a barrier for many transit riders to affordably and efficiently use the network." After years of resisting the idea, SEPTA warmed to terminating transfer fees as it mulled over the decision to authorize a complete redesign of its bus network.
In conjunction with that redesign, CONNECT calls for Philadelphia to create its own city transit plan to lay out the steps the city itself can take to improve SEPTA service. "we control the road space and how the curb is used and enforcement," noted Puchalsky. "Our city transit plan will lay out specifically both short term vision of how to make bus improvements and longer-term plan for improving rail in the city."
Included among those long-term visions are proposals to extend the Broad Street Line to the Navy Yard and to create a new Market-Frankford Line station at 20th Street.
CONNECT is also the first time in recent history that the city has backed the idea of increasing local contributions to SEPTA's budget. As things currently stand, SEPTA will see its annual capital budget funding from Harrisburg drop $315 million come 2022, when the amount of Pennsylvania Turnpike toll revenues dedicated to state transit drops from $500 million to $50 million. As the plan notes, at 11 percent, the Philadelphia region contributes relatively low amounts of local funding to public transit: local funds around Boston contributes 41 percent of the MBTA budget; in Washington, DC that figure is 42 percent, in Los Angeles it's 46 percent, and in both New York City and Chicago it tops 60 percent.
"We see a need and think it's best to just work with our regional partners, because SEPTA is a regional agency," said Puchalsky.
Carroll, who sits on SEPTA's board, said the authority met with business leaders and elected officials in the region last week to discuss the matter. "There's a fair amount of consensus that we need to work together, we need to try to find regional solutions," Carroll said. But, he added, just what those solutions would look like remains undecided.
The shift to regional focus also reflects the changing geography of the Republican-controlled General Assembly. As Philadelphia and its suburbs have shifted more Democratic, arguments for transit funding that worked in the past –like the idea that transit-reliant southeastern Pennsylvania drives the entire Commonwealth's economy – will likely on the deaf ears of Republicans representing car-dependent rural and exurban districts.
In CONNECT, the city also embraces the idea of encouraging transit ridership among young adults by urging Philadelphia's colleges and universities to provide free transit passes to their students. Pointing to Seattle, where "over half of employers pay for subsidized transit passes for the employees," the plan also calls for exploring "how more businesses in Philadelphia can provide transit benefits."
Seattle's ORCA card offers businesses flexible and simple-to-administer transit benefit plans that provide large discounts, making it a relatively cheap perk for many employers to entice potential employees.
While Mayor Jim Kenney's administration has been criticized by bike advocates for slow progress so far on the campaign-trail promise of building 30 miles of protected bike lanes, CONNECT expands the network. "We have restructured that based on where we are right now, and we're trying to get 20 miles of protected bike lanes by 2020 and then 40 miles by 2025," said Carroll.
CONNECT also seems to be breathing life into a few moribund bike lane proposals that until now appeared past the point of resuscitation. Included in the 40 mile target by 2025 would be Spring Garden Street, where proposals for a "greenway" have been floating about for about a decade, and Washington Avenue, which has been the target of overhaul proposals since at least 2011.
Puchalsky said OTIS was focusing its efforts on projects based on needs, not numbers "I think we could probably bulk up our mileage numbers by putting some protected infrastructure in places that might not be as impactful, but we're working on some of the harder gaps in the network."
The plan also signals a willingness to push for significant changes to how the city charges for on-street parking.
"Parking policy and pricing structures must be geared towards providing turnover and one or two open spots 
on each block to allow the greatest number of customers to have access to the commercial corridor," the plan reads. "Dynamic parking pricing on commercial corridors is one potential solution that will be explored to meet this goal."
While the PPA enforces on-street parking, it's City Council that sets how much to charge and how much to fine. The notion of increasing the cost of parking to decrease demand – that is, to discourage driving to a location, or even car ownership – strikes many as a counterintuitive fix to the shortage of spots in some city neighborhoods. While Councilman Allan Domb shown an openness to such proposals, his colleagues have favored more traditional approaches.
Similarly, the plan's support for "Neighborhood Slow Zones" may engender opposition from drivers who don't like the sound of slower trips through town. The concept calls for clustering the implementation of traffic calming measures designed to slow down cars to make streets safer. "In each neighborhood slow zone, you may find: pavement markings and signage; speed cushions; traffic diverters, and; neighborhood traffic circles," reads the report.
WHYY is your source for fact-based, in-depth journalism and information. As a nonprofit organization, we rely on financial support from readers like you. Please give today.