How COVID-19 led to a blood shortage, and why that's troubling
Listen
1:37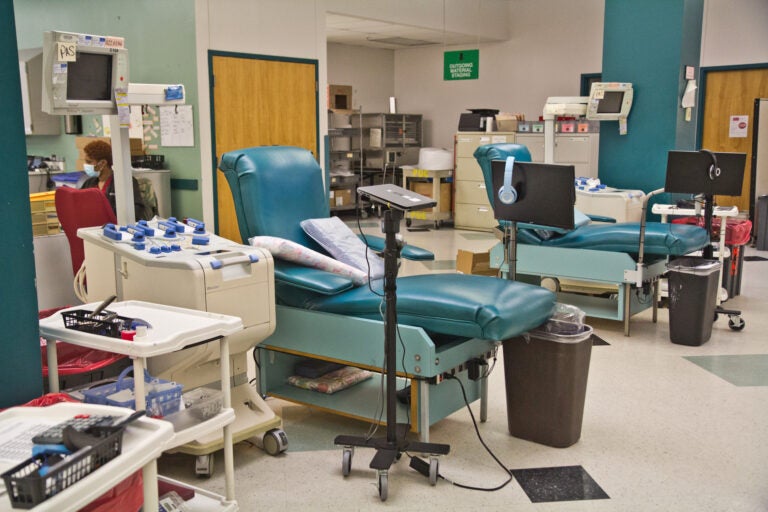 In early March, planned blood drives were canceled because of the coronavirus pandemic. For about a week and a half, the Red Cross saw a critical shortage of blood donations nationwide, according to Alana Mauger, communications manager for American Red Cross Blood Services.
"Hospitals were being forced to ration blood products, and really only treat those people who were critically ill," Mauger said. "That's a scary situation to be in."
It's especially scary for the approximately 100,000 Americans with sickle cell disease, some of whom need regular blood transfusions. People with the disease have abnormal red blood cells, which help carry oxygen from the lungs to the rest of the body.
Blood donations from African American donors have dropped by 50% since mid-March, according to Mauger. That matters because patients are more likely to find matches from donors of the same race or ethnicity, and in the United States most people with sickle cell disease are African Americans.
"Literally, it is our lifeline, we can't really survive without it," said Tahirah Austin-Muhammad, who has sickle cell, though she does not receive blood transfusions now. She works for the Crescent Foundation to support adults with the disease in Philadelphia and the rest of the region.
When the blood shortage occurred in March, Austin-Muhammad said, people started telling her about not being able to get as much blood as they normally do, even having to wait to receive blood despite showing up to the emergency room in pain.
Austin-Muhammad said that was happening in the Philadelphia region, but also in other areas of the country, like Atlanta and Baltimore. She has helped organize a May 11 webinar for sickle cell patients about COVID-19, to address issues such as how to deal with a smaller supply of donor blood. The webinar is being done through a partnership between the Crescent Foundation, the University of Pennsylvania, and Children's Hospital of Philadelphia.
Kim Smith-Whitley, director of the Comprehensive Sickle Cell Center at Children's Hospital of Philadelphia, said her staff did slightly adjust the machines used to give patients exchange transfusions (removing and replacing blood), to make the procedure more efficient so less blood would be used.
The blood shortage has passed for now, but blood donations are still needed every day.
Mauger, from the Red Cross, said blood drives have seen a rebound and donation centers have added measures for social distancing. Donors have to make appointments online or over the phone beforehand, no walk-ins. Staff checks everyone's temperature to screen out people with fevers. Donors are given masks so everyone's face is covered, everyone is at least 6 feet apart, and common surfaces are disinfected throughout the day.
In April, the Food and Drug Administration changed guidance around donations from men who have sex with men, people with recent tattoos, and people who have traveled to countries with malaria, to encourage more blood donations and address the "unprecedented challenges to the U.S. blood supply."
It's also especially important to test sickle cell patients for COVID-19 when they present with an acute illness, said Ifeyinwa Osunkwo, a hematologist and sickle cell specialist at Atrium Health in Charlotte, North Carolina. That's because one of the complications of COVID-19 is abnormal blood clotting, which sickle cell patients are already at a higher risk of. They are also at higher risk of getting sick from any viral infection.
"We can't just wait for an influenza-like illness and the fevers before we test them," Osunkwo said. "If they have pain, unusual blood clots, or unusual symptoms, they should be screened and tested for COVID-19."
Osunkwo noted that sickle cell patients take pain medications, which can suppress fever, one of the characteristic symptoms of a COVID-19 infection.
"This is a high-risk population at baseline, and they're exposed to a very high-risk disease in a pandemic situation, and so I want people to remember that this population should not be ignored," Osunkwo said.
Researchers at the Medical College of Wisconsin have started a registry of sickle cell disease patients with COVID-19, to collect data on how the two diseases interact.