Hold the zone: Vote on inclusionary zoning delayed a week in wake of opposition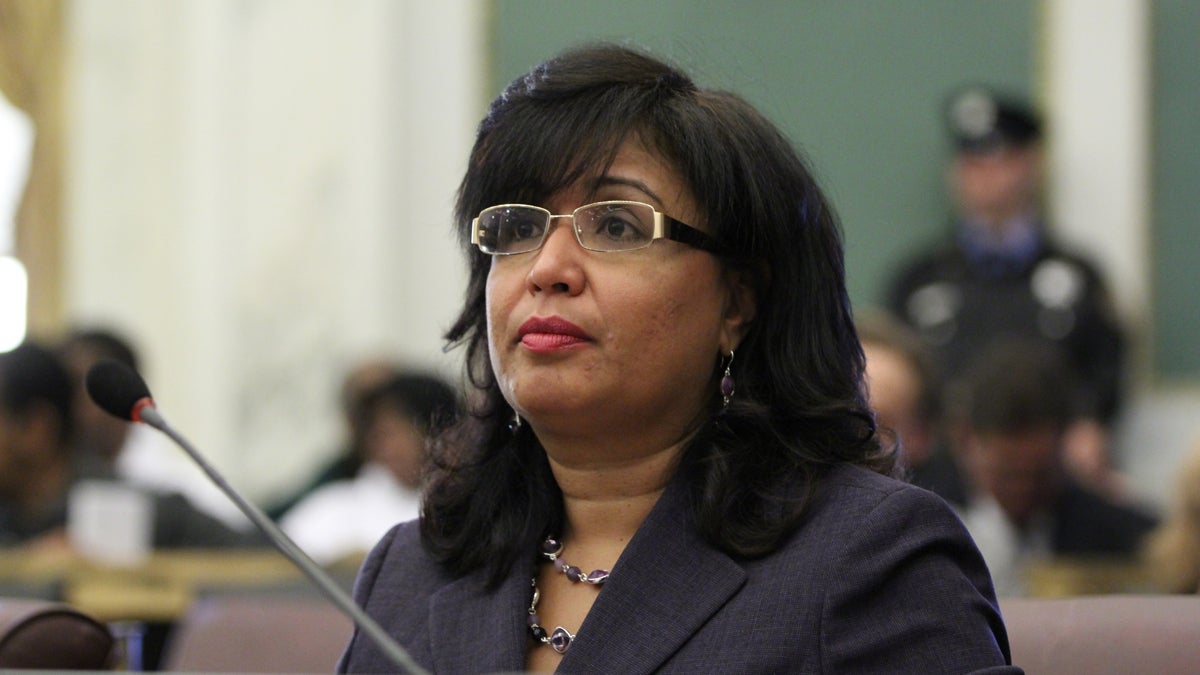 Facing opposition from neighborhood civic associations and the real estate industry, Councilmember Maria Quiñones-Sánchez asked City Council's Rules Committee to push back a vote on her controversial inclusionary zoning bill on Monday.
The Committee listened to five hours of testimony on the bill Sánchez introduced in June and amended significantly last week.
At the end of the hearing, the committee unanimously agreed to push back its vote until December 5. Further testimony cannot be taken.
"People have asked for more time, although I'm not sure what other information could convince anyone, one way or the other," said Sánchez, who argued that the bill would not inhibit development as much as critics claim.
Sánchez's bill provoked controversy from the moment of its introduction. In its original form, any project creating over nine units would have had to build one unit of affordable housing. For the past six months, working groups of developers, housing advocates, civic associations, and city bureaucrats have debated the legislation and tried to reach a compromise.
Last week, however, Sánchez circulated amendments that radically altered the bill. The new version would only apply to the city's densest zoning categories, which are mostly clustered in Center City and University City. Developers would also be allowed to pay into the city's Housing Trust Fund in lieu of building affordable units on the site, as the original bill required.
But developers still aren't happy with the zoning bonuses the amended bill provides, saying they do not go far enough to offset the costs of the affordable housing mandate. Under the amended bill, developers could only get a Floor-to-Area-Ratio (FAR) bonus if they are required to build affordable.
"As amended, the bill has noble intent but it is terribly flawed," said Carl Dranoff, one of the city's most prominent developers. "Despite all the cranes we see, most of our peer cities have many more. Our rents are some of the lowest in the country, but our construction costs are among the highest. This bill would only make it more expensive."
Later in the hearing, Sánchez sparred with Dranoff and the representatives of the Building Industry Association (BIA) who spoke before the committee. She said that if the current boom isn't the right time to pass such legislation, then it doesn't seem as though a recession would be a better one. What circumstances,Sánchez asked, would get developers to support an inclusionary zoning bill?
"I think if the city had an effective, broad based program with sufficient bonuses to offset the costs, that is something that I would consider," said Dranoff.
BIA President Brian Emmons and Treasurer Leo Addimando testified jointly that they had pushed for more generous zoning bonuses in neighborhoods outside the Center City core. This would allow them to build more units, both affordably restricted and market rate, in high value areas, which would help constrain gentrification.
But the neighborhood groups, the BIA representatives testified, squashed their proposal. For their part, civic associations testified that they were apprehensive about the effect the bill's zoning bonuses — which would allow for larger buildings with more units and less parking — would have on their neighborhoods.
The city's director of planning and development, Anne Fadullon, testified that the administration felt the bill still needed work, although they are still broadly supportive of the legislation.
Part of the city's affordable housing problem, she said, was that the city's high construction costs mean developers may need to spend $300,000 to $400,000 to build a new three-bedroom home. That means that affordable housing subsidies simply don't stretch that far. The federal Low-Income Housing Tax Credit program, currently the nation's most active affordable housing policy, only creates between 300 and 350 new units in Philadelphia each year.
"What you see in areas like Boston is they have so much low-density zoning that it's difficult to build and they have a really limited supply," said Fadullon. "That causes affordability issues. That is not our problem. Our problem is that a lot of our supply is really old and is in really terrible condition. And with our very high construction costs it's very hard to build new."
The bill proved hot enough that several councilmembers who aren't on the committee weighed in on the legislation. Councilman Allan Domb, who is a real estate developer, said that he's discussed the legislation with several banks. He said they had warned him that lending for new development could dry up, at least temporarily, as the financing for building projects in Philadelphia would become more complex and uncertain.
Domb also noted that high end condo development in Center City actually isn't as profitable as everyone thinks. Only three such projects have been immediately profitable in the 21st century, Domb said, listing Symphony House, One Riverside, and 500 Walnut. According to Domb, most others have gone bankrupt.
City Council President Darrell Clarke stopped in to Monday's hearing as well. He expressed support for Sánchez's bill. Clarke said that local politicians have little control over policies that affect jobs and wages, but can help their constituents with housing costs. That's why the inclusionary zoning legislation, and other affordable housing bills, have been so prevalent in City Council recently.
Clarke concluded his remarks by hinting that Council could soon reconsider the city's ten-year property tax abatement, which has subsidized market rate development throughout the city. Supporters say the ten-year abatement helped spur Philadelphia's recent renewal and growth, but as housing prices continue to rise in Center City and the surrounding neighborhoods, some affordability advocates have increasingly questioned its continued need.
Dear reader, your support is essential for PlanPhilly's independent, watchdog coverage. Please help us continue providing the local public interest news that you value in 2018 by making a tax-deductible donation during our once-a-year membership drive. Thank you for eleven great years of coverage on the built environment and counting!