Help Wanted in Philly? Amazon says not so much.
In 2017, Amazon posted hundreds more job ads in Boston, and Washington D.C. than in Philadelphia and a group of business researchers says that the hiring trend may be a sign that the online commerce just isn't that into the City of Brotherly Love's labor supply. And that, they say, matters.
"Given the relatively large number of ads for headquarter caliber occupations and the growth rate in those ads, the Washington, DC metro area and Boston seem the most likely candidates for a second headquarters," reported researchers for The Conference Board, a nonpartisan business organization.
The group tallied online job ads in all of the cities that made it to the second round of Amazon'S HQ2 hunt with the guiding theory that "Amazon's current footprint in these cities could ease the hiring of 50,000 new employees and growing demand signals their desire to increase their presence."
Amazon posted more job ads in nearly all the shortlisted cities, including Philadelphia last year than it did in 2016 but the numbers varied wildly. "Pittsburgh and Chicago experienced some of the strongest growth, but the overall number of ads remains low compared to the New York and Washington DC metro areas," the Conference Board reported. According to to the organization's data, Amazon posted 60 "headquarter caliber" positions in the Philadelphia market in 2017, a 40 percent jump from 2016. Pittsburg, by way of comparison, saw 59 job ads, a steep 90 percent jump. Both cities were dwarfed by D.C.' s 887 jobs and Boston's 760.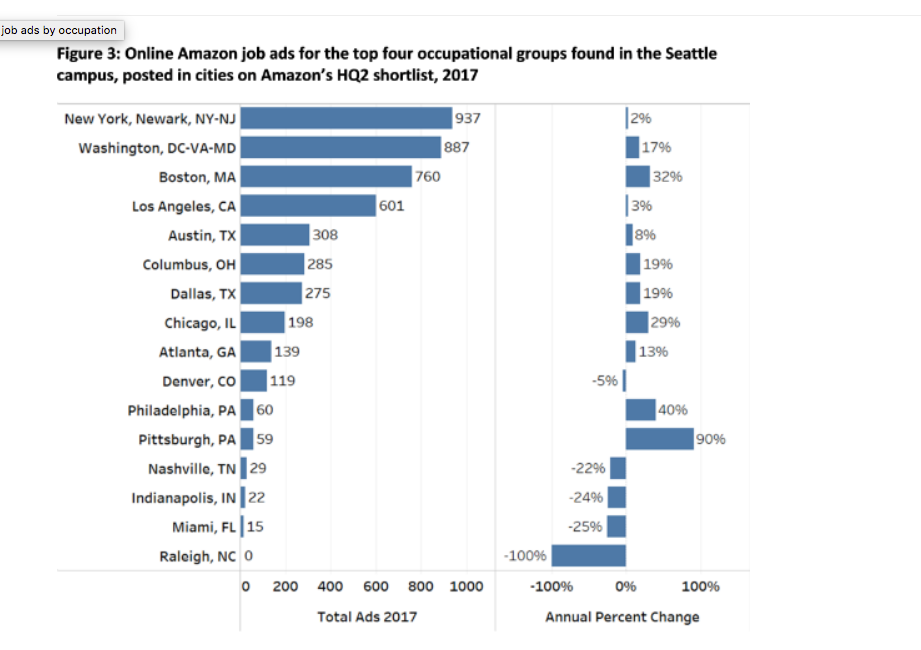 Meanwhile, Philadelphia may have offered $2 billion in tax incentives to lure Amazon, according to a financial watchdog group's estimates, the Philadelphia Business Journal's Natalie Kostelni reports.
Good Jobs First estimates that "Pennsylvania offered $1 billion in unspecified tax breaks [and] Philadelphia… offered $2 billion in the form of a 10-year exemption from its business net income tax." Kostelni notes that those figures couldn't be confirmed and did not come from public officials.
Any state incentive package would need to be approved by the legislature.
Philadelphia has been quiet about the exact details at this stage, which makes sense right now, a source familiar with the situation tells Kostelni. "It's premature to publicly discuss financial incentives because nothing has been agreed upon at this point between the city and Amazon and may never reach that point."
Listening to the poetry of place
For some, the best way to capture the experience of one's neighborhood is through memories, images, or distinct sounds. With that in mind, WHYY's Morning Edition host Jennifer Lynn recently asked listeners to submit poems about Philadelphia. I sat down with Lynn to chat about a few favorites, including 'Death of The Fishtown Cobbler' by Kensington resident David Livewell and a tribute to Kingsessing Avenue's architecture by Squirrel Hill resident Ernest Hilbert. Meanwhile, Kensington resident Ron Stokes paid tribute to the skyline room at the Philadelphia Central Library and Upper Darby resident Luke Stromberg brought life to the 'anxious row homes, corner stores, and taverns' in West Philly. I also shared my own haiku, "Springtime in Philadelphia."
Listen to all the poems here.
A memorial to Black Civil War soldiers unveiled
Local officials, veterans, historians, and reenactors paid tribute to Black Civil War soldiers at the unveiling of the new memorial at the Philadelphia National Cemetery Saturday, the Philadelphia Tribune reports. At the ceremony, Mayor Jim Kenney emphasized the complexity of serving the country while being black in public spaces in America. "Think about the fact that a Black soldier in Civil War uniform could not enter or ride on a trolley car in Philadelphia," Kenney said at the dedication. "It wasn't like Rosa Parks where you had to sit in the back because people in that day had to sit outside and fought for rights to integrate public accommodations."
Irv Brockington, a commissioner in Cheltenham Township, spoke about discrimination faced by the soldiers and other blacks in history and today. "In 1867, the laws changed allowing Negroes to have the right to ride in public streetcars – and maybe sit inside a Starbucks," Brockington said.
PSA: Tell SEPTA how it should spend its money
SEPTA is hosting a pair of hearings on its capital budget for fiscal year 2019 on Wednesday, April 25. Hearing sessions will be held at 11:30 a.m. and 5 p.m. in the Board Room at SEPTA Headquarters, 1234 Market Street. People are invited to ask questions and submit comments during these sessions
Check out the full budget proposal, including program and project details here. Submit your comments online here. An independent hearing examiner will review all public feedback and submit a recommendation prior to the SEPTA Board's vote on the proposal on May 24, 2018.