Poetry conveys sense of Philadelphia community
For National Poetry Month, Morning Edition host Jennifer Lynn asked listeners to write poems about their communities.
Listen
5:34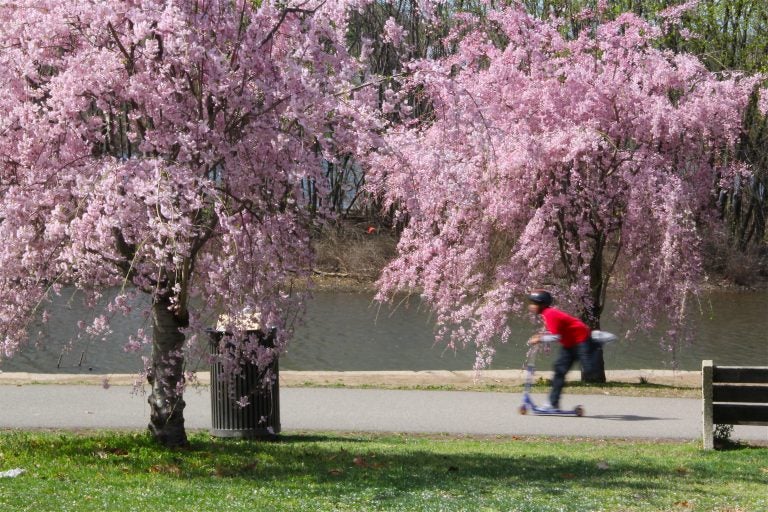 National Poetry Month is winding down. A few weeks ago, Morning Edition host Jennifer Lynn did a call out for poems penned by WHYY listeners about their communities. Lynn was inspired by WHYY's recent series on gentrification.
To sort through some of the poems received, Lynn is joined by PlanPhilly's community engagement editor Diana Lu, who also jumped at the opportunity to submit a haiku — actually several.
—
WHYY Morning Edition's collection of listener poems:
Haunts
By: Ernest Hilbert, from Squirrel Hill
A clear sky over Kingsessing Avenue:
Iron gates catch a trove of wind-blown foil,
Crushed cupolas of Styrofoam,
Folded sails of wet newspaper.
Charles Addams, you strolled
These streets, observed the late sun
Burn and bulge in bay windows,
Sketched mansards on misty Sundays.
Would you have drawn me, peering
From behind blinds, edged by columns
Under a cornice jeweled with raindrops,
As sun returns long shadows to our street?
---
Death of The Fishtown Cobbler
By: David Livewell, from Kensington
(In memory of the cobbler Edward J. Staniszewski)
For fifty years he walked a thousand miles
In our worn shoes. He cushioned steps. He sewed
Our fraying seams. Now, shines and soles erode
As we pass by his darkened shop, where piles
Of yellowed window signs speak a mouthful:
There's no such thing as small repairs.
Time wounds all heels. I save more soles than prayers.
Our tongues are tied, all shoes disposable.
---
Springtime in Philadelphia
By: Diana Lu, PlanPhilly Community Engagement Editor
Cherry blossoms bloom /
Water ice and a good stoop /
Someday, Spring will come
---
Sansom St.
By: Liz Matt, from Cinnaminson, N.J.
His bad luck shines out
Like the bright shards of mirror
'Round the vent man's nest.
---
Dis mus' be da Place
By: Ron Stokes, from Kensington
(A tribute to the skyline room at the Philadelphia Central Library)
Jever see someone smilin'
For no apparent reason at all?
You wunner at them allawhile n'…
'S jus' nostalgia from the past is all.
Me n' my friends as young boys
Were quite mischievous and aloof,
'Stead o' time spent playin' with toys
We'd challenge to climb a roof.
Low porch eaves n' drain-spouts
Provided the steppin' stones;
"I'm callin' th' cops!" a neighbor shouts,
"You nitwits 'll break your bones!"
A garage ain't nuttin, a rowhouse is OK,
N' a supermarket's satisfactory;
But the only kids revered today
Are those who've scaled a factory.
Manhood was found atop that summit,
Well, manhood as us kids knew it;
Your badge of courage once you clumb it,
…Like namin' the dragon affer you slew it!
In Kensington there was this sweater mill;
My initials, onna roof, carved inna tar.
Now it's jus' a vacant landfill,
But as real to me as my memories are.
I've peeked into forbidden skylights
N' recovered many a handball home run;
Roofs hold true my adventurous highlights,
…Seems that's where I had my mos' fun.
So you can imagine my exhilaration
The firse time I came into this place,
The woman 'neath the sign 'INFORMATION'
Couldn't unnerstan' the wry grin on my face.
"Skyline Room, please?" I inquire.
(You wunner why I grinned like a goof?)
Her response set my synapses afire…
"Elevators onna right …push 'R' for Roof!"
---
Friends Southwestern Burial Ground
By: Luke Stromberg, from Upper Darby
The place is loaded up with dead, but still
The low white tombstones hunkered in the grass
Are baby teeth that bear us no ill will.
Its stony wall and gothic fence encompass
A rural oasis tucked among the lanes
Of anxious row homes, corner stores, and taverns.
At night the brakes of the commuter trains
Screech faintly beneath the screech of its environs.
There, death is made to seem a shutting out
Of all the noise and fuss of dailiness,
And somehow we feel more at ease about
The last breath we all have awaiting us.
Outside its gates, this life's so thick with grief
That we can hardly wait for that relief.
---
Danielle Fox contributed production work to this poetry callout. 
WHYY is your source for fact-based, in-depth journalism and information. As a nonprofit organization, we rely on financial support from readers like you. Please give today.