Greening Stanton eyes stormwater management funds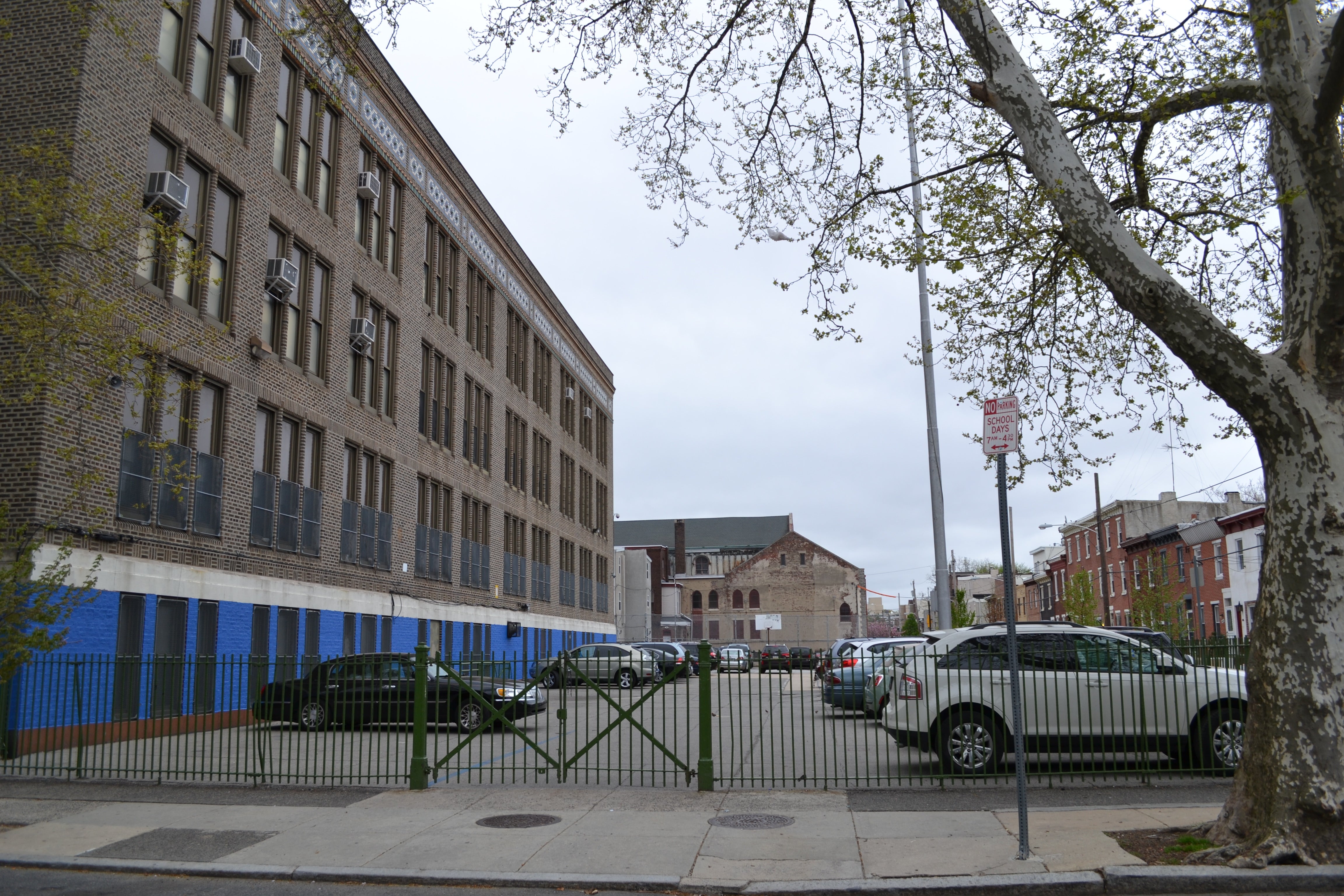 In times of crippling, low school budgets, some of the most available funding for schoolyards now comes from the Philadelphia Water Department (PWD), thanks to its stormwater management grants.
In South Philadelphia, E.M. Stanton Elementary School advocates hope Stanton could be one of the next schools to secure PWD funds for a green schoolyard makeover that would serve a dual purpose of absorbing stormwater and beautifying what is now a flat, featureless, asphalt playyard.
The Community Design Collaborative team included:
Locus Partners, Firm Volunteer
Sylvia Palms, RLA, ASLA, Landscape Architect
Danielle DiLeo Kim, AIA, Registered Architect
Landscape Architectural Designer
Keyleigh Kern
JFS Engineering, PC, Firm Volunteer
Joseph Schaffer, P.E., Civil Engineer
ThinkGreen LLC, Firm Volunteer
Peter Johnson, RLA, ASLA, Cost Estimator
Anna Schmitz, RLS, ASLA, Cost Estimator
This past year, the Stanton School Advisory Council and South of South Neighborhood Association (SOSNA) worked with a team of volunteers from the Community Design Collaborative to develop concept plans for a schoolyard transformation.
In the vision they came up with, "you enter into the schoolyard and immediately you are in a framework of green," said Sylvia Palms, a partner at Locus Partners.
The plan includes a nature play garden "that's just big enough for kids to feel like they can get inside of it," Palms said. The play area, complete with bridges and paths, would run along a portion of Montrose Street and sit just behind an ADA accessible stage with a green roof capable of collecting stormwater. The stage could also double as an outdoor classroom.
Greening Stanton component zones, Courtesy of the Community Design Collaborative

Greening Stanton concept plan, Courtesy of the Community Design Collaborative

Greening Stanton stormwater management plan, Courtesy of the Community Design Collaborative
The remaining length of Montrose Street would be turned into a tree row and stormwater wick. Palms said the border would be transparent and "very lacy" but would help contain balls from escaping the schoolyard.
To contain balls on the far side of the playground, the team proposes building a tall fence where vines could grow or artful adornments could be added.
"A high fence doesn't have to look like a prison yard, it can also be really fun, active and have some graphic elements," Palms said.
The design includes room for a small-scale playground, plenty of flexible open space and a science garden. The idea for the science garden is to keep elements small scale and modular so that they may be implemented by the community over time.
Of course beneath all of this lies the stormwater management potential. While the PWD has not committed to providing any stormwater management funding, the design team wanted to make sure that the site would qualify for grant opportunities.
The Stanton School Advisory Council submitted a preliminary grant application to the PWD but was told that PWD likes to fund projects that are closer to fruition. That means the next steps for the project supporters are to focus on fundraising for final design and construction. The total cost of construction, including materials and labor, is expected to be in the $700,000 ballpark.
The newly formed Stanton Community Partners will lead the fundraising efforts.
A few years ago, the Stanton School was on the chopping block as one of the first handfuls of schools set to close as a part of the School District's resizing efforts. Stanton was spared, and James Wright, a parent of students at Stanton, said projects like Greening Stanton are part of a larger effort to keep Stanton as far from the chopping block as possible.
Today the playground is flat, featureless and sometimes used as parking

At the far end of the playground a tall fence behind the basketball hoop would help keep balls in the schoolyard

Green elements along Montrose Street would provide nature play, wick stormwater and help keep balls in the schoolyard

Today the Stanton schoolyard doubles as a parking lot

The design takes the decorative detail of the building's facade into account

The design takes the decorative detail of the building's facade into account

The project scope is limited to the schoolyard, not the full permitter of the building

On the southwest corner across from the schoolyard, neighbors are working to transform these empty lots into Carpenter Green