Seeds from home help refugees grow roots in South Philly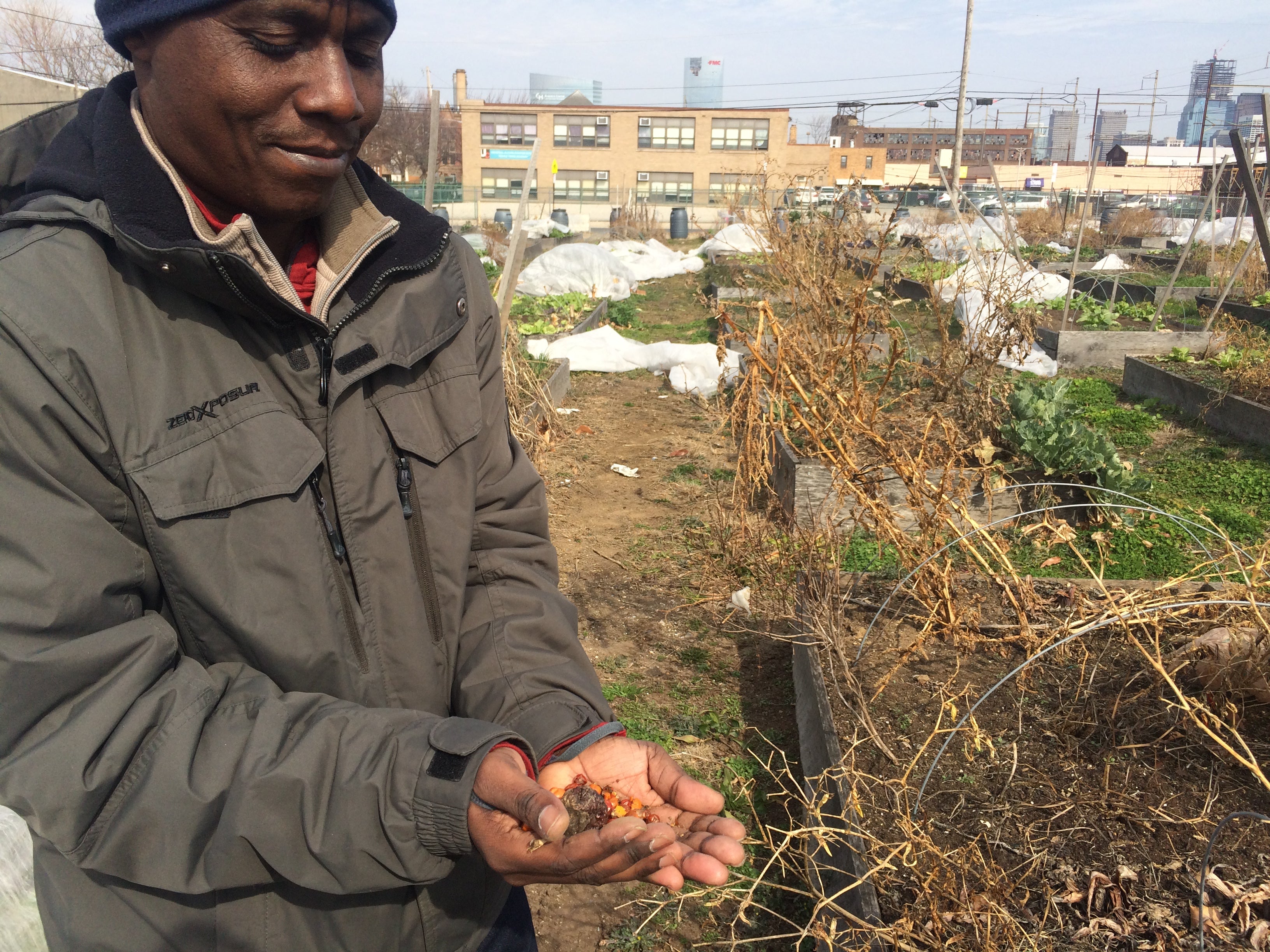 Growing roots in a new country? For refugees in South Philadelphia that transition is eased by growing a comforting taste from home. This story is part of an episode of The Pulse, a WHYY-based show about health, science and innovation, called Seeking Refuge. You can find it on iTunes or wherever you get your podcasts.
Last year, Merthus Mbonigaba planted African eggplant in the United States first the first time.
Mbonigaba, 44, is a refugee from the Democratic Republic of Congo, in Central Africa, where he was a farmer and a teacher. In the U.S. he teaches neighbors how to grow their own food on the Growing Together farm, a 3-acre community garden in South Philadelphia.
Our tour of the garden was in the middle of winter, so most everything around us is brown and dead, but after a bit we found a dried wrinkled African eggplant from last summer.
This variety is nothing like the big, dark purple eggplant that we know. It's small and oval, so it actually looks like an egg. It can be white, green, or yellow. It has lots of common names, and Mbonigaba says it's called different things in the Congo, Burundi, and Rwanda.
In Swahili, "nyanya ndore," he said. "In Kirundi we call it intore. In Kinyarwanda we call it intori."
Malik Savage, an American, works together with Mbonigaba at the farm. He said the eggplant tastes kind of like a cucumber.
"They're good stuff, man," said Savage who learned about the plant from Mbonigaba.
Mbonigaba had wanted seeds of this eggplant since he arrived in America two years ago. You can eat it raw like a fruit, and he was craving its bitter taste.
Then, a Congolese friend in New Hampshire said he was growing eggplant from home.

"Is it true that we can get some eggplants here in the USA? It was so amazing," Mbonigaba said.
He's not exactly sure how his friend got the plant into the U.S. but guesses maybe someone came with a few seeds in his or her pocket.
Sneaking seeds into the country without declaring them is not legal, but many refugees, especially farmers, take a chance.
Juliane Ramic from the Nationalities Service Center helps resettle refugees in the United States. She said clients sometimes become emotional when they first see familiar foods.
"Food brings them comfort," Ramic said. "Being able to have a taste from home or to see an ingredient that maybe their grandmother used to cook back home, can be very powerful."
(Catalina Jaramillo / WHYY)

(Catalina Jaramillo / WHYY)
The Nationalities Service Center operates two farms in Philadelphia with more than 600 garden plots where neighbors and refugees grow produce side by side. In addition to the eggplant, there's bitter melon, and Burmese farmers grow Roselle, an herb used for stir-fries and soups.
The farm not only provides food but it's also a place to forget about stress.
"We have no place where to meet, but here it can be a good place where you come, where you do your own thing, and you can even expect a good friend to be there," Mbonigaba said. "Someone who can share the same language or same stories, yeah, feels so wonderful."
At the end of the farm tour, Mbonigaba invites me to his house for Sunday dinner to taste the way his wife cooks the African eggplant. He and Suzana Muzungu have five children, ages 20, 12, 10, 5 and 3 years old. They arrived in Philadelphia together in 2015.
The family escaped civil war in the Congo where Mbonigaba says the family was targeted because of their ethnicity and political views. After that, they lived in limbo at a refugee camp in Namibia for 17 years.
Muzungu is cooking potatoes, fish and a starch called fufu. While she cooks, we chat about life in Philadelphia.
"Here in America life is very good because there's no war," Muzungu said in Portuguese.
After an hour of talking, chopping, and seasoning, the eggplant is the last thing to hit the pot. Meanwhile, Mbonigaba sets the table. And later, the kids come down to eat.
The oldest, Alpha, is 20.
"It looks like it tastes good," he said.
Having eggplant in the middle of the winter is special. This batch is leftover from last year's harvest and kept frozen. The family prays in Swahili, and then we dig in.
"It's so delicious … She cooks like my mother," said Mbonigaba, complimenting his wife.
The meal reminds him of the Congo.
"I remember my home. How I use to be in a big family, around a big table like this," he said.
"When I eat this food I remember my grandmother, and then I remember my mom," Muzungu said.
The Mbonigabas were forced out of Congo when the oldest son, Alpha, was just a baby. After two years in America, he's slowly losing his Swahili, but his food memories are still strong.
"The way I was raised eating this food and still eating it in another part of the world, in the United States, it really feels good," Alpha Mbonigaba said.
"It will help me not to forget where I came from."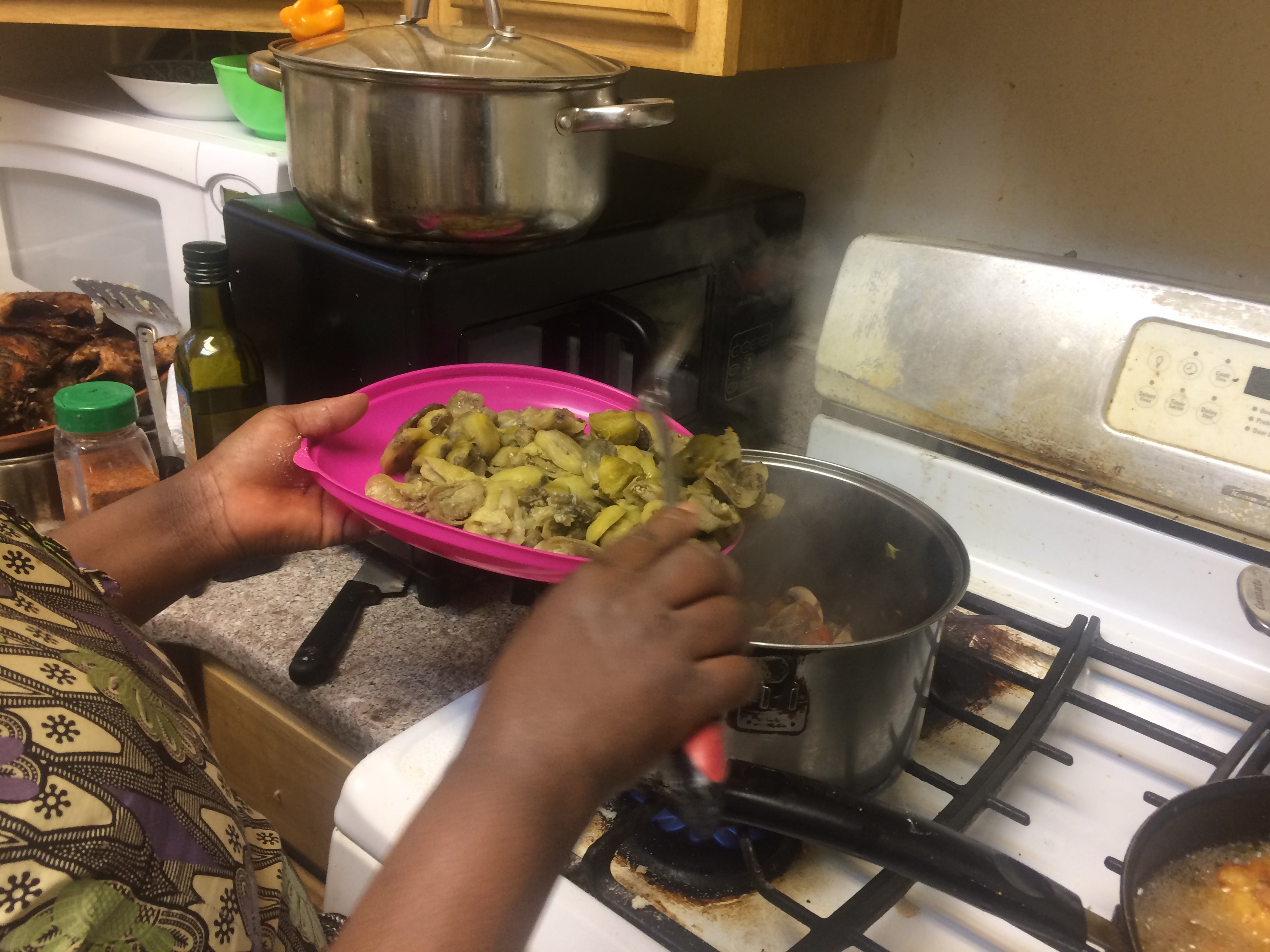 WHYY is your source for fact-based, in-depth journalism and information. As a nonprofit organization, we rely on financial support from readers like you. Please give today.