Why can't you tell me how you feel?
"I fear that the only thing that connects us is our failure to connect," wrote Roman Muradov, an artist from San Francisco, in the recent New York Times feature "What are You Afraid Of?" The article featured work from nine artists reflecting on and depicting their deepest fears in the week following the presidential election.
Muradov's illustration featured two figures in profile, suspended in a field of blue, back to back, with sheer black fabric blindfolds over their eyes, tied together behind their heads. The only thing connecting the two characters together in this void was their thin black veils as they faced opposing directions.
The exercise of making art about the things that scare us is important for us social artists to consider practicing. And this exercise is very timely, considering recent events. I identify with Muradov's drawing and share the same sentiment as the artist. Presently, there is a palpable growing disconnect between what we feel and what we say.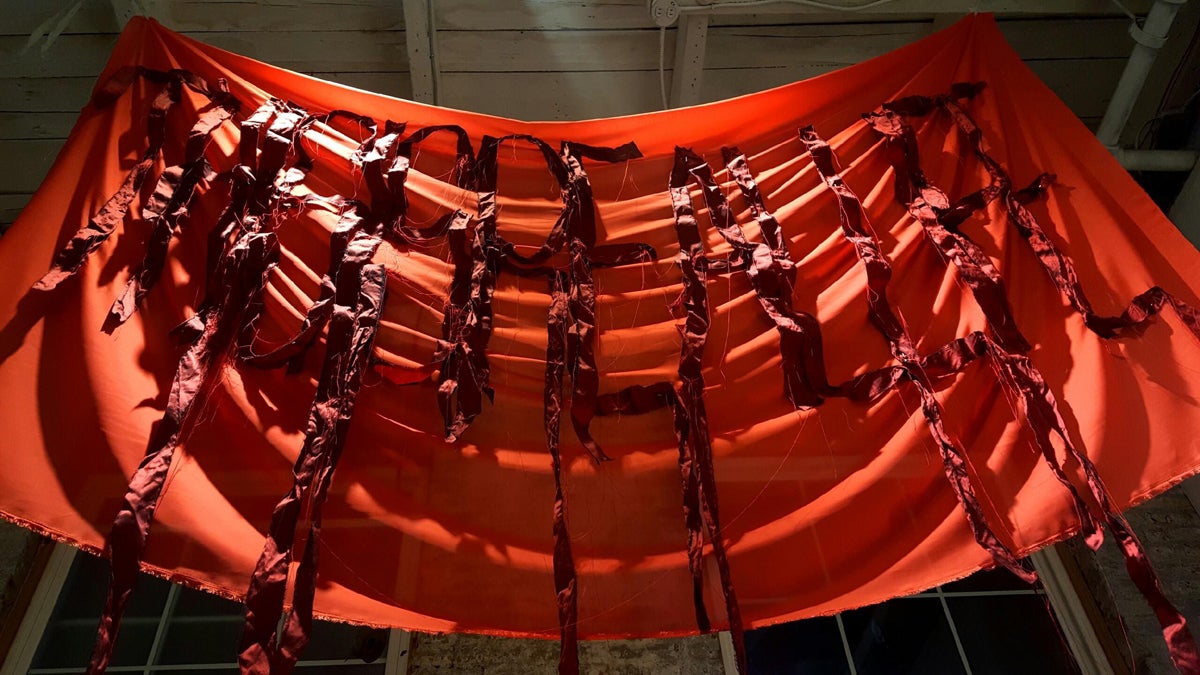 It's hard to communicate our emotions, to put it into words. It seems that we are unable to clearly express how we feel to one another and decipher how we feel within ourselves. The effects of this are harmful, and as a country, we are arguably the most overtly divided and disconnected we have been in years.
So why is it so challenging to honestly express how we really feel? In my city, we pass each other on the street without locking eyes. We force an unnatural, composed facade during our day-to-day. We are glued to our devices. We text at the speed of light instead of slowing down and choosing our words thoughtfully. In our private moments, we aren't able to unplug. We scour the Internet. We type lengthy rants on Facebook. We hit the share button to try to feel or release something.
Maybe it's a defense mechanism. It's hard to take time and be thoughtful when we are constantly bombarded by bad news. It's vulnerable and uncomfortable to sit with it. There is a sense of urgency to do versus slow down and feel. We are collectively having a difficult time not only discerning how to feel, but how we should feel, and we struggle with finding our voice among the hustle, the hardships, and the tragedies of everyday life.
My desire to break free from this spiral has been a very personal quest, which began when I started finding it nearly impossible to identify and speak my own truth. My brain felt like it was on overdrive and I felt burnt out. The more I became educated about the importance of meditation, of slowing down, of taking time, of quiet, the more I started paying attention to people around me sharing the same debilitating symptoms.
Little interaction between people on the street, the subtle nuances in the way people carried themselves, their furrowed brows, how their shoulders hung, how they were glued to their phones, all revealed itself to me as our discontented collective consciousness. We're walking next to each other on the same block but it's like we're a mile away from each other.
For the last decade, I have explored the effect our unsettled and unwieldy environment has had on our ability to vocalize our personal truths to one another, to reconnect, and how detrimental that has been to our closest interpersonal relationships. Our foundations are crumbling the further we get away from ourselves.
I make street art to explore this issue very closely and in the only way I know how — by using the bits and pieces of words I've collected from others to make sense of the things left unsaid. My work grasps at our fleeting thoughts and pieces back together the words left lingering behind so that we can spend a little bit more time sitting with them. On the streets, I encourage passersby to reflect on the words before them and help answer the complex question: Why can't you tell me how you feel?
By tearing yards of silk and painstakingly piecing letters together to write out the quotes I've amassed from eavesdropping on other people, I'm attempting to bridge the gap between the head, the heart, and the words leaving our lips, and explore the bigger issue of the miscommunication that is dividing us.
I find it difficult for us as a whole to find the invaluable time to nurture ourselves, meditate on our environments, circumstances, and heal our old wounds. I think that time is essential to identifying how we truly feel about a situation and reconnect. I am aware that time isn't easy to come by. But once we have that space to mull something over, reflect on what we're feeling, put the phone down, we can take more appropriate action, build, and reconnect as a community. We can communicate with a fresh perspective, with empathy towards others, with our own interpretations free from the heavy influences of the outside world.
By making the work that I make, I'm very intentionally carving out that time for myself to meditate on these words, and create a piece that can provoke others who stumble across it on the streets to do the same. My hope is that my work becomes a punctuation in someone's daily grind on their walk to work, and that the movement of the fabric holds them in front of my piece long enough to think about the words before them and more importantly question, "How do I really feel?"
—
Aubrie Costello is a silk graffiti artist in North Philadelphia. She was one of 11 artists who showed their work in the October 2016 exhibit Philadelphia Goddam: Art in Dissent, at Little Berlin in Kensington, Philadelphia.