"It Ain't Your Grand Pop's Riverfront Anymore!"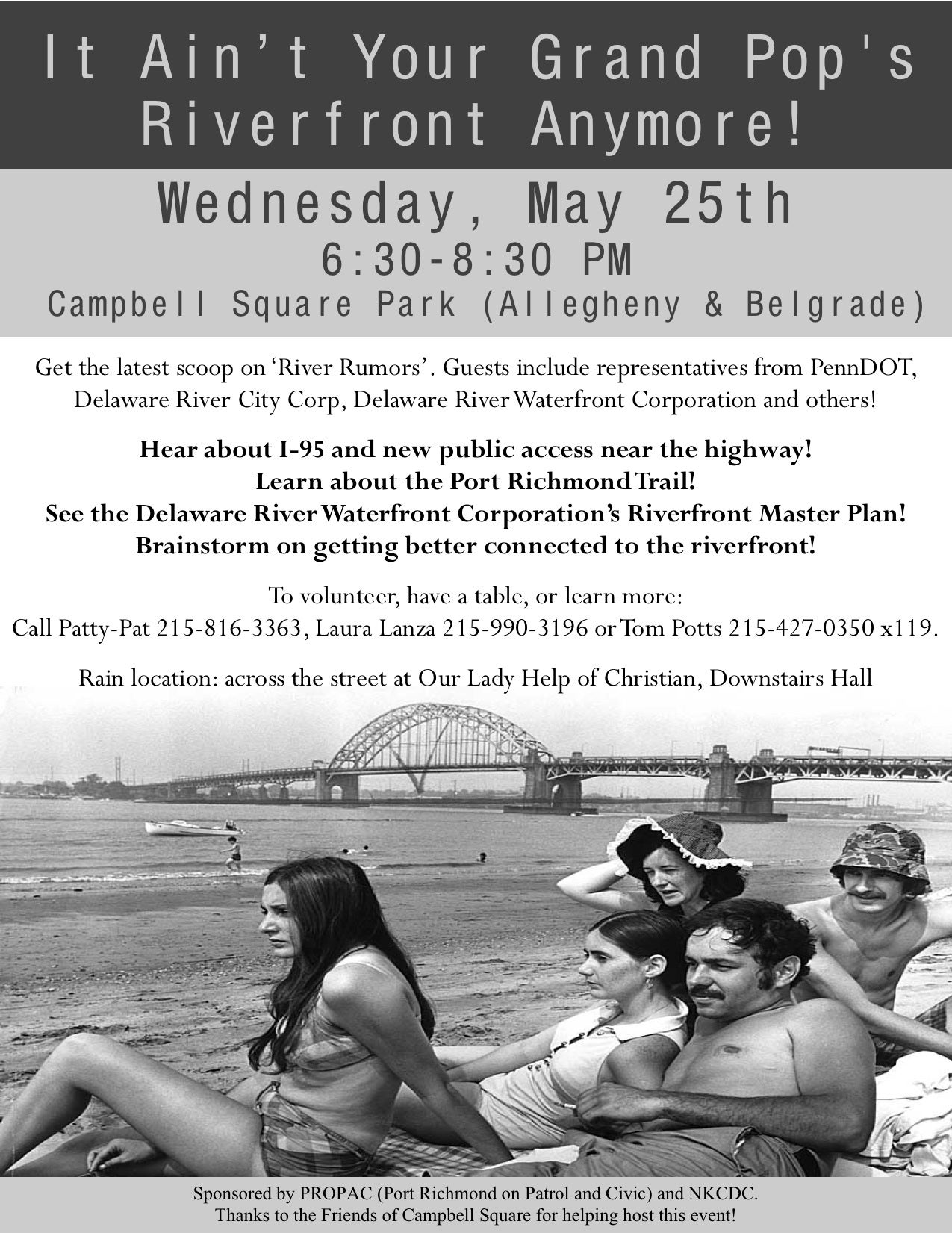 Wednesday, May 25th. 6:30-8:30 PM.
Campbell Square Park at Allegheny Avenue and Belgrade, 19134, Port Richmond, Philly!
Get the latest scoop on 'River Rumors'. Guests include representatives from PennDot, Delaware River City Corp, Delaware River Waterfront Corporation and others!
Hear about I-95 and all the new public access under and along the highway! Learn about the Port Richmond Trail ! See the Delaware River Waterfront Corporation's Riverfront Master Plan (to be unveiled June 13)!.
Sponsored by PROPAC (Port Richmond on Patrol and Civic) and NKCDC (New Kensignton Community Development Corporation). Thanks to the Friends of Campbell Square for helping host this event!
To volunteer, have a table, or call about rain:Call Patty-Pat 215- 816- 3363 , Laura Lanza 215-990-3196 or Tom Potts 215-427-0350 x119.
Rain location: across the street at Our Lady Help of Christian, downstairs hall
Resources for More Information:
Delaware River Waterfront Corporation, events & planning: www.delawareriverwaterfrontcorp.com
I-95 Girard Avenue Interchange (GIR) Improvements: www.95revive.com
Delaware River City Corp and the North Delaware Riverfront Greenway Plan: www.drcc-phila.org
Laura F. Lanza
215 990-3196 (mobile)