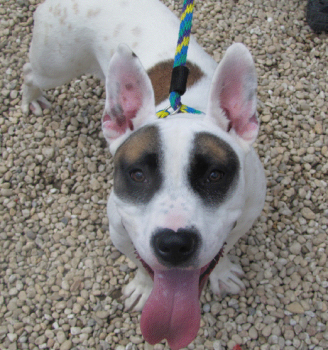 Lele (A13035088) is spunky little girl who is less than a year old. Lele was surrendered by her owners who just didn't want her anymore. Although they did not want her, it seems her owners took care of her — she appears to be in great condition. She is a good weight, if not stocky at approximately 51 lbs and her coat is shiny and clean.
She looks very much like she is part bull terrier and has a striking mask that is perfectly symmetrical. A mask is appropriate for Lele since she hid her true personality while in her kennel! In her kennel, she sat quietly and patiently looking to go out. Once she got out, her true personality showed! And boy does she ever have personality!
She has lots of energy and likes to bite on the leash but is quickly learning how she is supposed to behave. But heck, she's still a puppy! As she showed with her leash, Lele likes to play with rope toys and will play fetch and tug-of-war. Lele has no issues with body handling or resource guarding — you can take her toys and food without her fussing. She takes treats very gently from your hand.
Once she has a chance to work off some energy, Lele is very happy to get some head scratches and belly rubs and sit leaning up against your leg. She seems to be housebroken, too — she did her business as soon as she got outside.
Lele seems to like to interact with other dogs, but as a pushy girl, she can get a bit overbearing with mild-mannered dogs. When she was out in the dog runs, she ran to the fence to greet the other dogs passing by. She did not bark or growl when they approached, but just wanted to play and get attention. Please come meet this smart, spunky young girl! It would be a shame to have her deteriorate in the shelter at such a young age. If you would like to meet Lele and have another dog, a dog meet would be required. Lel showed some interest in cats. She could be retested with cats to be sure, but likely would not do well in a home with cats.
These animals are located at Philadelphia's animal control shelter, ACCT. They need immediate adoption or foster care.
ACCT is located at 111 W Hunting Park Ave. and is open 365 days a year. Please check the PSPCA website for hours. To check the status of an animal, call 267-385-3800, email nsmith AT pspca.org or mdecker AT pspca.org.
Don't forget to check out the weekly Animal Care & Control event at the Petsmart in Haldeman Plaza, where you can learn more about adoption and foster care, and meet some animals who need a good home.
Check in every week with NEast Philly to see the cat and dog of the week.