We should dismantle our nuclear stash, not expand it
Across the U.S., ICBM silos are just sitting there. They would be the first targets if Russia launched an attack to try to limit our retaliatory capabilities.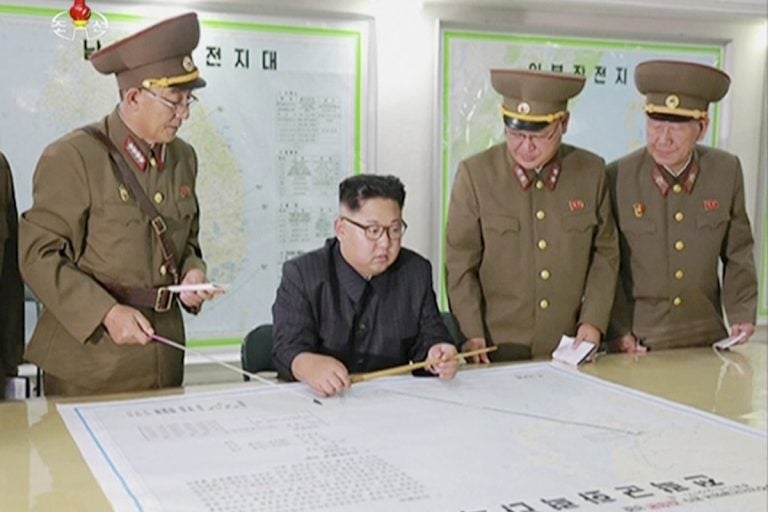 There is no better time than today to re-evaluate our country's nuclear stance toward the rest of the world. Tensions with Russia are rising. China grows ever more powerful. And North Korea claims it has the capacity to reach the United States with a nuclear weapon, and it is willing to use it.
In that context, the United States is considering a large-scale weapon modernization program, upgrading the bombs and their delivery systems over the next several decades. Some reporting even suggests that the president has called for a tenfold increase of our arsenal. Although the proposition doesn't have serious policy ramifications, it does represent a mindset that more is better when it comes to nuclear weapons.
Our nuclear deterrent force, one might think, is more important than ever, including the collection of 400 intercontinental ballistic missile — or ICBM — silos scattered throughout the country, ready to launch death and destruction at a moment's notice. Conventional wisdom holds that all three legs of the triad — ICBMs, bombers and submarines — are necessary to prevent our adversaries from launching an attack on American soil. However, it's increasingly clear that there's no need to update the ICBM force at all, and, in fact, we would be better off dismantling the missiles that we currently have.
"Deterrence is so widely baked into American consciousness that it's not even questioned," says Ryan Snyder, a visiting research fellow at the Arms Control Association. "We have all these weapons to deter attacks on us."
But, he points out, there's no deterrence objective that ICBMs accomplish that our fleet of submarines and bombers can't handle just as well. In the macabre scenario that we decided it necessary to launch a strike on another country, there is more than enough firepower on the subs and planes to target any plausible sites in Russia, China, North Korea, and Iran combined, with more weapons left over. No rational actor would strike the U.S. first under those conditions, and, if we aren't dealing with rational actors, there's no reason the ICBMs would stop them.
What's more, submarines have the advantage of being a mobile fleet that is, for all intents and purposes, invulnerable, because no existing detection technology poses any real threat.
"There's no rationale based on fears of submarine survivability for spending a large sum of money to replace the ICBM force," Snyder argues. In fact, since the submarines aren't stationary on U.S. soil, they don't make tempting targets for foreign adversaries, giving a potential foe one less reason to start a nuclear war.
Note that fellow nuclear powers France and the United Kingdom don't use ICBMs at all, in part to avoid permanent, nonmobile infrastructure vulnerable to a strike.
That exposes a key problem with the ICBM force — the silos are just sitting there, on our homeland, and would be the first targets if Russia launched an attack to try to limit our retaliatory capabilities. Therefore if we suspect missiles are on their way toward American soil, we have to launch our own within half an hour or risk their destruction. That makes the system and, by extension, the world, critically vulnerable to a computer glitch or false alarm. It's happened before.
By the same token, if Russia or another country even suspects we are preparing a first strike from our missile silos, it's plausible they could launch their own to pre-empt it, detonating nuclear explosions across the country. That's not an appealing scenario, to put it mildly.
To reduce the odds of any of these events, the best tack is to limit the number of nuclear weapons in the world, whether they are controlled by the U.S. government or others. And if the nation wants to take a realistic stance on nonproliferation, consider how little credibility we have to convince other countries not to develop weapons without making efforts to reduce the number and volatility of our own stash. "You don't get to simply go around the world and say we have nuclear weapons and you don't get to have them," Snyder says. "I don't think that's a sustainable plan."
Instead, we're more likely to incite another arms race if we keep pouring money into our weapons, leading to a world with more nukes, not less. "We have to have a strategy that works toward trying to get rid of this kind of stuff," Snyder continues. "That strategy is probably impossible without the United States making a unilateral reduction."
On a less visceral level, the expense is another consideration. The plan to update our arsenal is estimated by various sources to cost between $1 trillion and $1.46 trillion, and that's before we get into the inevitable delays and overruns. Up to $140 billion of that is geared toward new ICBMs, money that could be far better spent on other defense or domestic needs.
Finally, amid the discussions of technical capabilities and dollars and cents, don't lose sight of the human component, taking into account the millions and millions of people who would be incinerated in the event of an all-out war, not to mention the very real possibility of rendering the planet uninhabitable to human life. Any action we can take to reduce those odds is the only rational way to go. What difference does it make if Russia has a few hundred more weapons than we do if everyone ends up dead anyway?
WHYY is your source for fact-based, in-depth journalism and information. As a nonprofit organization, we rely on financial support from readers like you. Please give today.