Design review committee tells CHOP to make better connections to river and neighborhoods, and be less auto-centric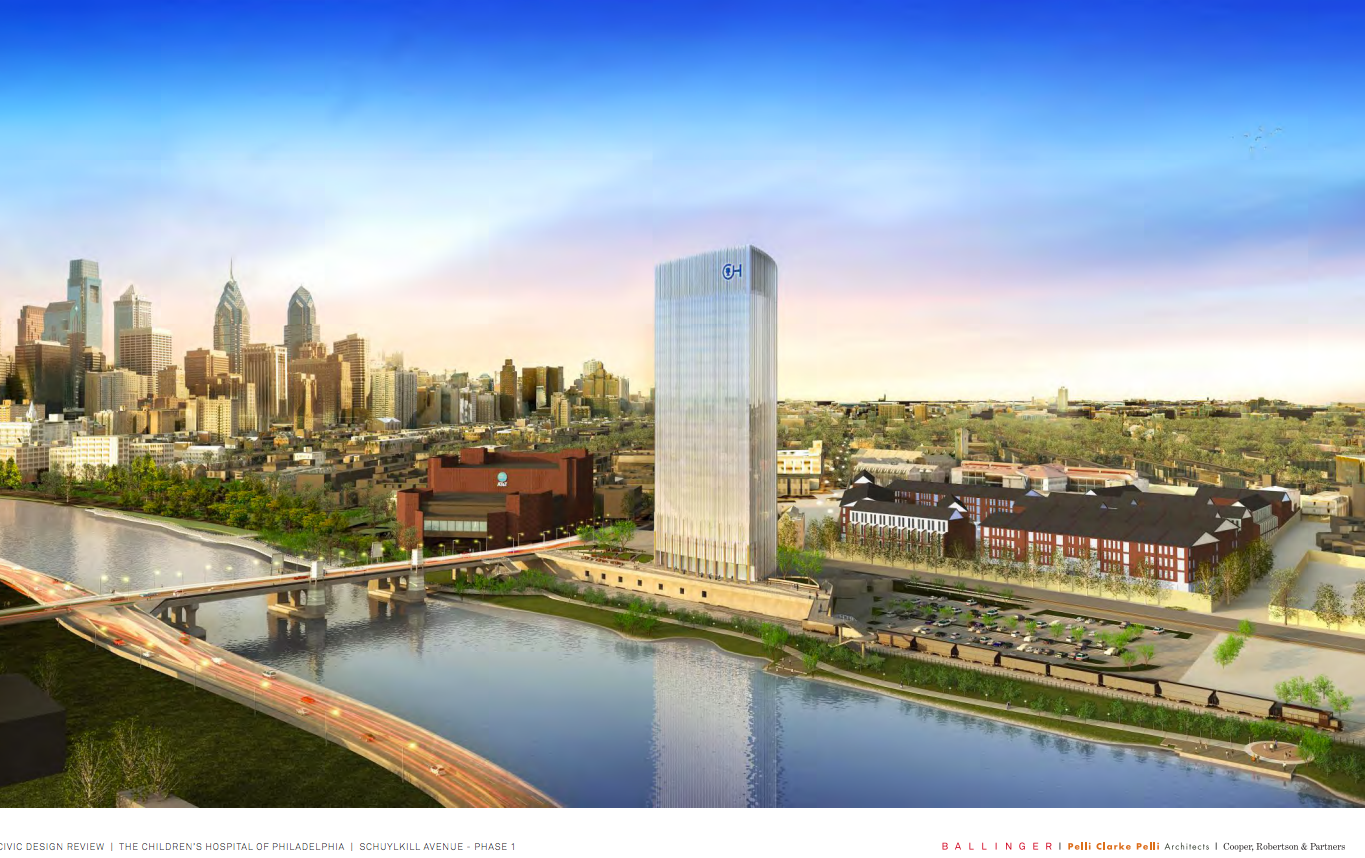 The Children's Hospital of Philadelphia's proposed research and office complex on the Schuylkill River at South Street should be better connected to the river and the city and be less "auto-centric," the Philadelphia City Planning Commission's Design Review Committee said Tuesday.
The project and its site – 700 Schuylkill Avenue on the east side of the river – are vitally important to the surrounding communities and the city as a whole, CDR members said, which is why they want CHOP to address concerns about access, traffic, a relative lack of commercial and retail space and view sheds, either by making improvements or by better explaining to the committee why they can't be made.
To that end, CDR did not send CHOP and its proposal on to the full planning commission. Instead, the committee is requiring the hospital to come back before CDR a second time to address CDR's recommendations.
The complete list of CDR recommendations:
1. Explore alternatives to the number of curb cuts off South Street Bridge – make site less "auto-friendly."
2. Commit to connection to the Schuylkill River trail from neighbohood and pedestrian bridge crossing the railroad tracks, with public amenities as articulated by the community.
3. Work with Streets Dept. on resolving point #1
4. Stronger connection to the surrounding urban fabric. Clarify connections through design, such as more commercial site amenities as indicated by neighboring uses.
5. Garage wall facing Schuylkill Ave. – look for more "activation" uses, such as commercial or community uses.
6. Look for ways to reduce the height of the pedestrian bridge and connecting plaza.
7. Address traffic calming south of Bainbridge along Schuylkill Avenue.
8. Clarify site plan for Phase II and show view from South Street Bridge.
9. Explore feasibility of CHOP shuttle as way to stagger traffic influx to site.
10. Summary – more connected to city and river and less auto-centric.
CHOP representatives said they would look for ways to address CDR's points, but stressed that they were working with a difficult site with unique problems: The concrete wall facing the river is a safety measure in response to the CSX tracks that sit between the property and the water. A second driveway is needed for the LUCY shuttle, which is part of CHOP's efforts to get more people to the site by public transit. CHOP fully intends to build the pedestrian bridge across the CSX tracks to the Schuylkill Banks trail, but won't if changes to the medical environment greatly increase CHOP's other expenses. Current zoning won't allow for much retail or commercial use.
To learn more about the dry-research facility, where studies will be done using computers, not laboratories, read this previous story.
View CHOP's CDR application here. View a presentation made to civic groups here.
The nearly three-hour meeting included comments from audience members that largely squared with the committee's concerns.
The South of South Neighbor's Association and South Street West Civic Association are holding a meeting at 5:45 p.m. Wednesday at the Philadelphia School to vote on the proposal, which mostly can be built by-right as proposed, but needs a variance to have fewer loading docks than required by code.
The CHOP project was presented largely by Donald Clinton of Cooper, Robertson & Partners, the firm which helped CHOP develop its master plan for the site, where today an abandoned warehouse sits. A previously proposed residential development slated for the spot, which sits between the train tracks and river on the western side and Naval Square residential development on the east, failed, Clinton noted.
It's CHOP's "ambition" to build a pedestrian bridge across the train tracks and down to the Schuylkill Banks trail in the first phase of development, but it will be expensive, Clinton noted. It will be done unless something dramatic that would have a negative impact on CHOP's bottom line takes place, he said, noting that the climate in the world of medicine is volatile right now.
Anticipating the coming criticism about the parking podium – the expanse of mostly solid wall facing the river and containing a garage – Clinton said it was largely out of CHOP's control, and is in response to CSX safety requirements. The property is in the 100-year flood plane, and the holes will allow any flood waters to be pumped out, he said.
Clinton noted that CHOP owns the land adjacent to the river, but granted an easement so the trail could be built on it. He cited plans for bike racks and bike share, and the CHOP team noted that all parking would be paid parking, as another way to incentivise employees to leave their cars at home.
The SOSNA representative on the committee, Christopher Stromberg, said his organization is pleased with the density of the project, the number of people who will be coming there to work, and the commitments CHOP has made to include public outdoor space and a cafe. But the project needs more commercial and retail space in this first phase of construction.
"We have seen…just the beginnings of talk for 27th and South, 27th and Schuylkill Avenue, commercial space there," he said. "We think that this really must be part of this plan. As far as developing four city blocks, you've kind of bought the ticket of having to provide those types of uses," he said.
"You guys have created an incredible public realm, architecturally," he said. But without activation it could become "a Penn's Landing-type situation," where there's a big plaza but often no one using it, he said.
CDR committee member Cecil Baker spoke passionately about his concerns regarding the project. CHOP is a great institution, Baker said, and it's fantastic to have it crossing the river into Center City. But Philadelphia is no longer a second class city, he said, and this project is in such a key location and will set such precedent that it needs to be top-notch.
Echoing comments from others around the table, he said he didn't see enough connections between the project and the river or the project and its neighbors.
"It worries me that what we may be accepting today we may be judged on in the future," he said. "Four city blocks of a three-story wall separating us from the river. It troubles me. It really troubles me."
It was fairly clear CHOP would be required to bring this project back to CDR a second time when Chairwoman Nancy Rogo Trainer saw a rendering showing the view of the building from the South Street bridge which had not been included in the presentation. CHOP folks assured her it was an accidental oversight, but Trainer said it was a huge one, since this will be a gateway view of Center City.
Watch video of the session below. From top to bottom, the first video shows CHOP's presentation and some committee questions. The second video shows public comment. The third video shows the very end of the public comment session, but is mostly the committee's discussion of the project and some questions and answers between the committee and CHOP representatives.
FULL STORY TO COME
The crowd at CHOP's first Civic Design Review hearing

Site Plan, Plaza Level

Project Massing, Master Plan
WHYY is your source for fact-based, in-depth journalism and information. As a nonprofit organization, we rely on financial support from readers like you. Please give today.