Commission approves digital sign scheme for Gallery on Market East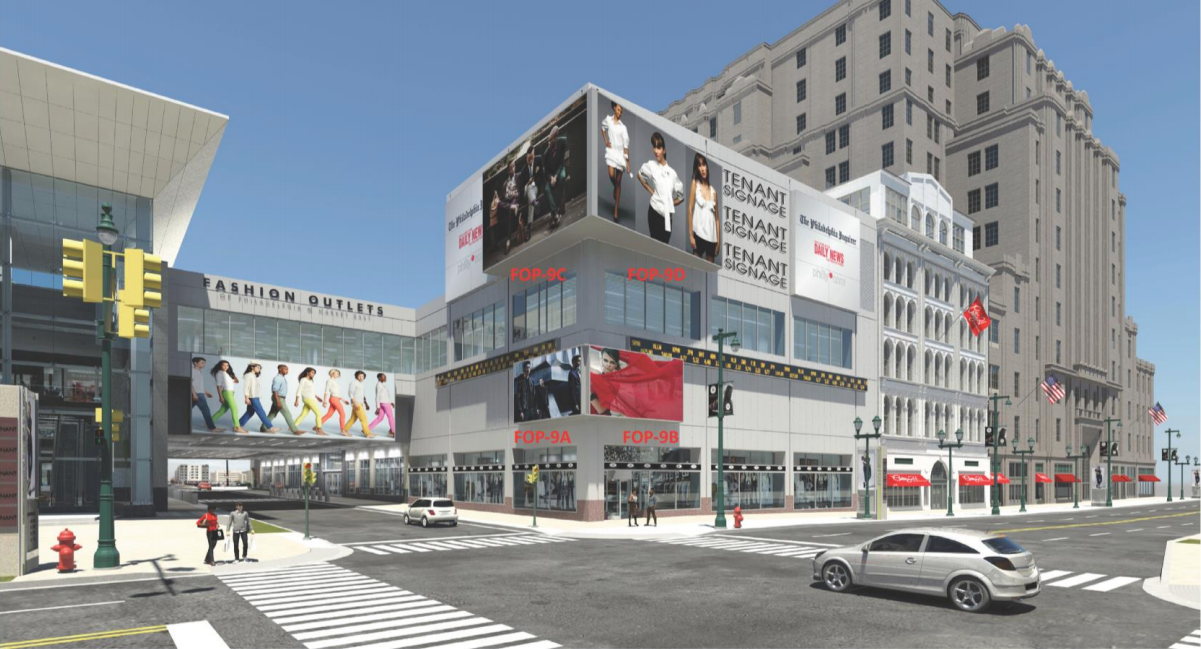 More digital advertising is coming to Market East.
The City Planning Commission voted on Tuesday to approve PREIT's plan to post digital billboards along the front of the renovated Gallery at Market East, along with an associated plan for public improvements. PREIT is seeking to build a total of nine digital signs facing Market Street between 9th and 11th streets. Some of the signs will have multiple display faces. In total, the proposal would add 12,000 square feet of digital signage to Market East, which is about half of what they're allowed under legislation approved a few years ago.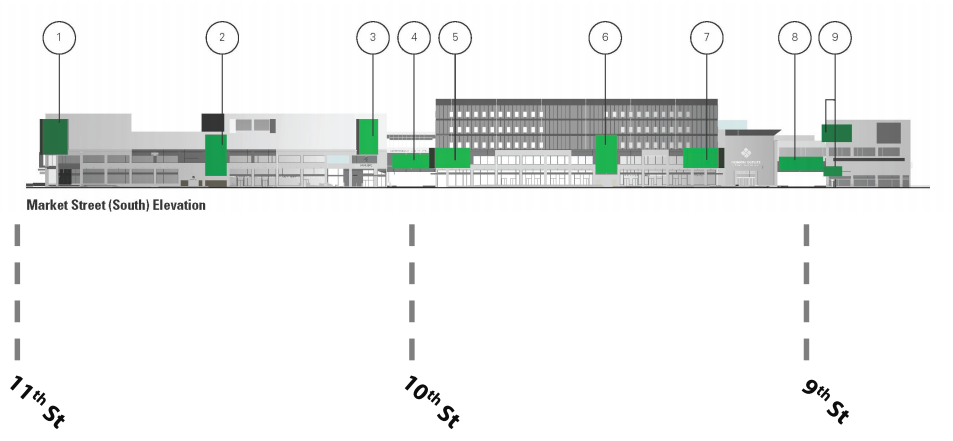 In 2011, City Council approved a bill creating a special advertising district for Market East, allowing developers to construct digital billboards as long as they invest at least $10 million in "public improvements" as part of the proposal. Planning Commissioners and members of the public have occasionally disagreed about what types of improvements qualify, and whether they are truly "public."
PREIT's public improvement plan totals $16 million, but about half of that total is dedicated to "new facade finishes and articulation." On Tuesday, Commissioner Joe Syrnick questioned whether that was really a public improvement or a private one.
"Gussying up your own storefront, while it's a good thing to do, doesn't seem like a public improvement," Syrnick said.
Alan Greenberger, the Commission chair and the deputy mayor for economic development, explained that the digital signage incentive is really in place to spur development. He said that any improvements to the Gallery, which has been under partial public ownership for years and through which the public will still have an easement after renovation is complete, should be considered a public improvement. PREIT is also planning smaller investments in sidewalk improvements, lighting, planters, landscaping, and glass canopies.
In order to approve the signage, the Commission had to determine that it wouldn't detract from the defining architectural features of the buildings and that it wouldn't create a distraction for drivers. It also had to approve the public improvement plan.
"If we get redevelopment done, that's a public improvement," said Greenberger.
He seemed to convince all the Commissioners except Syrnick, who voted against the proposal.
In the spring, Council approved a handful of bills aimed at speeding the redevelopment of the Gallery into the Fashion Outlets of Philadelphia. The measures included handing over some land that had been under city control, and creating a $55 million Tax Increment Financing (TIF) district. The TIF allows PREIT to redirect some property taxes away from the city coffers and back toward the cost of the renovations for a period of 20 years.
See the Commission's presentation of the plan here.
WHYY is your source for fact-based, in-depth journalism and information. As a nonprofit organization, we rely on financial support from readers like you. Please give today.