Family pets could soon get special treatment in Delaware divorce settlements under new bill
A judge would have to consider the well-being of the "companion animal," as well as how much each partner is attached to pets, be it dog, cat, bird, or reptile.
Listen
1:46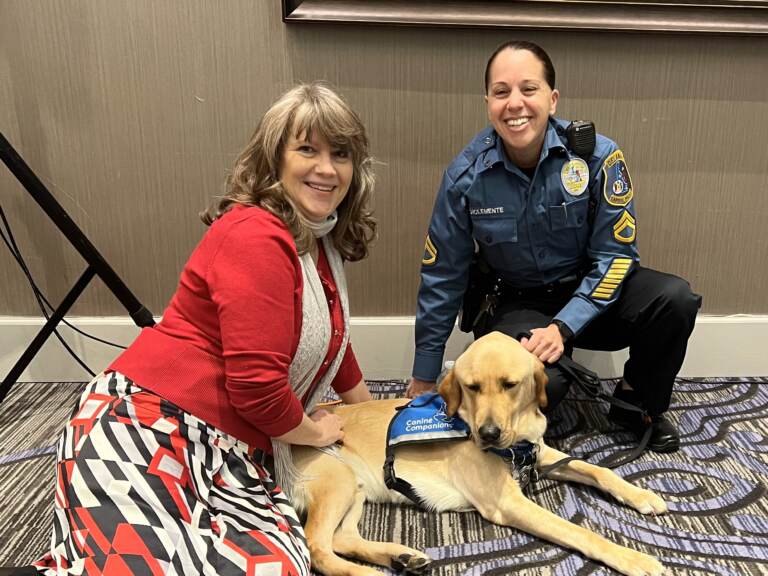 A bill that sailed through the Delaware House would give special treatment to pets in divorces. Should it become law, the family dog or cat would be treated a lot differently than cars, jewelry, art, furniture, and other property.
The bill would require a Family Court judge to consider the well-being of the pet as well as which partner has a greater attachment to it when deciding who will continue to care for the animal.
In addition, when one spouse files for divorce, neither spouse would be able to give away, sell, or even neuter the pet without written consent of both parties.
Two other related bills that passed the Senate unanimously would also solidify the bond between "companion animals" and their owners.
One would let a partner include cruelty to the family pet when filing for a protection from abuse order, known as a PFA. The other would require police, prosecutors, and child protection investigators involved in a child welfare probe to report suspected animal abuse to the state Office of Animal Welfare.
The bills grew out of an Animal Welfare and Family Law seminar organized last year by  Family Court Judge Jennifer B. Ranji, who once headed the Delaware agency that conducts child abuse and neglect investigations. Ranji has also volunteered with animal rescue groups and did legal work for Faithful Friends, which operates no-kill shelters.
After she became a judge in 2015, Ranji began noticing a "crossover link" between abuse of spouses, children, and family pets.
"It would often come up as an aside or in a child interview where someone would mention something about their pets,'' Ranji said.
"And it just made total sense to me that there would be this link because if you have someone who wants to control their partner or is going to do harm to their children, then those are probably people who have the same propensity to either want to harm animals that aren't doing what they want them to do because they're not in control, or who are going to use animals to hurt the other people that care about the animals.  They're being used as a weapon to harm the other adults and children in the home."
The judge's initiative and work by groups including the state Domestic Violence Coordinating Council led to the three bills being sponsored by Rep. Krista Griffith, a Democrat and former Delaware prosecutor who represents the Greenville and Hockessin areas.
Griffith said the bill stipulating how animals should be treated in divorce settlements has an economic component because it separates the family pet — be it a dog, cat, bird, rodent, or reptile —  from other property in dividing up an estate. Griffith also said it removes emotional decisions that can lead to an inequitable division of assets.
Under the current law, "You could have a piece of furniture, or a piece of art, or your grandmother's china set, or your wedding set, whatever, it may be — looked upon the same as a dog, or cat, or rabbit ,or whatever animal that is,'' Griffith said.
"For many people, you can't put a price tag on that favorite dog or cat that you have a special relationship with, where if somebody bought a very expensive automobile in the marriage, you can obviously have a price tag on. But someone might be willing to say, 'I want the dog or cat because I really love them and I don't care so much about the higher-cost item.'"
Griffith hasn't come across any situations where a spouse forfeited an Audi convertible to keep the family pug, but she said it likely happens on a smaller scale.
Under the proposed change, the judge can "award ownership" to one party, or order shared ownership with a determination about who is responsibie for "veterinary or other extraordinary expenses."
Beyond who can best care for the pet, the judge can consider the "attachment between the companion animal and each of the parties," as well as the "time and effort each party spent" with the animal and tended to its needs during the marriage.
Should the animal's circumstances change substantially after the divorce, parties could petition Family Court for "sole ownership'' based on the pet's welfare.
Griffith stressed that even though the judge can decide where the animal lives and who must pay for its care, the bill doesn't come close to treating animals like children in divorces. "This is nothing like custody,'' Griffith said. "It's just recognizing that companion animals are different than other objects and property acquired in the marriage."
Judge Ranji stressed that under Delaware law, pets are property. "But they're a pretty unique form of property. And so I think this establishes that they are unique and that they have different considerations that should apply," Ranji said.
Griffith said she expects the Senate to approve the legislation, and for Gov. John Carney to sign it.
Sen. Nicole Poore, a Bear-area Democrat, is lead sponsor of the bill that lets petitioners in protection from abuse proceedings include harmful actions against a pet or service animal.
According to Poore, "Our pets are members of our family. All too often, pets can get caught in the middle of family disputes or used as tools of manipulation or abuse," adding that the bill gives "Family Court the authority to treat animal violence as a red flag … and keep pets away from abusers."
Ranji pointed out that the legislation also gives judges the right to award vulnerable pets to the petitioning party in PFA orders. "Or you can make arrangements with the shelters to keep it until you can get more permanent housing,'' she said.
Sen. Stephanie Hansen, a Middletown-area Democrat, is lead sponsor of the mandatory reporting bill.
"Injuring an animal is often a precursor to violence against a child, spouse, or intimate partner," Hansen said. "Social workers and caseworkers can play key roles in cross-reporting animal abuse and human violence."
Ranji said she can even foresee joint operations between child abuse and animal abuse investigators.
Such collaborations could "help assess risk and take the risk away for that family,'' Ranji said. "Because if you don't remove the animals in that situation, they're sitting there as a tool to harm the human victims as well."
WHYY is your source for fact-based, in-depth journalism and information. As a nonprofit organization, we rely on financial support from readers like you. Please give today.