Delaware bump-stock ban stalls in General Assembly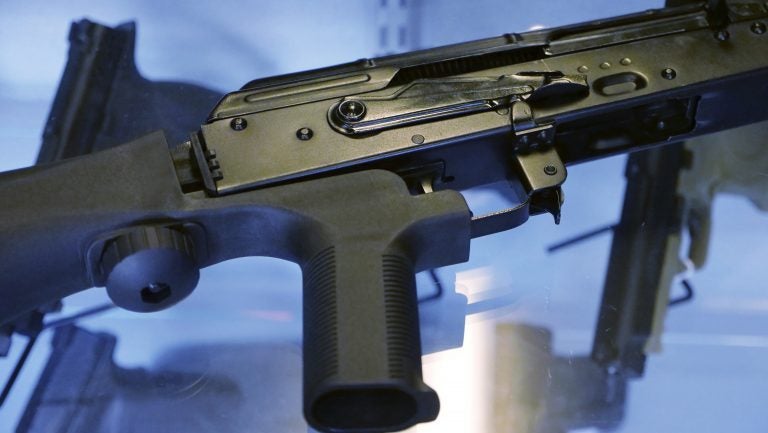 The Delaware Senate passed two gun-control measures Thursday. One measure aims to prevent illegal gun ownership is ready to be signed into law, while debate on a second bill to ban bump stocks or trigger-crank devices will continue in the General Assembly.
Legislation sponsored by House Majority Leader Valerie Longhurst, D-Bear, and state Sen. Harris McDowell, D-Wilmington, prohibits devices used to transform firearms into automatic weapons.
Las Vegas gunman Stephen Paddock used several of these devices to kill 58 people and injure hundreds more in just minutes when he opened fire on an outdoor concert in October.
One week after the House passed the legislation, the Senate voted 18-1 in its favor, but two new amendments must be approved by the House before it can be signed by Gov. John Carney.
Following the vote, Longhurst released a statement expressing her disappointment in the Senate, which debated  how to address the rights of individuals who currently own the devices legally.
"Yesterday, thousands of Delaware students walked out of school to clearly state that leaders need to take action on mass gun violence. They came to Legislative Hall to testify in favor of several gun-control bills that will help reduce gun violence in our state," she said, referring to the National School Walkout to protest gun violence.
"Today, we let them all down. We need to do what's best for public safety, not what is politically expedient."
If the legislation passes, bump stocks — or any accessory that accelerates the rate of fire of a semiautomatic rifle — would be illegal to possess, purchase, sell or transfer.
The legislation gives owners of these devices 120 days to hand them over to law enforcement without prosecution.
On the Senate floor, lawmakers debated an amendment introduced by Sen. Anthony Delcollo, R-Marshallton, that would have required the state to compensate individuals who hand over devices. He said if the amendment wasn't enacted, the state could face a lawsuit over constitutional rights. Democrats did not agree, and the amendment failed.
Prior to taking a vote on the legislation, Republicans expressed apprehension about voting in favor of the bill if individuals are not compensated for the devices they surrender to the state.
"I'm torn whether to vote for this bill or not because I would have much preferred (Delcollo's amendment) to be attached," said state Sen. Colin Bonini, R-Dover. "So I'm leaning toward supporting this bill only because I know the courts will correct this. We're going to get sued, and we're going to lose, and we're going to spend a lot of money on lawyers to lose."
State Sen. Brian Pettyjohn, R-Georgetown, echoed those thoughts.
"I would be more than happy to vote for the legislation, I don't think bump stocks have any good place. But if we are demanding Delawareans to hand over a piece of property to the state of Delaware, I think the state should give them something back," he said.
Democrats said the threat of a lawsuit shouldn't scare them from taking a moral stance, but said they would be willing to sit down and discuss the constitutional issues in question. Republicans decided to vote in favor of the legislation, with the exception of state Sen. Dave Lawson, R-Marydel.
The Senate did pass another amendment introduced by Delcollo that provides a safe harbor to individuals who don't realize until after the 120 days they are in possession of one of these devices.
The Senate also passed legislation introduced by state Sen. Bruce Ennis, D-Smyrna, that would lower the charge of a first offense of possession to a class B misdemeanor — while maintaining other offenses as a felony.
"Here's the bottom line: Bump stocks are dangerous and deadly," Longhurst continued in her statement. "In every other state that has passed or is considering similar bills, possession of a bump stock is a felony …"
Senate President Pro Tempore David McBride, D-Hawk's Nest, issued his own statement on the matter.
"Like the House's amendments, we believe that these changes will make a good bill even better by enhancing fairness and effectiveness, while honoring and preserving the bill's intent. The bill now goes back to the House for a second vote, but this minor delay is a small price to pay – particularly if gun control receives the sustained attention that the legislature owes it," he said.
"It's our job to do the right thing, to be thorough, and to be responsive to our constituents. Those objectives are not mutually exclusive; in fact, they are complementary and necessary. We hope that the House will vote to advance HB 300 to the governor's desk and look forward to considering further measures to strengthen our gun laws."
The Senate unanimously passed a measure sponsored by Sen. John Mitchell, D-Elsmere, and co-sponsored by McDowell, that raises the first offense of illegal firearm purchase or possession from a Class F to a Class E felony.
The legislation aims to prevent "straw purchases," the legal acquisition of a firearm for someone not legally eligible to have the weapon, by making jail time more likely for the offender. Instead of facing up to three years in prison, the offender would face up to five.
"This is a very important measure, we've tried to do this before, I'm glad to see there's much broader interest in doing this," McDowell said. "Nearly half of all guns involved in the commission of crime in this country are from straw purchases, so hopefully this will go a long way to solve a big problem."
During and after the vote, several Republicans asked to add their names to the bill.
"I think it does precisely what we need to do, prevent the horrific behavior (in) our communities," Delcollo said.
State Sen. Robert Marshall, D-Wilmington, said while he supports the bill, he's concerned it won't change anything without proper enforcement.
"I think we need to get tougher on criminals engaged in activity that we can identify on our streets," he said.
State prosecutor Sean Lugg said about a dozen were arrested for illegally transferring firearms last year. Of those, three cases were reassigned to federal court, and three others were sentenced for related offenses. He said those charged with the crime often also are charged with related offenses, such as forging documents, which are attached to higher sentences. Lugg said the new law will allow prosecutors to use the illegal transfer of firearms as a lead charge.