Council pulls plug on Philadelphia's electric vehicle program in rare contested vote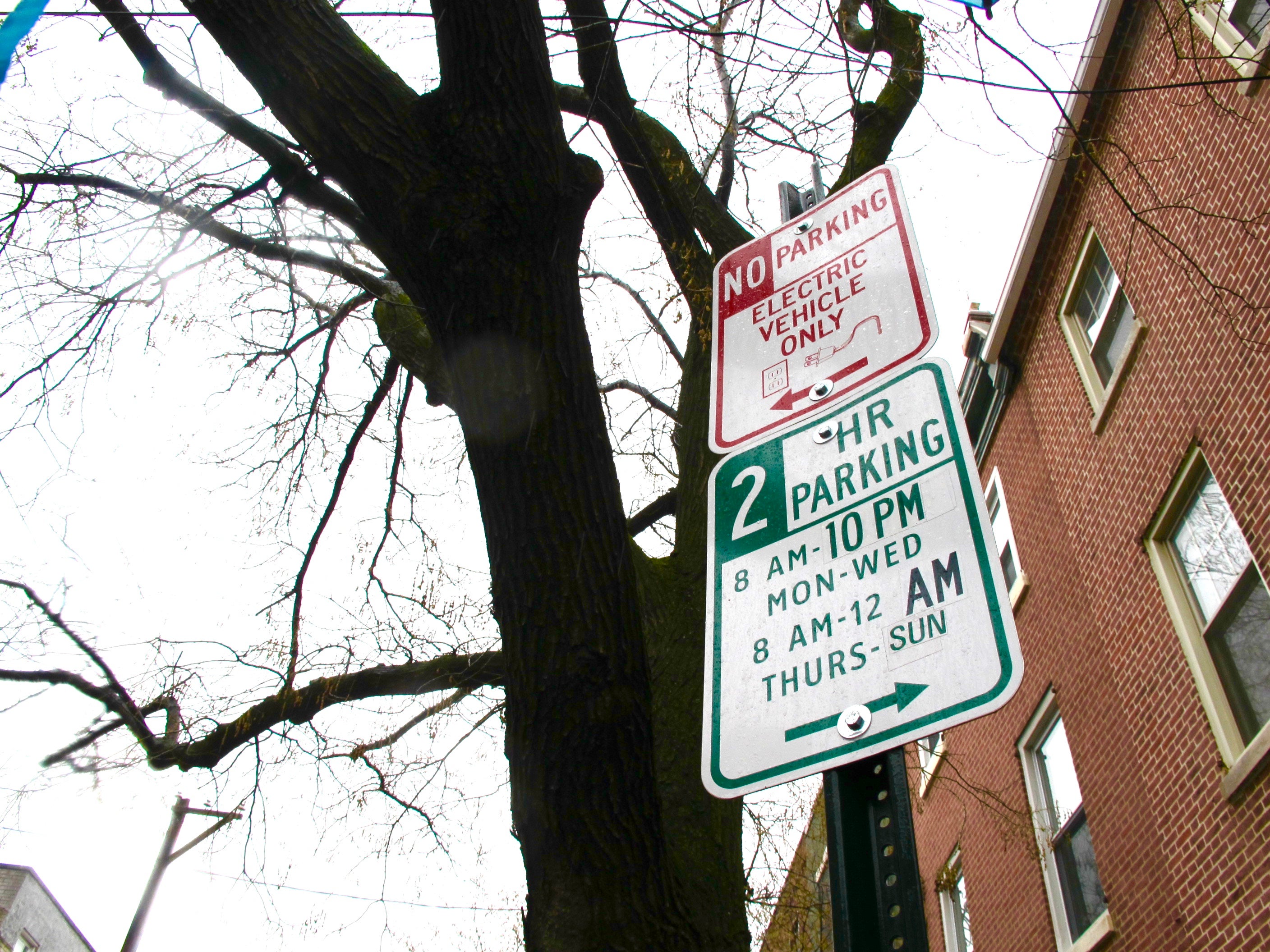 In an 11 to 6 vote, City Council suspended a program that allowed electric vehicle (EV) owners create EV-only parking spots in front of the curbside electrical outlets used to recharge their cars.
Neighbors complained that the program effectively allowed EV owners to buy a private in-street parking spot—while any electric car could park in the spot, only the specific EV charger's owner could use the outlet. That spurred Councilmembers Mark Squilla and David Oh to introduce a moratorium bill, which also makes the existing EV-only spots open for any vehicle during the day for up to two hours.
"This policy has become a vehicle for people more interested in owning a private parking spot in front of their home than owning an electric vehicle," said Oh.
There are 61 existing in-street EV parking spaces, predominantly in Center City.
All EV owners who testified before Council's vote said that going—and saving—green by forgoing gas was their primary motivation for buying an electric car, not parking.
A representative for Mayor Jim Kenney said the administration was still evaluating the legislation and declined to say whether the mayor would sign or veto the bill. As a councilman, Kenney introduced the original EV ordinance in 2007.
City Council passes the vast majority of bills unanimously. Sometimes, one or two councilmembers—often one of the three Republicans—will vote no. The 11 to 6 vote makes this bill more contested than the controversial soda tax, which passed 13 to 4.
Council heard testimony from eight residents before voting on the bill, three in favor and five against.
All who spoke in favor of the bill prefaced their remarks with support for electric vehicles and clean energy in general. But they then went on to call on-street parking a public good, which the ten-year old ordinance allowed EV owners to privatize. As desirable as cleaner air may be, it isn't irresistible enough to force residents to yield on the immovable object of parking.
Before Thursday's City Council session, PennEnvironment presented a report at City Hall showing that Philadelphia had some of the worst smog in the northeast United States. In 2015, the region saw 97 days with elevated ozone levels.
Councilman-at-large Bill Greenlee, a cosponsor of the original EV legislation, called the ordinance "a fair compromise."
"A lot of these electric vehicles are in heavily congested parking areas, and for people to have, basically, a 24/7 spot is a little bit of a problem."
In addition to the 61 existing EV parking spots, there are another 7 applications for spots pending now before the Philadelphia Parking Authority, which will not be subject to the moratorium. There are around 43,000 metered and permitted on-street parking spots in Philadelphia.
Years before the 2012 zoning code went into effect, the city created a parking control district for Center City to curb the proliferation of rowhouses with front-loading garages, which also effectively convert an on-street parking space into a private parking spot. The current zoning code also stipulates, "accessory parking for any single-family, two-family or multi-family use in an attached building in the RSA-5, RM-1, CMX-2, and CMX-2.5 districts shall be prohibited unless it can be accessed from a shared driveway, alley, or rear street." Despite this, the Zoning Board of Adjustment routinely grants variances permitting the construction of front-loading garages. City Council has yet to respond to that issue, though every new curb cut to serve a garage also diminishes supply.
Councilmembers who voted nay also questioned the need to pass piecemeal legislation and a moratorium without a replacement policy in place. "I think it's imperative we take a more holistic thoughtful and deliberative approach to this," said Councilwoman-At-Large Blondell Reynolds Brown.
Others said the bill was unfair to the around sixty households who purchased electric cars, and spent between $3,000 and $4,000 on installing chargers. "My concern on this bill is fifty six people played by the rules made an investment," said Councilman-At-Large Allan Domb, "and now we are changing the rules on these people."
Councilmembers Curtis Jones, Derek Green, Helen Gym and Al Taubenberger joined Domb and Brown in voting against the bill. In his pre-vote remarks, Jones, the only district councilmember to vote no, said he normally defers to other district councilmembers on bills that impact their districts, but noted that this bill affects the entire city, even if most of the complaints come from Squilla's district. Green worried about the signal the suspension would send to green businesses just days after EV-maker Tesla's stock price surpassed Ford Motor Company's.
Squilla responded to his colleagues' criticism by saying that the moratorium would now spur Council to address the EV charging infrastructure problem head on, instead of relying on the slow trickle of owners. Until it does, only Philadelphia residents with a driveway or garage will be able to invest in an electric vehicle.
Squilla also introduced a bill today to put a two-year cap on the moratorium, responding to complaints that the open-ended suspension amounted to a de facto ban of new permits.
Last week, Oh also introduced a bill that would require anyone who wanted to install new electric vehicle charger— separate from any parking – to seek approval from the art commission before they could get a permit for installation. The permit seeker would also need to obtain liability insurance covering any member of the public injured by the charger, and allows for the charger to be removed if it creates a "public nuisance".
EV owner William Morlok of Fitler Square derided Oh's permitting bill. "This appears to be an attempt to allow a councilmember to have a charger removed if someone complains about it," Morlock said.
WHYY is your source for fact-based, in-depth journalism and information. As a nonprofit organization, we rely on financial support from readers like you. Please give today.