Communities share stories, ideas over food at 'On the Table Philly'
Morning edition host Jennifer Lynn talks with Ariella Cohen, managing editor of Plan Philly, and Jeanette Woods, community media producer, about 'On the Table Philly.'
Listen
4:17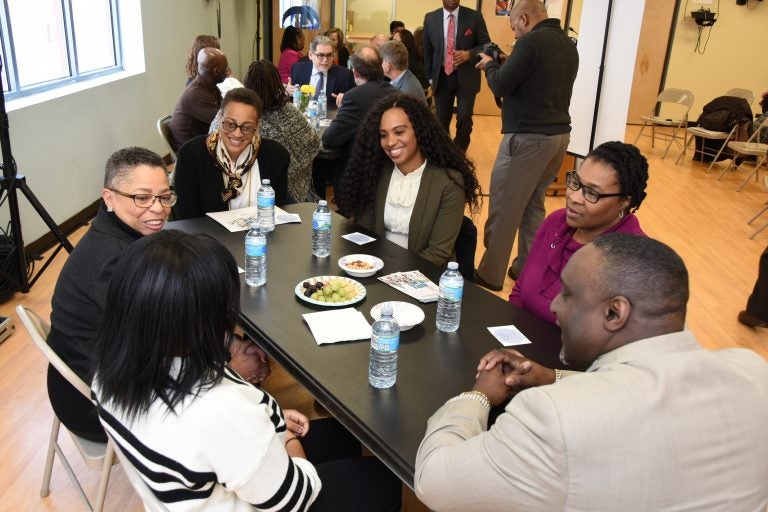 Across the Philadelphia region, people will gather Thursday to share a meal and a conversation. "On the Table Philly" is a daylong event to discuss what we can do to make our communities stronger.
As part of this year's event,  WHYY reporters will host roundtable discussions at our studios. The public is invited to join in to engage with us on topics ranging from decreasing homelessness to maintaining economic diversity in changing neighborhoods.
For a preview, Morning Edition host Jennifer Lynn talked with Ariella Cohen, the managing editor of Plan Philly,  and Jeanette Woods, community media producer.
—
Ariella, you are hosting and moderating a table. What is your topic? 
I'm going to be talking about how to create a more kid-friendly city.
Well, that is a good one considering you're working with PlanPhilly and you have kids.
Yep, I live in Philadelphia and I have a 2½-year-old and a 4-month-old. So I spend a lot of time at parks at libraries, walking around the city pushing a stroller, and that's got me thinking about how wonderful so many of our public spaces are.
We have fantastic parks and lots of places to take kids particularly in the warmer months, but I've also noticed that many of the places might not work for kids. Sometimes, there's just too much trash. Sometimes, the hours are too limited. Why do so many parks open at 9 a.m.? Sometimes, I want to take my kids to the park at 7:30 a.m. before I go to work. So why aren't the parks open earlier?
So when you're sitting with a group of people you've never met before, how are you going to involve them in that discussion?
The people that come into my discussion will all just be thinking through our experiences and talking about different ways we could do better making better spaces in our city. Talking about ideas, talking about problems that we've observed, coming together really to share.
Jeanette, what are some of the other topics that are going to be discussed? What can people expect?
We're going to have reporter Aaron Moselle hosting a table. He's done some reporting about solutions and innovations that have worked to help decrease homelessness. That's a big issue, it's important to all the communities in this region.
Reporter Darryl C. Murphy is hosting a discussion on equity and education. He'll be talking about ideas about how schools provide learning opportunities that will help students get good jobs, that'll help us have a strong educated workforce for Philadelphia. And we have Diana Lu, who is a colleague of Ariella's. She's the engagement editor at Plan Philly, and she's going to be talking about how neighborhoods that are changing, the demographics are changing, how can we keep those neighborhoods feeling welcoming to everybody.
Can we do this every day, Jeanette? There's so much to talk about, and it's nice to have that engagement with the community of our listeners.
It's a great opportunity for us. We're looking forward to it.
Well you're lucky, Ariella, because you have a sounding board at the Plan Philly website through the community engagement that you do.
It's true we are always trying to talk to our audience whether through social media, through the comments on our website. And we do have events as well. But this is a great opportunity to talk to new people, to have a concentrated discussion in person, face to face. Sometimes, you just want to get out from behind that computer, from behind the phone and really talk to one another.
I don't want to overlook the things that you do, Jeanette. You are also out in the community quite a bit. 
Yes, we go out, and we do engagement, and we want to know what's important to our community. What do you want to hear? Sometimes, that's about going out in public spaces talking to people. Now we're getting the chance to invite you here, come to our house, visit. That will be a good time and a good chance for all of us to really communicate.
The Philadelphia Foundation and the Knight Foundation have once again partnered to sponsor this regionwide event, and we thank them for that. "On the Table Philly" is from 6 to 8 p.m. and free, but you do have to register. Go to WHYY.org/events. There's going to be food, right Ariella?

And we'll be having some great conversations.
I think we will. Thanks so much.
WHYY is your source for fact-based, in-depth journalism and information. As a nonprofit organization, we rely on financial support from readers like you. Please give today.