Committee recommends changes to zoning code rules on community input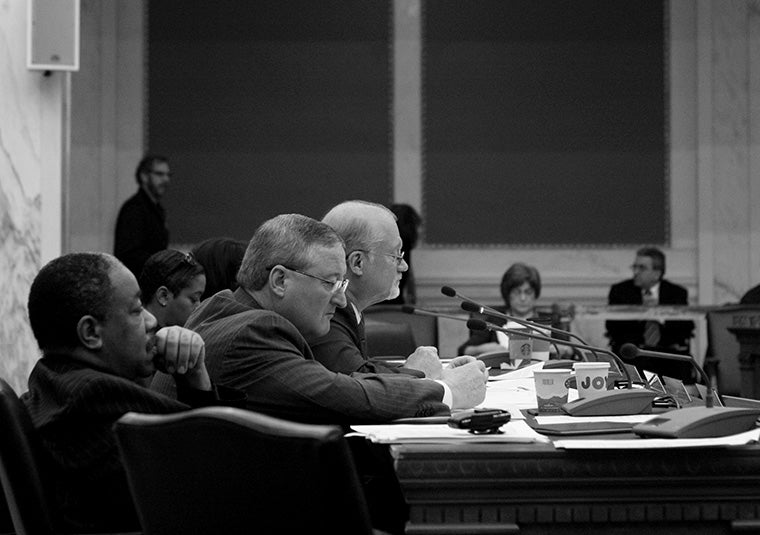 It appears that the new rules regarding community input in the development process will be changed, having been in effect for just over three months. City Council's Committee on Rules reported favorably a bill Tuesday afternoon that would change some pieces of the new zoning code's provision governing Registered Community Organizations.
The bill, introduced by 3rd-District Councilwoman Jannie Blackwell, will get a first reading in a meeting of the full Council Thursday morning. If adopted by Council—on December 13th, at the earliest—it will go into effect 60 days after the Mayor signs it.
The bill was subject to some last-minute tweaks from Blackwell's office and members of the Planning Commission, and the latest version hasn't been posted yet. But those changes were relatively minor, according to the parties involved.
The bill's most significant provisions would do the following:
Require developers of projects that need zoning board approval or Civic Design Review to notify not only Registered Community Organizations but also every resident and business owner within one block of the subject property
Allow for multiple meetings between developers and community groups; the code as adopted by Council last year required RCOs to convene a single meeting with the developer on each project
Change the makeup of the Civic Design Review Committee by allowing District Councilmembers to appoint a representative, and by allowing representatives of more than one RCO on the Committee.
For Jannie Blackwell, the bill's sponsor, these changes are a matter of "transparency and inclusion."
"You can't have a development that happens in a neighborhood without everybody in that neighborhood at least receiving notification of it and be invited to any meeting about it," Councilwoman Blackwell said. "And that's what we stood for and fought for, and in the long run, that's what happened."
Blackwell said that the last-minute debate over the language of the bill was due in part to the fact that the Planning Commission "really didn't want Council in" the RCO process. She said the code as adopted would have disenfranchised new community groups that aren't as organized as some longer-standing ones but nevertheless deserve a say in what goes on in their neighborhoods. She admitted that she was responding to concerns from some community groups—calling out particularly Tiffany Green of Concerned Citizens of Point Breeze—in drafting the amendments.
"They're the ones who caught it," Blackwell said.
Green and others who supported the bill at Tuesday's Committee hearing had previously brought their concerns to the Planning Commission when it was adopting its regulations in the spring, without avail.
Eva Gladstein said the last-minute tweaking produced a bill that was more stomach-able from the Planning Commission's point of view.
"We were trying to work with the Councilwoman, and the Committee really wanted us to move forward," Gladstein said after the hearing. "I think it addresses the major concerns I had identified. I think we'll still need to monitor and see how it's actually working on the ground. But it reduces the area where notice has to be provided. It limits the number of additional members to the Civic Design Review Committee, which was an important concern. Now it's capped at nine people instead of seven people … I felt like those were all reasonable accommodations."
The Planning Commission voted several weeks ago not to recommend Council adoption of Blackwell's bill, and its leadership has repeatedly asked Council to wait a year before making any changes to the new code. Gladstein said the Commission still has concerns about the integrity of the new code.
"I think all of [the changes are] disconcerting in that all of these were balances that had to be made, and decisions that had to be made. And so when you make a change on one side, it might create another problem in another part of the zoning code or the zoning process. Thinking about it here in Council on a particular bill they're not taking that into account, and the Zoning Code Commission had to take that into account … Attacking it issue by issue, in general, is problematic."
Others—including Kiki Bolender of the Design Advocacy Group, Jeff Hornstein of Queen Village Neighborhood Association, and Betty Turner of Germantown Community Connection, and many more—echoed those concerns, asking the Committee not to recommend the bill, and to wait longer before making substantial changes to the code. But many witnesses supported Blackwell's amendments, saying they're vital for ensuring that all members of the public get a fair say in the zoning process.
The RCO provision as drafted would not have prevented any member of the public from speaking at zoning board hearings or meetings of the Civic Design Review Committee.
Craig Schelter of Development Workshop said the amendments could make the Civic Design Review Committee too unwieldy, impede consensus, and slow down development unnecessarily.
Blackwell said her changes would not slow down the zoning process, and that her bill doesn't require any other District Council members to appoint representatives to the CDR Committee, if they don't feel it's necessary. She said it was important to get these amendments passed quickly because her office wants to start working on more bills related to zoning, particularly a concern over what she said were too-limited parking requirements for a proposed redevelopment of West Philadelphia High School into residential apartments.
"You have some of my colleagues who may not want to be involved in this," Blackwell said. "I like to be involved in everything."
Contact the reporter at jbrey@planphilly.com and follow him on Twitter @jaredbrey