Code Bulletin: digital billboard conversions require new permits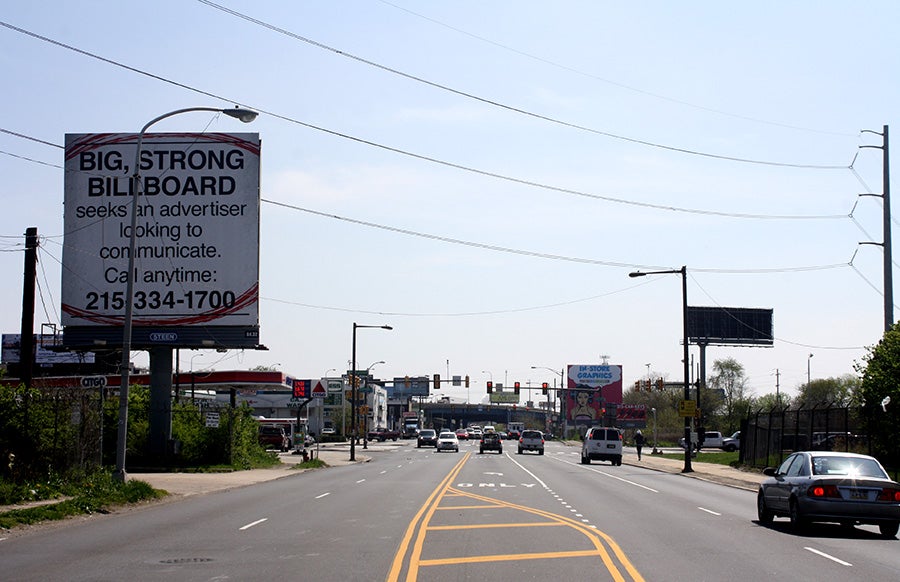 A new Code Bulletin issued to the Department of Licenses and Inspections says that permits for converting static billboards to digital displays should only be issued to signs that conform to current zoning regulations.
The bulletin, which was drafted based on advice from the Law Dept., reverses a 2007 memo which said that digital conversions should be treated like a regular sign-face change—simply switching the advertisement on a billboard—which only requires an over-the-counter permit.
The meat of the bulletin:
"Converting a standard static display sign face to a digital display sign face necessarily involves substantial alteration, reconstruction and conversion of the billboard structure. Therefore, under §§14-104(2) and 14-903(1)(a)(.3) of the Code, a permit for such conversion may be issued only where the current structure and use are otherwise in compliance with the current dimensional and use standards of the Code in effect at the time of the proposed conversion."
City Solicitor Andrew Ross said that the change in policy came about as a result of the one-year review of the zoning code review, but that its co-incidence with the new billboard legislation introduced by Councilman Bobby Henon is merely coincidence.
Ross said that in some recent cases, courts have held that changing a billboard from static to digital entails major structural changes. That view implicates rules about non-conforming uses, which are generally not allowed to be expanded or rebuilt without conforming to current zoning designations. Many billboards in Philadelphia are nonconforming, and since 2007 those signs have been able to go digital as a matter of right.
Scenic Philadelphia, the group formerly known as SCRUB, has been fighting the by-right conversion of digital billboards since that 2007 memo was issued. Mary Tracy, the group's director, said the new memo could help force the billboard industry to the table to work out a new set of regulations. She said that since they've been able to put digital ads on static billboards as a matter of right, sign companies have had no incentive to cooperate on new regulations.
Andrew Ross said that isn't why the bulletin is being issued now.
Ross pointed out that the new zoning code distinguishes between sign-face changes and digital conversions in the case of accessory signs. Even though new non-accessory sign regulations have yet to be adopted, Ross said that language bolsters the change in policy.
The bill introduced recently by Councilman Henon would prohibit the construction of any new billboard in the city, and would allow by-right conversions to digital billboards in certain areas, provided that the companies doing the conversions remove two other billboards that they own.
But between now and when the new regulations are adopted, if they ever are, traditional billboards cannot be converted into digital billboards unless they conform to all current zoning regulations.
WHYY is your source for fact-based, in-depth journalism and information. As a nonprofit organization, we rely on financial support from readers like you. Please give today.