Developers flout city design board recommendations, study finds
Philadelphia is one of few major United States cities that has a design review process that is entirely advisory.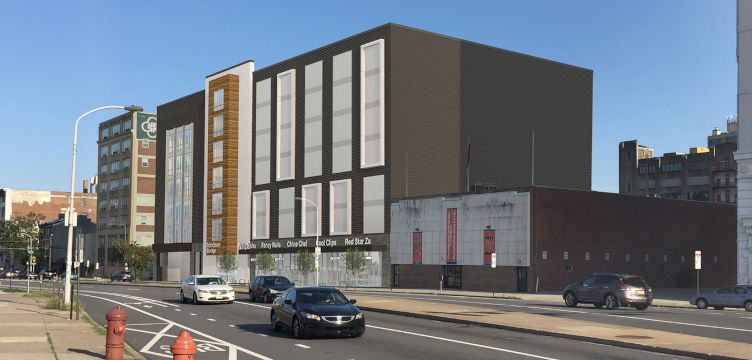 This story originally appeared on PlanPhilly.
—
Architect Cecil Baker remembers exactly when he knew it was time to quit the Philadelphia Civic Design Review committee.
"The straw that broke the camel's back for me was the case of the storage facility on Spring Garden Street," said Baker, the Philadelphia designer behind prominent Center City projects including 500 Walnut and One Riverside. "The developer could have made many changes to those plans that would have made for a better project and none of that happened. The community input was totally disregarded."
The six-member Civic Design Review offers developers suggestions on major projects proposed for Philadelphia. The intention is to raise the bar on design and give the public a voice on projects reshaping the city and its skyline. But Philadelphia is one of few major United States cities that has a design review process that is entirely advisory.
Peers like Boston, Portland, Baltimore, and Seattle all give CDR counterparts some degree of binding power.
Baker has been a part of CDR since the beginning. Now he is leaving in the wake of a not-yet-publicly-released City Planning Commission report that paints a picture of a powerless entity.
The study found that developers ignore the committee's recommendations more often than not.
Forty projects reviewed by the CDR have been completed over the last five years. Only one-third of them were built in accordance with its recommendations, according to Alex Smith, a City Planning Commission staffer who presented report findings at a Commission meeting Tuesday.
Even when developers told the design panel they complied with recommendations, promises were broken.
The new Whole Foods in Fairmount was spotlighted as one example. The developer, Dalian Development, committed to planting trees along 22nd Street. The greenery never came, according to the report.
"The sidewalk conditions… did not follow submitted plans which showed an extensive perimeter of street trees," the draft report reads. "It should be noted that as an advisory-only review process, CDR comments … cannot be enforced."
Design review entered the Philadelphia development process in 2012 as part of a sweeping zoning code reform initiated under Mayor Michael Nutter. A project undergoes review if it is over 100,000 square feet or more than 100 residential units anywhere in the city, or if its half that size and next to a residential zoning district.
As Center City and other sections of the city grow, the board could play a pivotal role in raising Philadelphia's architectural standards. But that's highly unlikely unless its recommendations carry the force of law.
Anne Fadullon, Philadelphia's planning and development director, said Tuesday that the move is something Mayor Jim Kenney's administration has discussed, and will continue to explore.
"That is something we are still considering," said Fadullon. "That's something we will look at in reference to how many people are voluntarily taking those comments to heart and how many are completely ignoring them."
A 'frustrating' system
Critics have called attention to CDR's non-binding status since the committee's creation.
"If it's entirely advisory, then why go through the process," asked Jill Manton, the director of San Francisco's civic design review committee, in an interview with PlanPhilly back in 2010.
Another difference between Philadelphia's design review and that of other cities is the degree of power neighborhood groups hold over the process. When a project triggers a CDR review, the developer must hold a community meeting in the neighborhood and a representative of the local community group sits on the board for the duration of the official critique. In many other cities, neighborhood groups play a lesser role.
Seattle is one exception. There, neighborhood groups play an even larger role and critics argue that some exploit the process to keep out residential development, contributing to a housing shortage and raising rents.
"Residents alarmed at the pace of change in Seattle have increasingly co-opted design review to block new housing in their neighborhoods," wrote researcher Dan Bertolet in a 2017 blog post for the sustainability-minded think tank, Sightline Institute.
That line of critique didn't surface in the Commission report on CDR.
Smith said Tuesday that commission staff are considering changes to strengthen Philadelphia's design review process. They are also considering changing the zoning code to address design issues the board repeatedly asks developers to address. These issues include safe pedestrian access, ground-floor accessibility and windows, and a lack of follow through on promised amenities such as the street trees promised for 22nd Street.
It is likely the real estate industry would oppose making CDR's recommendations mandatory.
"I would generally support the idea of giving CDR more teeth," wrote Leo Addimando, a principal with of the Alterra Property group and a member of the CDR committee. "But I would not support making its recommendations compulsory per se," writes Addimando, who is also vice president of the Building Industry Association, a trade group. "Some middle ground/compromise could, I think, be found for larger and more impactful projects."
Addimando said his statement only reflects his own views, not those of the BIA leadership.
As for Baker, this February's CDR meeting was his last on the committee. But his firm regularly presents projects to the committee, and he would still like to see the board have more power.
"Good developers do come in and listen to us and change their projects," said Baker. "But the other extreme are developers who have no intention of changing anything.  That can be very, very frustrating. But they are in their right to do it because CDR has no real power … The question is how do you get some teeth into it without gumming the works."
WHYY is your source for fact-based, in-depth journalism and information. As a nonprofit organization, we rely on financial support from readers like you. Please give today.