Chris Christie is the 'Tonya Harding' of politics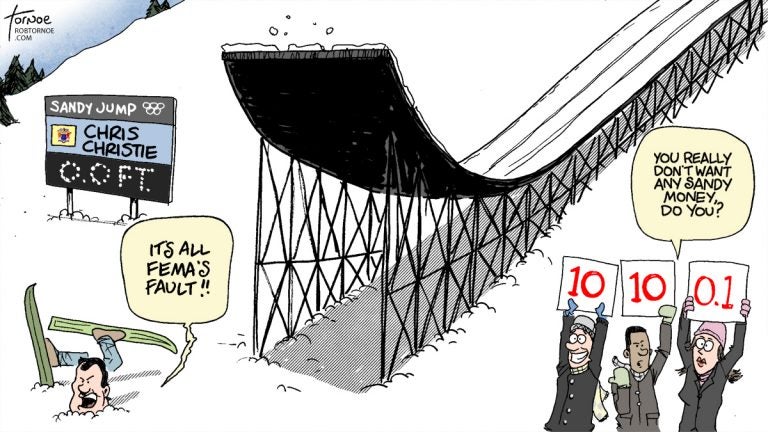 "As my wife and I settled in to watch the closing ceremonies of the Olympics Sunday night, we became enthralled with an NBC documentary featuring former Olympic figure skater turned analyst Nancy Kerrigan, for the first time, talking about being attacked.
I was in high school for the "whack heard round the world," when an assailant struck Kerrigan on the right knee with a metal baton about six weeks before the Lillehammer Games. Turns out the hit man was an associate of Tonya Harding's ex-husband, Jeff Gillooly, who put together a goon squad with the goal of preventing Kerrigan from competing against Harding at the Olympics.
Despite still claiming she didn't take part in the assault, Harding eventually admitted at the time she learned about the plot to hurt Kerrigan and had taken steps to cover it up. The surprising admission cost her a spot on the U.S. Team approaching the World Championships, and she was forced to resign from the U.S. Figure Skating Association. Kerrigan went on to win a silver medal in Lillehammer, while Harding's life tumbled out of control.
As a cartoonist, I'm trained to connect the dots and spot analogies and visual clues that can help people gain a better insight about a person or situation. So as I watched a slightly-older and more disheveled-looking Harding continuing her 20-year denial of any involvement of the assault, I had a sudden epiphany:
Chris Christie is the Tonya Harding of politics.
At this point, everyone knows the basics surrounding "Bridgegate" and the apparent hit job on Ft. Lee and its mayor, Mark "the little Serbian" Sokolich. Despite a well-cultivated image of pragmatic bipartisanship, N.J. Gov. Chris Christie has been willing to punish political enemies, reporters and even simple town workers in his bid to become the next president.
NJN
Back in 2009, my buddy Zack Fink reported on NJN that Christie gave an undisclosed $46,000 loan to Michele Brown, a subordinate he'd promoted in the U.S. Attorney's office. The story led to questions about Christie's political ties, something the dashing prosecutor didn't like one bit. Not long after being elected governor, Christie zeroed out funding to the public TV and radio station.
Hoboken
Last spring, Christie asked Hoboken mayor Dawn Zimmer to endorse him in a face-to-face meeting. Zimmer, a Democrat, said no, and also refused to fast-track a favored development deal with ties to David Samson, Christie's chairman at the Port Authority of New York and New Jersey. Hoboken was particularly hit hard by Hurricane Sandy. Zimmer requested $127 million but what she got was just $342,000, less than 1 percent.
Elizabeth
Shortly after becoming Governor, Christie pushed a cap on budget and property tax hikes in an attempt to control rising property taxes (Christie's decision to cut rebates didn't help). Elizabeth Mayor Christian Bollwage, along with state Sen. Raymond Lesniak and Assemblyman Joe Cryan, opposed the hikes, which eventually passed and became law. Near the end of 2010, Elizabeth's Motor Vehicle Commission office was suddenly closed, leaving the city's largely poor, black population without a local place for licenses and vehicle tags.
On top of that, three towns near Elizabeth have received state funds for red-light traffic safety cameras, but high-volume intersections in New Jersey's fourth largest city didn't receive a penny from Trenton. "And there was no logical reason to do it other than to be a vindictive, I don't want to use the word "prick" – but a vindictive individual," said Cryan.
Jersey City
Jersey City Democratic Mayor Steve Fulop was also approached by Team Christie for an endorsement. Fulop claims Christie officials offered him "new access to state commissioners, who hold the purse strings for many Jersey City services" in exchange for his support. But within an hour of relaying his decision not to endorse Christie, Fulop claims meetings with several state commissioners were suddenly canceled, with subsequent requests continuing to be ignored more than seven months later. Despite Christie's dismissive tone, Fulop's claims are supported by emails and texts.
My father used to tell me I could choose either the back of the hand or the palm, and it seems this is true for Democratic mayors through the state. Harrison's Democratic mayor endorsed Christie and his city received $250 million from the port authority for a new transit station. After the Union City mayor endorsed Christie, his town saw an increase in state aid and $3 million in port authority money, even though the authority doesn't even operate there. Belleville backed Christie and somehow landed $6 million in Sandy funds for a senior center that suffered no damage from the storm.
Then there's Joseph DiVincenzo, Essex County's Democratic executive. DiVincenzo was like the Pied Piper, bringing Christie a slew of Democratic endorsements. Coincidently his district got $4 million in state aid for a school and $7 million from the Port Authority for a park. The governor even helped DiVincenzo raise $5.5 million for an expansion of DiVincenzo's beloved Turtle Back Zoo, and showed up in person to a groundbreaking for a garage for county vehicles.
Harding had Jeff Gillooly to take the blame, while Christie's sacrificial body count has grown to include David Wildstein, Bill Baroni and Bridget Kelly. Will more fall to protect the truth, or will Christie career end in much of the same way as Hardings – without an admission of guilt but under a mountain of circumstantial evidence. It seems politics and figure skating are more similar than we thought. It may be time for Trenton to bring out the zamboni.
——
Rob Tornoe is a cartoonist and a WHYY contributor. Follow Rob on Twitter @RobTornoe