Chess tournament just for Philly girls offers opening into male-dominated game
The 11th annual Philly Girls Play Chess tournament brings young women together to compete in a game usually dominated by boys. They also gain confidence — and friends.
Listen
2:03
Third grader Jade Wesley stared intensely at the chessboard in front of her Tuesday afternoon as second grader Sharon Suardi considered her options.
When Sharon figured it out, she moved her piece, tapped the digital clock timing their moves and noted her move.
Then it was Jade's turn.
Some 50 other pairs of girls also raced the clock in a large Drexel University conference room as part of the 11th annual Philly Girls Play Chess Tournament.
Any girls who play chess in Philadelphia are invited to participate, regardless of skill level.
"I like this [tournament] better because mostly I be playing boys, but now I can play girls," said Jade, a John B. Kelly Elementary student, after her match.
The tournament hosted by Drexel and After School Activities Partnerships is an effort to keep girls from kindergartners to high school seniors in what can be a pretty male-dominated game.
Jade, like many of the other girls at the competition, had her doubts about the game when she first started playing two years ago.
"I didn't really want to do it, but my mom made me," she said.
But now she's been converted. She loves making new friends, including Sharon. "I liked playing with you," Jade told Sharon after the match was over.
Jade's said she's been a part of so many chess tournaments, she's lost count, but this is the first time she's played at this competition.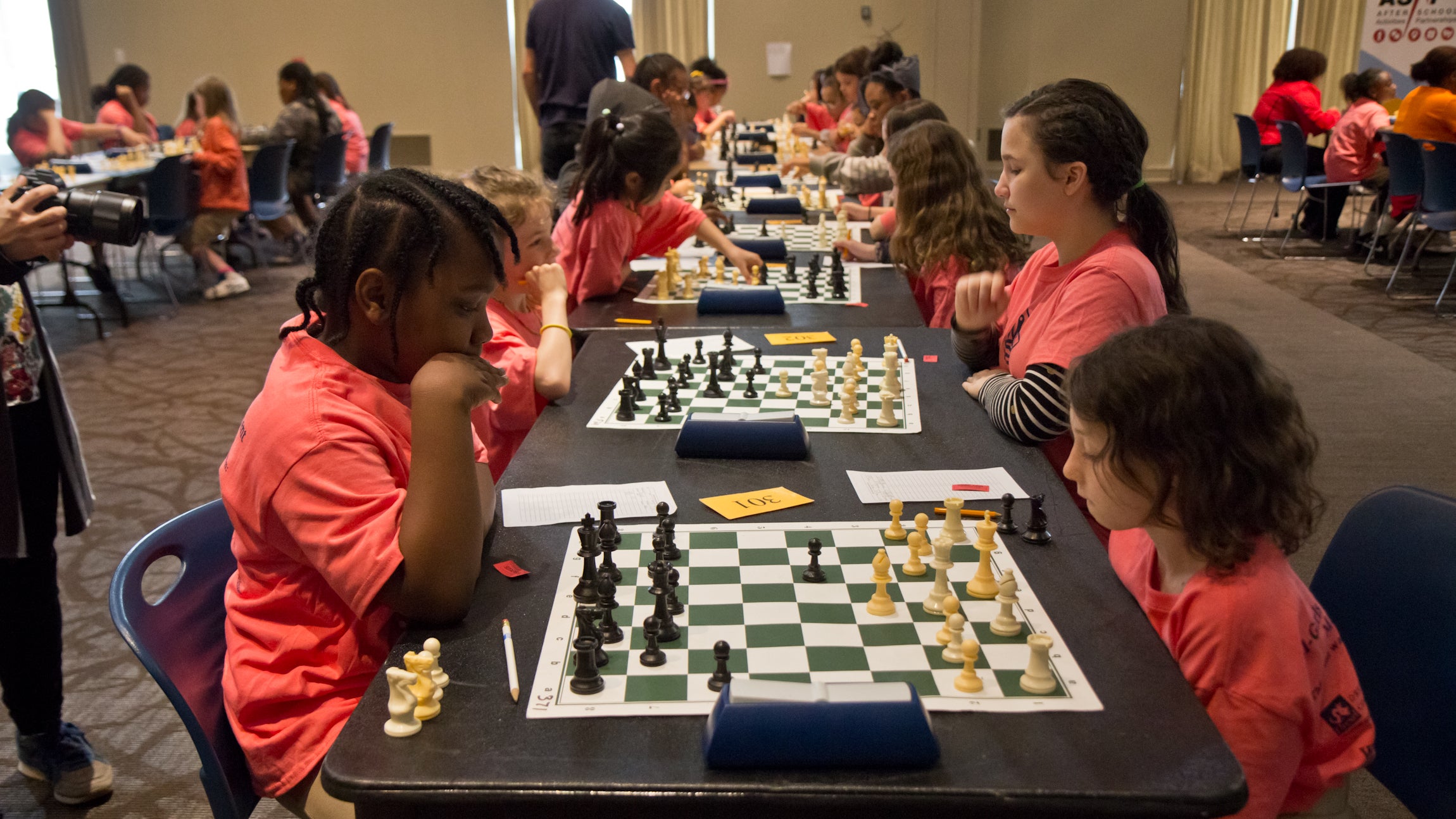 Despite losing her first two matches, she said she was really enjoying herself — all because of the girls.
Girls "don't stay in the community as long as the guys do because there's not a lot of support or not a lot of role models around," said Amy Huang, a Temple University freshman, who has played chess for almost a decade.
Huang is now a chess coach and mentor through ASAP. She helped judge the all-girl tournament she competed in on four previous occasions.
It becomes harder to fit in, said Huang, and the desire to stick around in the sport can dissipate if male players and coaches surround you.
The all-girl tournament can serve as a reminder that "you have a community that you can go to," Huang said. "You see that it's not just you, there's a bunch of girls playing this sport, and you can get involved more, you can learn from each other more and you can improve yourself with each other — and then keep going."
When players and coaches say the tournament helps players improve themselves, they don't just mean chess skills.
Marcie Soslau, one of the parents at the tournament and a part-time coach this season, said the tournament creates a space where players feel more comfortable to advocate for themselves.
Soslau described how one of the girls she brought to Drexel Tuesday disagreed with her opponent's characterization of a move. She raised her hand for help from a judge.
"I think if you're in a situation where it's mixed sexes, females may be a little more shy to raise their hand and ask for that help because of the society we live in and because chess is a male-dominated sport," Soslau said.
A welcome challenge
Fifth grader Bianca Hernandez and her sister Sophia, a seventh grader, also lost their first matches but remained determined.
"I'll just improve," said Bianca.  "I'll better it. I'll practice more, I'll take from my mistakes and see what I can improve with it."
Sophia said even if she loses, tournaments are an adventure that involves traveling and going to hotels.
"Before I used to run the streets, play in the park with my friends," said Sophia. "I used to see chess a lot and I would think, oh it's boring all they're doing is sitting down and moving pieces. But when I actually started playing, I started thinking … why is this more difficult than anything I've ever done in my life?"
Sophia said the calculation and thinking ahead that chess requires are what impresses her the most and keep her coming back — despite the fact she's a self-described outdoorsy type.
The all-girl tournament gives Sophia hope that chess won't remain a male sport.
"Us women taking a stand, we populatin' [chess]," Sophia said.
There was no grand prize on the line, but some 20 trophies were awarded to the top players in each ability group.
WHYY is your source for fact-based, in-depth journalism and information. As a nonprofit organization, we rely on financial support from readers like you. Please give today.