Celebrate fall on Philadelphia Orchard Day, October 26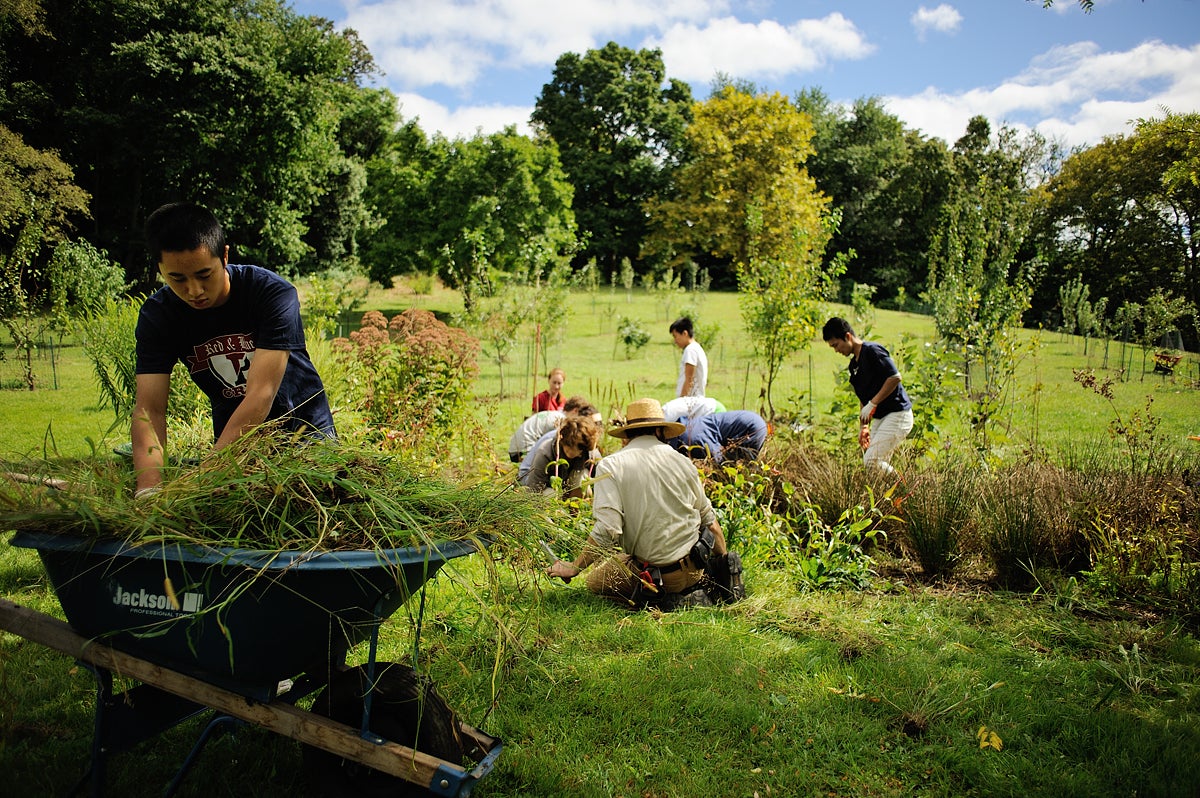 Celebrate the fall's bounty and lend a hand to support stronger local food systems this Saturday as the Philadelphia Orchard Project (POP) hosts the third annual Philadelphia Orchard Day. It's an opportunity to see what's growing in your neighborhood and tour places where lots of food is being produced in the city limits. POP and its community orchard partners have tours, plantings, and parties planned all day long. Plus – POP has even organized an Orchard Day bike ride so you can take in as much of the fun as possible. Here's the rundown (events with an * are an opportunity to roll up your sleeves and volunteer):
ORCHARD DAY BIKE TOUR, 9:30am-2:30pm
Join POP for a 20-mile rideabout to five orchard sites, including Woodford Mansion's Apple Festival, and finishing at Overbrook Environmental Education Center. Helmets are mandatory. There is a $20 participation fee, which will directly to support POP's work in community orchards. Space is limited. Register in advance online.
*OGDEN GARDENS, Preston and Ogden streets, 9:30am-12pm
Help mulch, plant, and weed at Edible Belmont with the Preston's Paradise crew. Apples, snacks, and beverages provided.

* FAIRHILL BURIAL GROUND, 9th and Indiana streets, 10am-2pm.
Historic Fair Hill will be having its harvest festival and volunteers are welcome to help prepare POP's garden for winter by mulching and cleaning. Also enjoy free popcorn, hot cider, kid crafts and a singalong by an open fire.

OVERBROOK ENVIRONMENTAL EDUCATION CENTER, 6134 Lancaster Ave, 10am-5pm
The Growing Healthy Communities Fair takes over the Overbrook Environmental Education Center to bring a wide range of activities including gardening workshops, cider-pressing, fitness activities, and crafts for kids. Karen Washington, co-founder of Black Urban Growers, is among the speakers.

*AWBURY AGRICULTURAL VILLAGE, 1011 E. Washington Lane, 1oam-5pm.
Help plant the Awbury Food Forest at 10am and then celebrate fall with an afternoon of fun including apple sauce making, cider pressing, a family nature GIS scavenger hunt, hayrides, and an early dinner from 3-5pm with Zea Mays Native American Cuisine.

*T4G POPLAR, 8th & Poplar, 10am-1pm.
Join Teens4Good for an orchard workday planting a new berry garden, pawpaws, kiwis, and help weed and mulch at the orchard. Refreshments/snacks provided.

SHARE, 2901 Hunting Park Ave, 11am-2pm.
Be part of the SHARE Food Program Nice Roots Farm's festivities, which include an apple/pumpkin bake-off, live music, a pumpkin patch and cider pressing.

WOODFORD APPLE FESTIVAL, NW of 33rd & Dauphin, 10am.
Celebrate at one of POP's most established orchards with cider pressing, heirloom apple tasting, pumpkin painting, and tour the orchard and historic house. RAINDATE: Sunday, 10/27 @ Noon.

BARTRAM'S GARDEN, 5400 Lindbergh Blvd, 12-3pm.
It's the Harvest Festival at Bartram's Garden Community Farm. Plant garlic, check out cooking demos and enjoy live performances. Dress as your favorite fruit or vegetable.

GRUMBLETHORPE, 5267 Germantown Ave, 3-6pm.
Mark Orchard Day at Old Grumblethorpe! Make a scarecrow, taste apples, and be sure to tour the farm orchard, and historic house.

SOUTH PHILLY TEEN ORCHARD, 2011 S. 8th St, 3-6pm.
Tour the South Philly Teen Orchard and enjoy carnival games, paint a pumpkin, sample fall foods, and take in the costume contest at 4pm.