Casino applicants pitch projects to PGCB
8th and market street

700 packer avenue

900 packer avenue

3333 s front street

400 n broad street

2001 2005 beach st richmond st
The six applicants for Philadelphia's second casino license pitched their proposals to the Pennsylvania Gaming Control board for most of Tuesday.
The hearings started at 9 am, but as of 8:15 a.m., many of the applicants and their representatives had already filed into the Convention Center hearing rooms.
Many familiar faces are in the house, including Fred Jacoby, an attorney who last go-round represented Foxwoods Casino, which lost the license th six new applicants are vying for. Michael Heller, President and CEO of Jacoby's law firm, Cozen O'Conner, is a member the Market 8 team. He is also co-owner of Valley Forge Casino Resort. SugarHouse General Manager Wendy Hamilton is also here, as an interested citizen, she told the press. Parx representatives are here, too. As is a contingent from the Philadelphia City Planning Commission.
Casino opponents are also watching. Casino-Free Philadelphia released a statement [pdf] urging the Pennsylvania Gaming Control Board to make the process more open. Casino-Free is asking the state to post complete applications and clear criteria for judging them. PGCB Spokesman Doug Harbach said the applications – minus personal information that will be redacted – will be posted on the state's website shortly after Valentines Day, by when all applicants must submit their final list of principals. See the Casino-Free website.
Steve Wynn's team has set up a lush-looking hospitality area in a nearby room, where he will be taking questions after the hearing. Wynn's team has offered to fly representatives of PlanPhilly and other media to Las Vegas to talk to Wynn. PlanPhilly declined the offer – news agencies don't accept items of value from entities they cover for conflict of interest reasons – and we're told the Inquirer has as well.
The PGCB is live streaming the hearings on its website. To watch, click here. Here's the schedule:
9 a.m.: Opening remarks, followed by Market East Associates, proposing Market 8 at 8th and Market Street.
Ken Goldenberg of the Goldenberg Group and his team said their site, now a parking lot, is "the hole in the donut" – the very center of Philadelphia, which their casino project would fill with a lively space that's more than a casino. Close to the business and historical districts, the project would literally reflect its surroundings in its glass skin. The casino would be operated by Mohegan Sun. It would have 2,400 slot machines, 82 banked table games and 30 poker tables, but also eight restaurants, a Philly-themed food court, live concerts in a 12,000 square foot events room.
Goldenberg said the project was the most urban of those proposed, well-served by public transportation and highways. The team said it would raise $225 million in gaming tax revenue and $29 million in non-gaming tax revenue annually without taking revenue from the other existing casinos, as it would draw from historic district visitors, conventioneers and suburbanites taking SEPTA to town for dinner.
Partner Willie Johnson, Founder and Chairman of PRWT Services Inc., noted that those involved in the project have Philadelphia roots. "We are the home team," he said in the video portion of the presentation.
10 a.m.: Stadium Casino, proposed the Live! Hotel and Casino at 900 Packer Avenue.
Live! Hotel and Casino's presentation was made by Bob Green of Greenwood Racing, which owns Parx Casino, and Joe Weinberg, managing partner of the Cordish Companies.
Their presentation highlighted previous projects, including Parx in Bensalem and Maryland Live! And other Live! projects, which they said demonstrated the viability of their brand. Weinberg said Maryland Live! is the most profitable casino in Maryland and the entire mid-Atlantic. They said their Hard Rock Casinos in Florida are the highest revenue-generating in the country. Weinberg highlighted seven Urban Institute awards Cordish has won for its urban projects where existing buildings have been reused, such as the power plant conversion in Baltimore's Inner Harbor.
They showed a video with images from Parx and around the country, but also played up local connections.
Weinberg spoke of Xfinty Live, and what he called a unique opportunity for this proposal to benefit from the many people who already visit Xfinity Live and the stadiums. Green told the story of his decision to move to Philadelphia from London in 1989 to purchase what was then Philadelphia Park race track. Experts on both sides of the pond thought him "mad," he said, but he saved the race track and has since transformed it into Parx Casino.
Along with 2,000 slots and 125 table games, the Live proposal for South Philadelphia would include restaurants and retail establishments and an "intimate" place for live entertainment. The main entrance would be off of Darian Street. An existing hotel would be converted into a luxury hotel and conference center, Weinberg said.
He pointed out the site's proximity to I-95 and I-76 and the airport, and noted the AT&T SEPTA station near the stadiums.
11 a.m.: PA Gaming Ventures, LLC, proposed Hollywood Casino Philadelphia at 700 Packer Avenue.
Pennsylvania Gaming Ventures also claimed proximity to the highways and stadiums, but differentiated itself with a big sports bar and a charity that's the two-thirds ownership partner.
The business partner with a one-third stake is Penn National, owner of Hollywood Casinos. One of those is located in Grantville, Pa, outside of Reading. That is why, under state gaming law, Penn National could only hold a one-third stake in this proposed casino. "Necessity is the mother of creation," said Penn National Senior Vice President for Corporate Development Steve Snyder.
The two-thirds charity partner, Philadelphia Casino Benefits Corporation, would funnel two-thirds of the casino's revenues – after taxes, and after the benefits corporation's management fees – to education and city pensions. So far, the PCBC has a single director, its President and CEO Joe Domenico. Domenico said other board members would be named, and Penn National would have a representative. Money would be distributed based on corporation bylaws and an agreement with the gaming control board, he said.
Unlike the previous two presenters, Hollywood Casino Philadelphia would be built in phases, with its first phase including 2,000 slots with room for up to 2,500 and 81 table games, including 15 poker tables.
There would be a steakhouse and other food vendors, and a space for live music. "In Philadelphia, you can't do anything without a sports bar," Snyder said. Hollywood's partners have "dedicated prime real estate to a sports bar overlooking the gaming floor," he said. People who don't have tickets to attend one of the events nearby can hang out at the casino and watch the event on big screens, he said.
The site is 13 acres, and future plans, market willing, include a 500-unit luxury hotel, he said.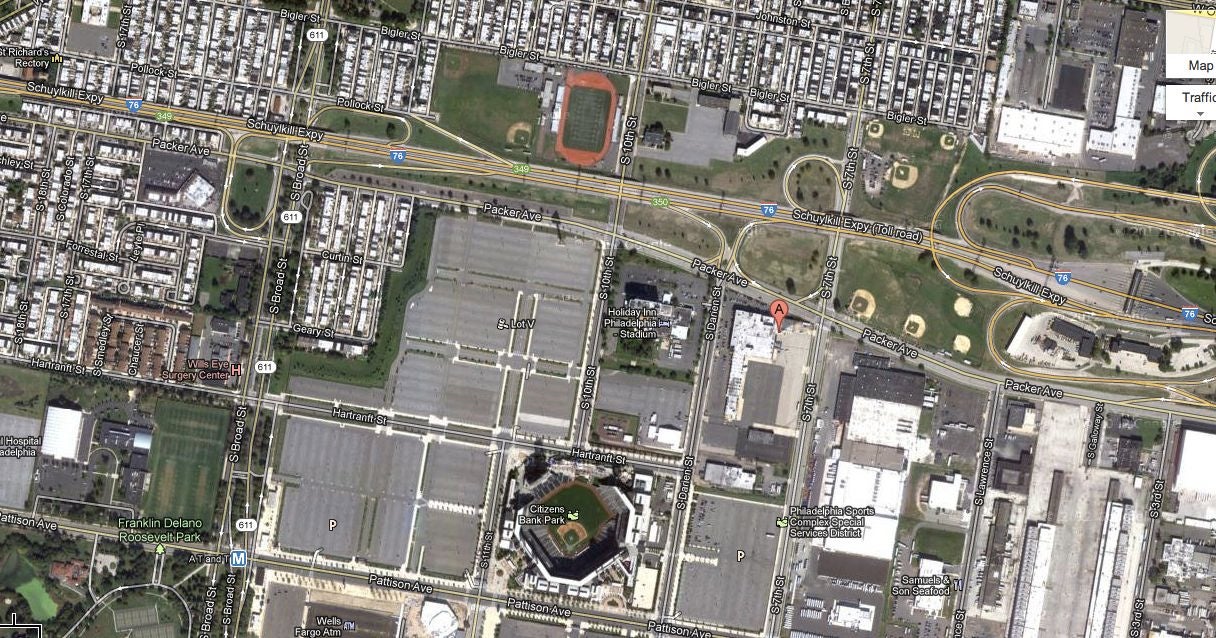 1 p.m.: PHL Local Gaming, LLC, proposing Casino Revolution at 3333 South Front Street.
PHL Local representatives said the PGCB should pick their Casino Revolution proposal because produce magnate Joseph Procacci and physician Dr. Walter Lomax are proven local entrepreneurs who both "came from nothing" and have no other casino interests. And because the first phase of development would happen in what is now one of Procacci's produce buildings, it could open six months sooner than the competition, said team member Robert Borghese.
"We can do what we want to do much earlier, much quicker," said Procacci. His team members noted several times that he turned a huge tomato field in Naples, Florida into a community golf course resort.
While all the previous applicants touted their commitment to diversity, team member John O'Riordan noted that the Lomax family brings it to the top of the Revolution team.
Another Lomax, Bennett, said their proposal is the best location because it is not only close to the highways, but the farthest from neighborhoods of any of the six proposals. He said that unlike the other two South Philadelphia proposals, this one would not mix casino traffic with stadium traffic.
Phase I would begin with 2,400 slots, 105 table games, an Italian restaurant and a steakhouse. The team said they would build a 250 room hotel when the market allowed that would change the skyline of South Philadelphia and the entire proposal would bring development down to Front Street.
2 p.m.: Wynn PA, Inc., proposing Wynn Philadelphia at 2001 Beach Street, and 2001 through 2005 Richmond Street. Some of this property includes parcels where David Grasso had once proposed a live music venue, which met with neighborhood opposition. That proposal is clearly defunct.
Steve Wynn, known for his many casino projects, including those in Vegas and Asia, did all the talking for his proposal along the Delaware River in Fishtown. He said he needed no banks to finance him, at that building in phases is "baloney" because every element needs to work together from the beginning.
Wynn said one key in his proposal is the hotel – which would have 300 "mini-suites" of 900 square feet with separate tubs and showers and would be fancier than any other hotel in town. Conventioneers will want to stay at this hotel, he said, and frequent casino customers who are comped rooms will feel very good about that. "They will like it better than Atlantic City, and Atlantic City is the enemy," said Wynn, who once owned the Golden Nugget.
Wynn said he doesn't build "slots in a box," and he dismissed the ability to walk to a project location, saying people come to casinos via cars and trains. Being 10 minutes away from 30th Street Station is important, he said. And so is a good parking garage – his would be heated and connected to the proposed Wynn Philadelphia Casino.
Wynn said he didn't want to give away too much about the casino itself, because he didn't want to help his competition this early in the game. But he showed a picture of the outside of the property, and said it would have much landscaping and would take advantage of views of the river.
The Central Delaware River multi-purpose trail will pass along the river along the length of the entire property, he said in an interview after the presentation, and he will build a park of several acres besides. Wynn said he's studying Philadelphia weather patterns to see if there are at least 120 nice days when people will want to be outside, sitting at an outdoor cafe. If so, there will be terraces. If not, there will still be the park and the trail, and views from the restaurants and half of the hotel rooms.
"The best balance sheet in the gaming industry is Wynn Resorts," he said. "It's the only company whose subsidiary bond date is investment grade by Moody's and Standard & Poors and has a cash position of $2 billion."
This is Wynn's second foray into gaming in Philadelphia. For a time, he was part of the Foxwoods Casino team. He became part of it at the request of Ron Rubin, who is a friend of his, Wynn said in an interview after the hearing. Wynn said he decided to withdraw because the amount of money that the Foxwoods team owed kept changing. The last straw was when a contractor showed him documents saying he would be building the casino. Wynn had already been working with Keating, the same company that built SugarHouse and other casinos. After that, he said, he told both Rubin and the state gaming board he was done with the project.
This latest proposal is much different, Wynn said, because it would be his project from the start, and he's in complete control.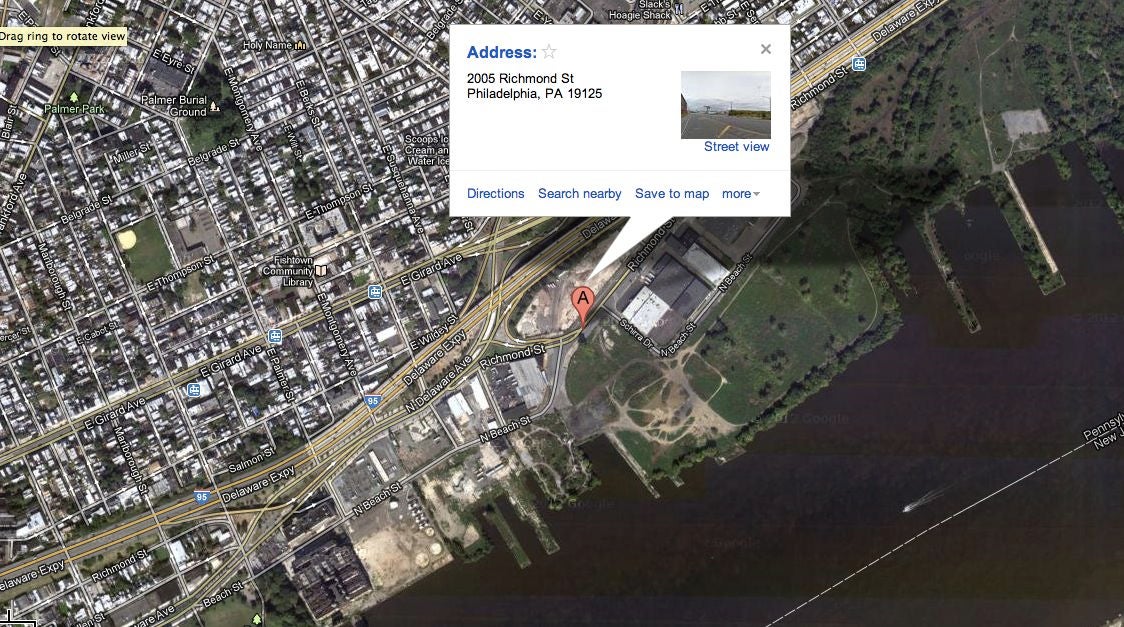 3 p.m.: Tower Entertainment, LLC., proposing The Provence at 400 North Broad Street.
Tower Development's Bart Blatstein, the man behind The Piazza at Schmidt's in Northern Liberties, touted his Philly roots and pledged to build an urban entertainment complex that just happens to have a casino in it, but encourages people to interact with the city.
"The casino space is only nine percent of the total public space of this project," said architect Paul Steelman. "The Provence is designed to attract people to get out of the building."
Blatstein told his personal story, from his early dreams of becoming a doctor to the first row house he rehabbed in Queen Village and on to The Piazza and projects on North Broad Street. Buying the former Inquirer building was a natural progression, since it's the other "bookend" to his properties in the Broad Street area, he said, even if he didn't know exactly what to do with it at first.
On a walk around the property one day, Blatstein said he noticed the Vine Street ramps, and it was then that he realized the property was more about its connection to the region than to Broad Street and started to dream about the second casino license. "What if Philadelphia were the first city in the country that had a true entertainment complex in its core, with a hotel, restaurants, day spa, fitness facility botanical gardens…" he said.
He and his team then described The Provence as having a 125 room hotel, 120,000 square foot rooftop village, private swim club, and nightclub, along with upscale shopping, meeting and events space and two indoor parking garages.
Like the others before him, Blatstein said his was the ideal location, and the one that would generate the most jobs and tax revenue. It was also the site, they said, that would spur the most development around it.
Blatstein said he was putting some of his own money into the project, and had enough funding offers to build three of them.
The meeting was open to the public, but no public comment was taken. The Board did not asking questions, either.
Spokesman Harbach said that the Valentine's Day would mark the hand-off to the Bureau of Enforcement, which will begin an extensive review of the applicants to determine their eligibility to operate a casino. This includes background checks and financial suitability.
Two hearings for public input on the proposals are scheduled for Thursday, April 11 from 9 a.m. to 9 p.m. and on Friday, April 12 from 9 a.m. to 3:30 p.m. These sessions will also be held at the convention center. Those who wish to speak can register on the PGCB website beginning on March 4. The board will also begin accepting written public comment at that time from those unable to speak in person.
When the board announced the hearing dates in December, it also said the window for anyone seeking to intervene is not tied to these public comment hearings. Parties seeking to intervene must do so no later than 45 days before the board's suitability hearings on each applicant. Those suitability hearings, which will help the board determine who gets the license, have not yet been scheduled. They are not expected to take place until late summer or early fall, at the earliest.
Harbach said it would be between six- and nine-months before the board decides who gets the license.
WHYY is your source for fact-based, in-depth journalism and information. As a nonprofit organization, we rely on financial support from readers like you. Please give today.