Building Stories: Hopkinson House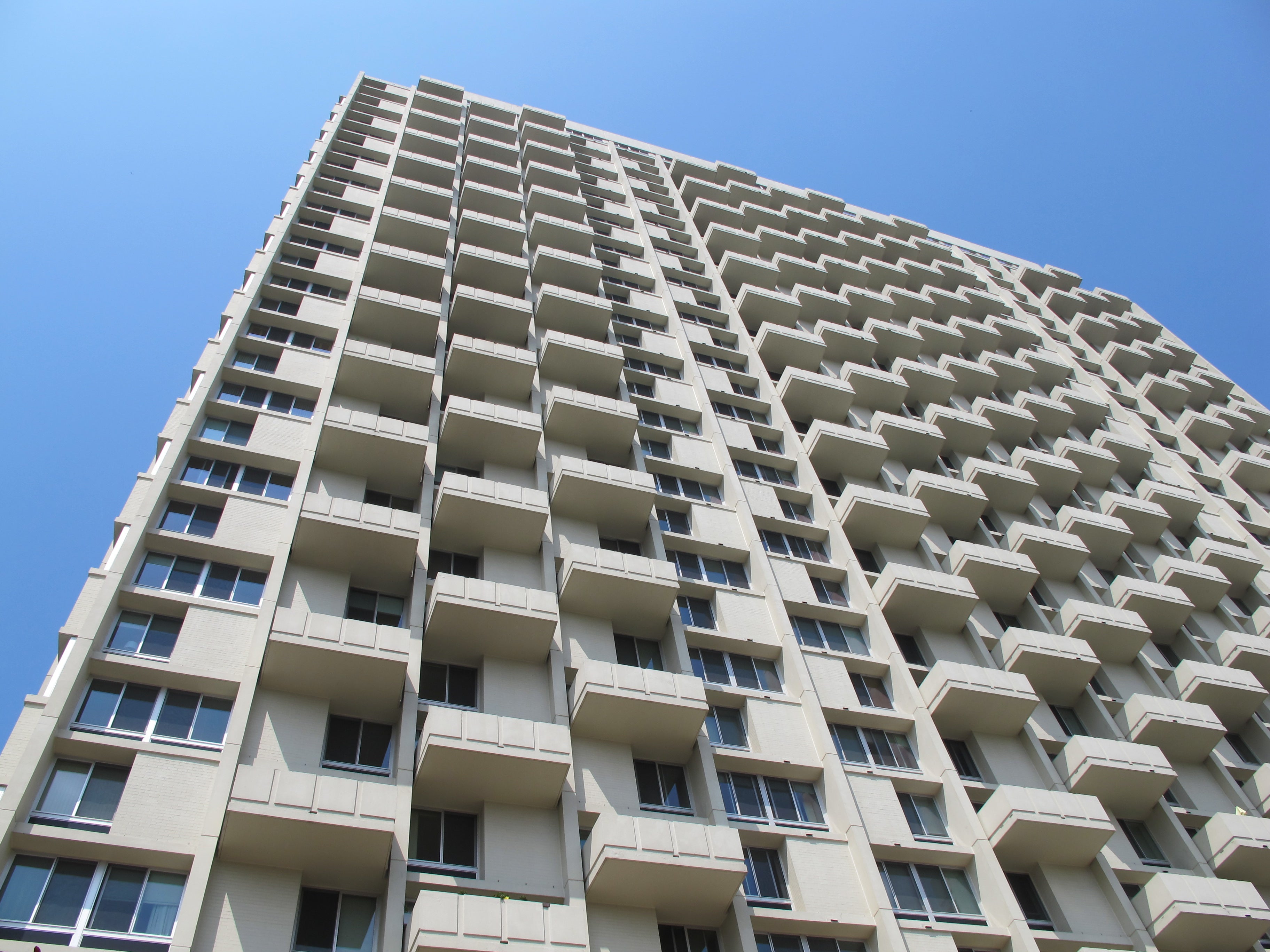 For our spring series Building Stories, we're bringing you design postcards from around the city. We're asking Philadelphia architects to take us to their favorite underappreciated or misunderstood buildings in Philadelphia, and explain what makes them great.
Building: Hopkinson House
Year: 1963
Architect: Oskar Stonorov
Location: 604-38 South Washington Square [MAP]
Who: Rich Villa, Ambit Architecture
Why: Pattern, Shadow, Time
The most famous examples of modernism in Society Hill are I.M. Pei's Society Hill Towers and rowhouses of Bingham Court. But Rich Villa, principal at Ambit Architecture, wants us to appreciate one of the overlooked works of the era: Hopkinson House, a later creation by architect Oskar Stonorov that anchors the south side of Washington Square Park.
Stonorov, a German-born architect and sculptor, worked with a number of Philadelphia architects, including Louis Kahn, George Howe, and Alfred Kastner and may be best known for his residential projects. His Hopkinson House was made possible by the large-scale mid-century urban renewal project to reshape Society Hill, which included major demolition campaigns that made room for large-footprint buildings. Hopkinson House (named for Francis Hopkinson, a Philadelphian signer of the Declaration of Independence) was built as rental apartments, part of a push to encourage well-heeled Philadelphians to live in this part of the city.
Stonorov's 33-story building rises with a stepladder pattern of protruding balconies, alternating with brick panels that lay flush with the vertical concrete columns. The windows are tucked back into the facade. Together these elements create a dynamic composition, full of depth that is accentuated by the play of light on the building, and give rhythm to the facade.
Villa calls it a "cheese grater" pattern, but not derisively. "It's a really interesting pattern."
Today Hopkinson House is painted a soft buff color, but originally it the color and texture of the red brick panels and the grey exposed concrete were exposed making the pattern even more dynamic, each material in its own vocabulary.
"I think people look at it and they think of it as a dark hulking mass because it's on the south side of the square and everyone looks at it from the north and it's always in shadow. If you looked from the south side it's very dynamic, so much shadow and so much shade," Villa says.
At street level there is a porte-cochere covering the entry, driveway, and bronze paneled columns. Inside the lobbies feature their original finishes: a black and cream terrazzo floor, panels of white marble vertically striated with fine grey lines on columns and walls, and bronze sculptural panels of diaphanous women wrapped in gauzy fabric flank the elevators.
Through the lobby is a courtyard, one of the building's common spaces (it was also built with a rooftop pool), from which more sunlit afternoon views of the architecture were possible.
"The fact that everyone reads it as a big cube, which it's not, but when you look at it from the south side and you see that shadow and you see all the depth. There's weight but there's also an airiness to it," Villa says. "It becomes a really interesting and playful building that is of it's time. A lot of people say, 'Oh, of it's time. Those buildings, they don't matter because they're from the 60's and 70's.' I think, as a part-preservationist, you have to remember that these buildings are the ones that are of our time. Architecture didn't stop in 1938 when people started to do more international and modernist buildings. To say to someone like my parents or baby boomers, 'All the architecture of your life doesn't matter.' Now we're starting to say that about the 80's and 90's buildings and 70's. Buildings like this exist and I think they're great examples of that time."
Just like some people lament that we'll never build another building like the Wanamaker building again, Villa says, "Sometimes I think we'll never get a building like this again."
Hopkinson House, sun and shadow.

Hopkinson House interior lobby.

Rich Villa, inside Hopkinson House's lobby

Hopkinson House's alternating balconies.