Bill to ban new 3-story homes in Point Breeze, Grays Ferry introduced by Councilman Johnson
The bill proposes updating zoning maps to reflect the development that currently exists in the neighborhood.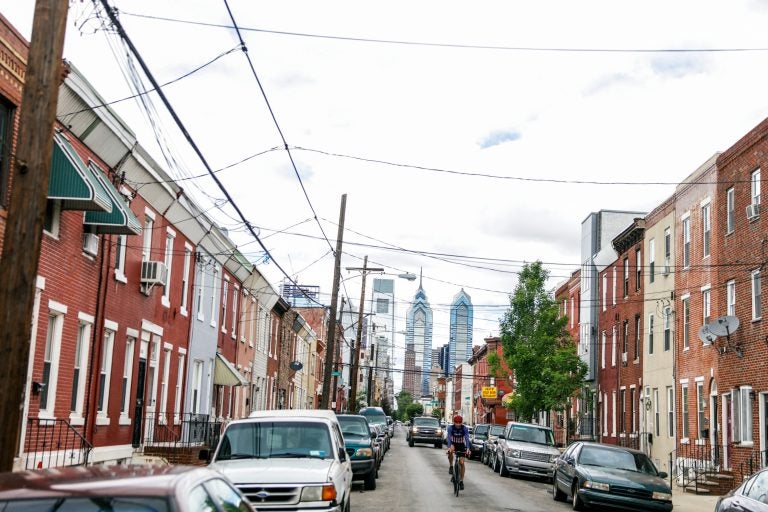 This story originally appeared on PlanPhilly.
—
City Councilman Kenyatta Johnson has introduced a bill that would make it easier to build new homes and taller buildings in some sections of Point Breeze and Grays Ferry, while making it harder to build three-story homes in some sections of the low-slung rowhouse neighborhoods.
The move comes after years of prompting from the Philadelphia Planning Commision, which has urged Johnson to address development concerns in the rapidly gentrifying neighborhoods.
The bill proposes updating zoning maps to reflect the development that currently exists in the neighborhood. It would ban new three-story homes if neighboring properties are shorter and allow for taller and more dense development on Point Breeze Avenue, a struggling commercial artery.
"I'm going to focus specifically on the future of Point Breeze Avenue and the beautification and preservation of the off-streets of Point Breeze and Gray's Ferry," said Johnson.
The bill would change the zoning on Point Breeze Avenue from CMX-2, a commercial-residential category that limits building heights to 38 feet to CMX-2.5, which would allow a greater density of apartments and more height, typically allowing three or four stories.
Johnson's bill is not just a simple zoning remapping, but an overlay which allows him to modify the city's zoning rules within this geographic area to his own specifications. For example, the CMX-2.5 zoning district allows heights of 55 feet everywhere in the city, but in the territory covered by Johnson's overlay, the limit would be 10 feet lower.
Johnson hopes this more modest height increase will placate neighborhood residents like Zelda Simpkins, a member of the community group South Philly Homes. The grassroots group often fights against developers who seek to build taller structures on Point Breeze Avenue.
But Simpkins said that while she and others in the group like much of Johnson's bill — especially the restriction on three-story houses — they don't like the compromise height allowance for the commercial corridor.
"Forty-five feet on Point Breeze Avenue will be towering over these other houses that are already there," she said. "We've been fighting 45-feet buildings on Point Breeze and to put it into place now, well, I guess it really don't matter what we say at this point."
Others in the neighborhood objected to the proposed block on three-story houses on residential blocks.
Neighborhood developer Ori Feibush described the proposed limit as "nonsensical." He hopes the language will be softened or even stripped from amended versions of the bill. Even if the language remains, a homeowner or builder could go to the Zoning Board of Adjustments and seek a variance to build a larger house.
Feibush, who lives in a three-story home in the neighborhood and has developed hundreds of properties there, ran against Johnson in an ugly 2015 Council race. The former foe said he mostly likes the sound of the new bill.
"It's not just a token, its material change," said Feibush. "It's a step in the right direction, and certainly encouraging to see any level of upzoning over there. There are certainly some properties that couldn't be developed before that are buildable if the CMX 2.5 zoning holds."
This proposed remapping is one of the most dramatic pieces of zoning legislation that Johnson has ever introduced. After the new zoning code reform took effect in 2012, the actual updating of the zoning maps had to be effectuated through further legislation from district councilmembers. Some members like Council President Darrell Clarke and the lower Northeast's Bobby Henon responded to the Planning Commission's proposals, sometimes with a few of their own tweaks. Others, like Johnson, have not responded and left the older zoning maps in place.
Johnson will face a new challenger in the 2019 Council race in the form of Lauren Vidas, a South Philadelphia lawyer who worked in Michael Nutter's mayoral administration. One factor motivating Vidas is a belief that the Councilman's inaction on zoning has created affordability and quality-of-life issues in the 2nd district, which spans parts of Center City, South and Southwest Philadelphia.
"I think [the bill is a result of] having a challenger who is talking about these issues and his inaction over the last seven years," said Vidas. She said she considers the zoning overlay proposal one step forward, and two steps back.
Vidas said the restrictions on three-story homes seems arbitrary and could limit the value of two-story houses when homeowners seek to sell. She also feels the heights on Point Breeze Avenue should conform to the standard 55-foot cap in CMX 2.5 zoning because residential rents from apartments above storefronts often subsidize commercial activity in neighborhoods where the market is not yet robust.
"Next May is all about accountability and running on your record," said Vidas. "The election is probably motivating him to start moving these conversations forward because they just haven't been happening over the last seven years."
The specific remapping proposals contained in the bill have been on the Planning Commission agenda for years. In 2015, the commission adopted the South District Plan that included many of the policies seen in Thursday's bill, though some of the Commission's recommendations didn't make it into Johnson's legislation.
Johnson has been reluctant to follow Commission recommendations to remap his district in the past, citing a desire to give residents an opportunity to weigh in when developers seek variances.
"If you just totally upzone … it cuts the neighborhood voice out of the process," said Johnson.
The bill Johnson introduced on Thursday includes a rezoning for Washington Avenue, where several large projects are planned. The wide, industrial avenue serves as the border between Point Breeze and the more gentrified neighborhood Graduate Hospital, and many developers, including Feibush, are eager to build housing on its many vacant or partially vacant properties. The Planning Commission has suggested it be rezoned to allow a mix of uses beyond the current commercial and industrial options.
Johnson said that he expects to strip the proposed rezoning from the bill. He did not explain why he included it in the bill he introduced.
"My opinion of zoning along Washington Avenue, irregardless of the Planning Commission's recommendation, is that we have to work with the community on a case-by-case basis," said the Councilman. "A lot of projects on Washington Avenue are very huge and significant projects that need the community voice."
Under the current industrial zoning that Johnson seeks to preserve, a developer seeking to build a residential project on Washington must secure a variance from the Philadelphia Zoning Board of Adjustment, which necessitates a meeting with the community and also gives neighborhood groups a chance to voice dissent at a public zoning hearing.Occasionally, project opponents can sway the board against granting a variance.
A developer can avoid a trip to the zoning board if the district council member introduces legislation that changes the site's zoning, allowing the project to move forward. This is pejoratively called spot zoning, and is often frowned upon by good government groups who fear the practice contributes to a "pay-to-play" political culture.
WHYY is your source for fact-based, in-depth journalism and information. As a nonprofit organization, we rely on financial support from readers like you. Please give today.