August 18: More details on Toll's Jewelers' Row plans | Self-driving cabs in Pittsburgh | Sign stump menace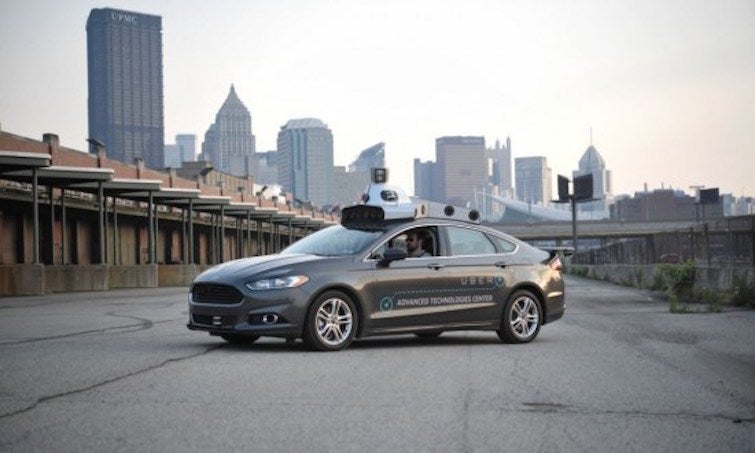 In an entirely believable plot twist, L+I mistakenly issued a zoning permit to Toll Brothers for the Jewelers' Row project without requiring them to go through Civic Design Review–an advisory-only review process for larger buildings. Jacob Adelman says Toll expected to go through CDR, and they plan to cooperate despite the city's error. That review process will likely add several months to the project timeline.
Inga Saffron has more details on Toll's plans, which include five retail storefronts, and a 15-foot setback for the 16-story residential tower. Purely in terms of massing, this would be less disruptive to the scale of the street, although Saffron says this is unacceptably disruptive in other ways. "In any other context, such urbanist touches might be applauded. But what's happening on Sansom Street is classic gentrification, the kind that drives out distinctive, homegrown business and tears apart long-standing community bonds."
Uber will begin testing their fleet of self-driving cabs in Pittsburgh this month, reports Max Chafkin, although a human supervisor will still sit behind the wheel. "In Pittsburgh, customers will request cars the normal way, via Uber's app, and will be paired with a driverless car at random. Trips will be free for the time being, rather than the standard local rate of $1.30 per mile."
State Rep. Donna Bullock, whose 195th District covers Brewerytown and Strawberry Masnion, is sponsoring Fair Chance Housing legislation in Harrisburg, aimed at reducing housing discrimination against ex-offenders, says Ptah Gabrie.
People keep tripping over sign pole 'stumps' and the city shelled out $1.1 million over the last 18 months to settle 20 lawsuits over stump-related incidents, Dana DiFilippo reports. "Breakaway signs, which topple but leave a "pole stump" in place where workers can reattach a signpost without breaking up and replacing the concrete around it, have become an industry standard because they cause fewer crash injuries and are cheaper and quicker to repair than unyielding, rigid signposts."