As Delco COVID-19 cases surge, rivalry football game continues — with precautions
The annual "Media Bowl" between Penncrest and Strath Haven High School featured restricted attendance, masks and face shields in an attempt to mitigate the spread of COVID-19.
Listen
2:48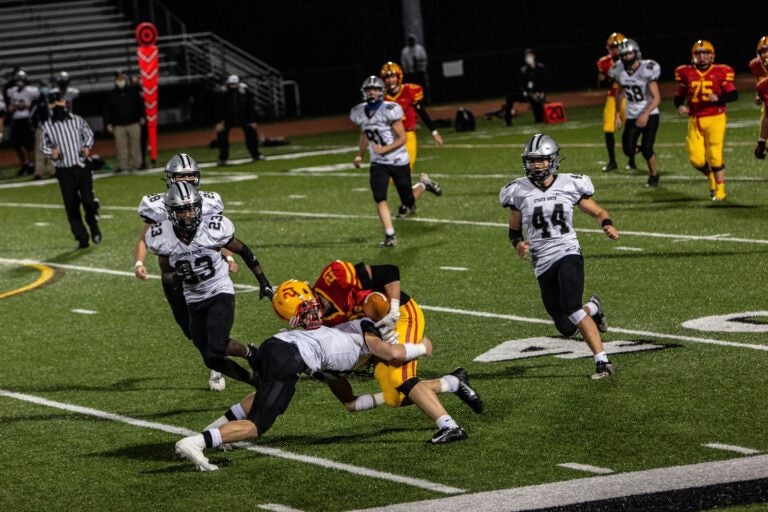 Friday night lights shine brighter during Thanksgiving rivalry football games. The hits crack harder, the band sounds louder, and the fans cheer their team on harder in the chilly late-November air. In a non-COVID year, the Media Bowl between crosstown Delco rivals Penncrest and Strath Haven High School would be one of the biggest events going on in town that night.
"You see some places in Texas and Florida with their big stadiums and their rivalry games, but when it comes to Strath Haven, it's kinda like that, just in a smaller place," said Penncrest sophomore wide receiver Deveyon Fitzgerald. "It means a lot to the kids. It's always a good game no matter who wins, who loses."
With the schools just five miles apart, Strath Haven students often run into their Penncrest counterparts in all areas of life around Media. Students from Wallingford and Media shop at the same stores, go to the same movie theaters, and worship together on the weekend.
For both teams, the Media Bowl is the biggest non-playoff game of the year. With so much overlap between the students, a natural rivalry ensues on the football field, in part, because players on both teams grew up together. Using a Simpsons metaphor, each school considers the other to be Shelbyville, the crosstown team you hate, solely because they're the crosstown team.
Hoisting the Hometown Trophy, given to the winner of the Media Bowl, means serious bragging rights for students. Fitzgerald said players around town gloat about winning the trophy and "see each other in Media and say, 'Hey, guess who won this week? So y'all can wait in the back of the line."
But this year, the football game had the misfortune of falling during the week when Delaware County reported the biggest COVID-19 spike of the entire pandemic.
Last week, the county reported its highest daily total since the pandemic began. Delaware County Council Chairman Brian Zidek, while announcing that five Delco residents have died from COVID-19 complications in the last few days, put it frankly: "Things are looking bad right now."
Changing the game
The Pennsylvania Interscholastic Athletic Association (PIAA) greenlit the fall sports season at the end of August, but left it up to the districts about how they wanted to proceed. The Central League, in which Penncrest and Strath Haven play, initially canceled the season on Aug. 28, but by the end of September, more relaxed guidelines from the Chester County Health Department (Delco doesn't have its own) allowed them to play.
On Friday night, the 39th annual Media Bowl was held at Penncrest's Louis W. Scott Stadium with much less fanfare than usual. Missing was the usual crowd of students congregated against the fence rounding the track, too cool to sit in the stands with the cheering parents and longtime fans huddled together in the crowd, hot cocoa and soft pretzels from the snack bar in hand.
COVID-19 safety precautions limited the size of the crowd, and mandated fans sit in clusters six feet apart. No tickets were sold for the game, and only about 300 were given out to guests of players, band members, and cheerleaders. The school said that's about 20% of the total capacity of the stadium.
Penncrest was able to play its entire fall season without any positive virus cases on its sports teams. Penncrest Athletic Director Chip Olinger said that's because the players took COVID precautions seriously, especially when away from the football field.
"We've had kids who have quarantined because they had a family member who tested positive, but we've had no cases on the teams personally. If you're going to be able to compete, and continue to compete, you have to mask, socially distance, and be responsible at home," he said.
On the sidelines, coaches and personnel from both teams wore face coverings. On the field, players wore plastic visors on their face masks with small ventilation holes, designed to minimize the air droplets transferred between players.
Olinger commended the school's student-athletes for taking the precautions seriously.
"The weight's on their shoulders and the kids have done great. We haven't had one game canceled this season," he said.
Nia Fitzgerald, Deveyon's mom, said she appreciated the lengths Penncrest went to in order to allow the kids to play football. When asked about her son playing football despite record COVID numbers in Delco, she said she's not concerned, since the school has been taking precautions, and the team has only one game left on their schedule on Nov. 25.
"As long as [students] continue to wash their hands, keep their distance, make sure their locker rooms are good, and as long as the district keeps us informed, I have no concerns," she said. "Children are going through a lot right now, so having them in sports, it's good for them."
To lower the risk of student-athletes contracting COVID-19, the Central League imposed a "league only" fall schedule, with each school playing a shortened six-game docket against the intra-league competition. The league also announced member schools would not be allowed to participate in the PIAA fall playoffs.
Without the promise of competing for a state title, from a competitive standpoint, the season is practically meaningless. But the decision to forego a postseason seems prescient now, as elsewhere in the state, a handful of PIAA playoff games have been canceled due to COVID-19 outbreaks at Pennsylvania high schools.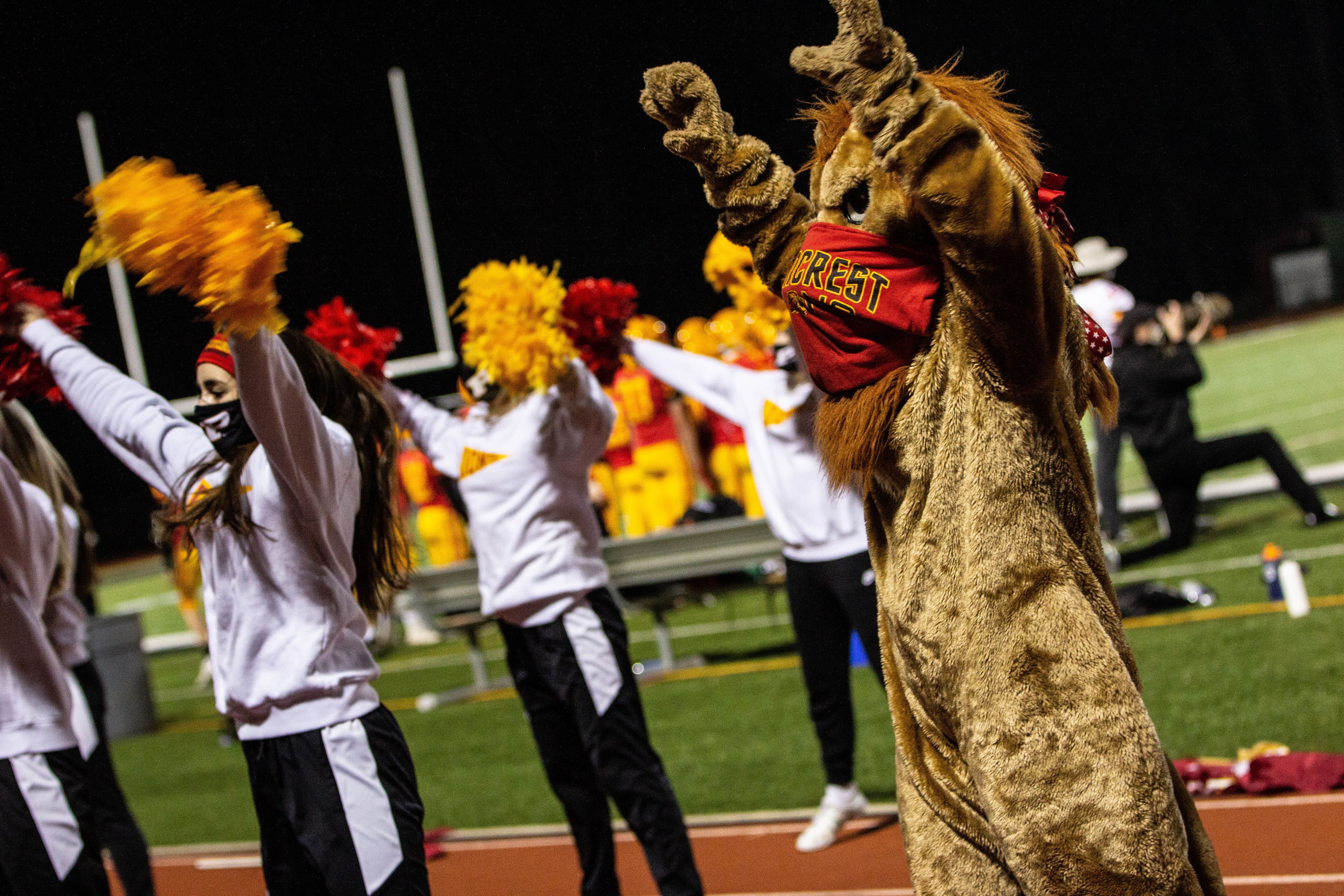 In District 11, mostly within the Lehigh Valley and a few surrounding counties, COVID-19 outbreaks canceled multiple playoff games. East Stroudsburg High School South forfeited its quarterfinal; Nazareth High forfeited its semifinal; and Stroudsburg High forfeited its quarterfinal game. COVID outbreaks also canceled games in Lebanon County, Luzerne County, and the Pittsburgh area,
At Penncrest, after seeing the season canceled earlier in the year due to COVID, players were happy just taking the field after the work they put in over the summer to prepare.
Penncrest senior lineman Brian Loper said the players understood how precarious their season was, and made sure to take precautions to ensure it continued.
"We've been making sure to clean our stuff frequently, not leave stuff in the locker room, making sure we're on top of everything so we can have our season," Loper said.
He said he and his teammates "didn't know when the last game would come, so we played every game like it was our last and kept working week after week."
Jeremy Lehman, also a Penncrest senior lineman, said it was "really nice" that the school "tried to get us our season." He added: "They've been doing everything they can to make sure we can get our games in, do it safely, and get our last year out of this."
In the press box, announcer and science teacher Greg Jacobs said the precautions put in place by the school have been sufficient for him and others involved with calling the game to feel safe.
"Team routines are different. Practices look different. Pregame looks different. It's not the same atmosphere people are used to by any means," Jacobs said. "But when the whistle blows, football's football. And they're out there excited to play."
English teacher Craig Casner also calls games. He misses the old atmosphere in the press box on a big game day, but he's grateful to be calling games at all this year.
"This is a fun escape for some of us, but we don't have everyone here that we want here. We usually pack this place with all the fans who want to come, cheer, and get crazy, he said. "I wish we could share it with all the Penncrest family, and I'm looking forward to a time when we can do that. I hope it's soon."
Despite the small number of fans hoping for a good game, this year's Media Bowl was a blowout, as the Strath Haven Panthers easily beat the Penncrest Lions 49-7.
After the game, Penncrest coach Ryan Smith addressed a scuffle between opposing players on the field when tempers boiled over, as Strath Haven ran up the score. Losing the biggest rivalry game of the year by over 40 points will have that effect on a team.
"You saw things get a little chippy out there tonight," said Smith. "When you line up across from the opponent and it's a neighborhood foe, it certainly becomes more important."
Coach Smith gave all the credit for the so-far COVID-free season to his players.
"Every day is a challenge. It's not just about game-planning. It's about monitoring our health and doing things the right way. It's been unique in a challenging way, but to the credit of the kids, they've been amazing."
Although Penncrest's football season has continued so far without any major COVID outbreaks, the winter sports season now hangs in the balance. After meeting earlier this week, the PIAA approved the winter season competition to begin on Dec. 11, advising teams to limit the number of players on their bench to maintain a distance of at least six feet when possible.
"A lot of people thought in August that we wouldn't even be able to get started," PIAA Executive Director Robert Lombardi said last week. "But schools proved that it can be done and done safely."
Lombardi is confident the winter sports season will move forward with minimal outbreaks across the state.
Disclaimer: Robby Brod is a graduate of Penncrest High School.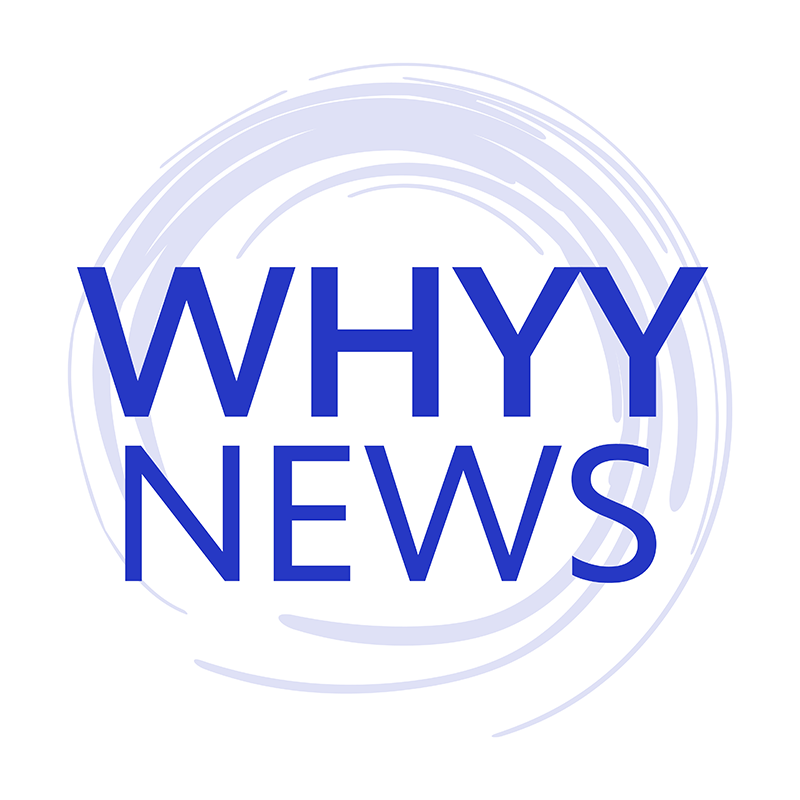 Get daily updates from WHYY News!
WHYY is your source for fact-based, in-depth journalism and information. As a nonprofit organization, we rely on financial support from readers like you. Please give today.