Around this particular tree: 2nd annual tree lighting ceremony brings the community together
It's not a big tree. It's certainly not as big a tree as you might expect for its intended purpose–to be seen by anyone walking or driving around the intersection of Frankford and Cottman avenues; but it's not a Charlie Brown Christmas tree, either.
On Sunday Nov. 22, around dusk, folks from Mayfair Business Association and members of the community — young and old alike — strung lights and affixed ornaments on the community's holiday tree. Santa arrived after darkness had embraced the assembled audience; he flicked a switch, and the tree lit up, a bright star atop, and the people cheered.
It's enough sometimes that something stand as a symbol. The Mayfair tree is many things…it's more than a tree. It's a symbol of the holidays. This is the second year MBA has hosted a tree lighting, so it continues a tradition. The tree is practical, not audacious as are some trees; children could decorate this tree. It's not artificial; this is a green green tree picked and cut by MBA members Suzann St. Marie and Lisa Greco.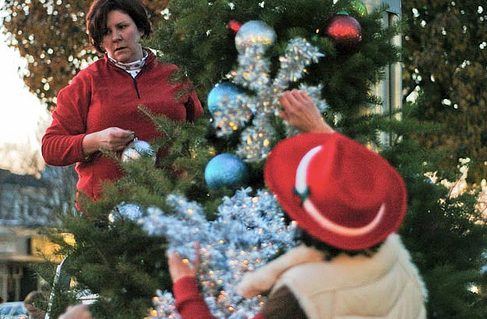 What problems lie ahead for this beautifully decorated tree? The tree is fastened to a utility pole. Wisely, MBA has situated the tree so it's not totally out in the open where it would be threatened by high winds, but even so, while most of the larger decorations are weather-resistant, many will not fare well in wind and rain. And that's where practical is manifest; if decorations are damaged, they can be easily replaced at little cost and hung by someone on a simple stepladder.
The tree trimming was initially handled by Suzann, Lisa and a few helpers. Lisa spent many minutes firmly holding a stepladder for Suzann, who struggled to affix the lighted star atop the tree. People patiently looked on, posed for photos, greeted friends, drank cups of free hot chocolate, listened to members of the Father Judge Marching Band play Christmas songs and joined Tricia Paffen (a music education major at Temple) in singing a few carols.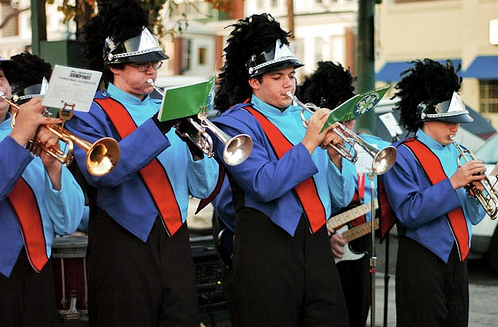 Glenn Paffen, Tricia's dad, accompanied his daughter's singing on his guitar. Glenn employed three of the cutest, live "music stands" to hold up his sheet music. Tina Hampson, her sister Angie, and Claire Hynes made sure the pages were held at just the right height, close enough to be read, and secured from blowing away in the soft but persistent breeze.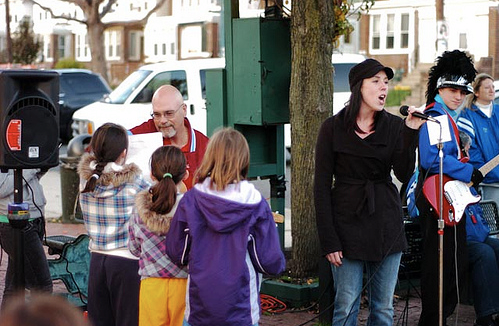 A goodly number of the adults and children who gathered around the tree had spent hours, earlier, at the Perzel Community Center, enjoying the Parade of Talent that was, this year, a substitute for the traditional street parade on Frankford Avenue.
Something I witnessed during the tree trimming struck me as particularly meaningful for this time of year…a time of Thanksgiving when we acknowledge our already having wonderful gifts that melds immediately to a time of further sharing and giving.
Offered the opportunity to bring non-glass tree decorations with which to decorate the tree, some folks did. Most, however, did not, meaning most children could do little more than watch.
Peace on earth.
You can see more than 300 photos from the Parade of Talent and the tree lighting ceremony in our Holiday Extravaganza Slideshow.