An 'All My Sons' you can buy into at Curio Theatre Company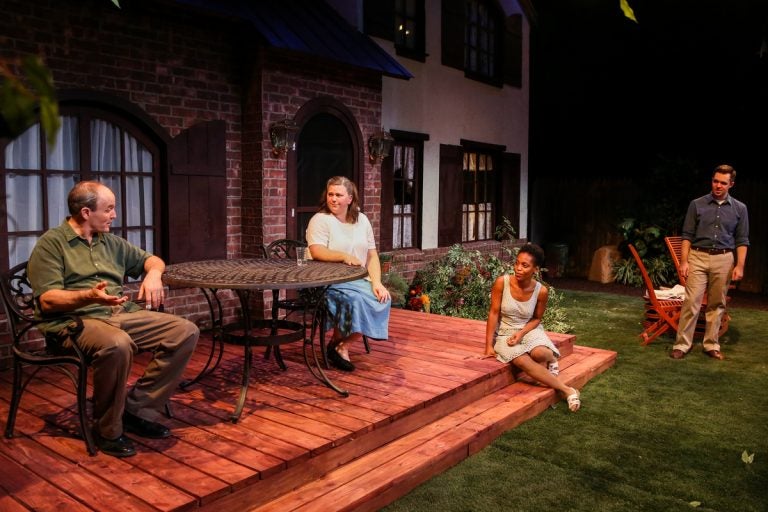 From the moment you walk into Curio Theatre to take your seat, it's apparent that this will be no ordinary rendition of Arthur Miller's "All My Sons." First, you walk through the appropriately appointed living room of a character. Then you walk out to your seat, partitioned from the stage by a row of hedges. Beyond them sits the playing space — the comfortable backyard patio of a home. You are fully in the neighborhood of the play.
The lights go down, a rainstorm comes up — you won't get wet, but it's raining onto those hedges. A woman comes out the back door of the house and looks into lightning, discovers that a small tree has fallen and goes back inside.
Then the play begins. The woman is Kate Keller, the lady of the house, and we don't meet her again until a few minutes later. She's central to the plot of  the highly contrived "All My Sons," a story chock-a-block with little coincidences and big reveals. It's a story set during World War II, and it may have been sharp and meaningful when it first hit Broadway in 1947. But nowadays, it feels bloated, repetitive and forced, and with emotion-packed moments that jump up like Jacks-in-a-box.
As I noted, though, Curio's "All My Sons" is no ordinary rendition. Director Gay Carducci's production, which I caught up with late in its run, is a bit stripped down, losing a minor character along the way (no real loss) and some dialogue, too. It's quieter but far more emphatic than other productions I've seen in stressing Miller's themes about a man's responsibilities to his family and his business and, well, to being a man — a hard-to-grasp notion that Miller constantly tried to define. The result at Curio is a tightened play and a more interesting one, too.
Sometime in the early '40s, the Keller family lost a son, a pilot in the war. He took off in a plane, and hasn't been found. Now, three years later, his mother Kate (a stellar performance by Trice Baldwin) has talked herself into believing that he's still alive and will be coming home. Her other son, Chris (Chase Byrd, excellent) is sure his brother is dead. So is his dad, Joe (the commanding Paul Kuhn, head of Curio Theatre and also the designer of the show's ambitious set). Yet they allow Kate her delusion — all she ever seems to think about. "We're like at a railroad station," complains Chris, "waiting for a train that never comes."
Now Kate's delusion will be smashed: Chris has fallen in love with his brother's girlfriend, Ann (the fine Nastassja Whitman) and she with him, and they are about to announce their engagement — news they know will drive Kate mad. Kate's always believed that her missing son's gal is remaining true to him until he returns, something Kate says keeps her going in life.
This story is loaded by its backstory — it turns out that Ann's dad languishes in jail because as a worker in Joe's factory, he painted over bad parts for warplanes, a literal cover-up that resulted in the deaths of 21 American pilots. Joe, a guy who seems to know everything about his factory except about those cracked parts, has been exonerated — and that makes no sense, says Ann's brother George (an aptly agitated Carlo Campbell). Neither George nor Ann has communicated with their father since his conviction, but George has chosen today — the day of his sister's wedding announcement — for a visit to prison and then to the Keller house for a showdown with the Kellers.
No matter how you massage "All My Sons," you can't overcome its transparent plot turns. But Curio demonstrates clearly that you can shape a production to emphasize the play's themes of right and wrong, family loyalty and reality versus idealism, all of which Miller deftly links to life and death.  The result is a play with more muscle than it's usually able to flex.
_
"All My Sons," produced by Curio Theatre Company, runs through Nov. 3 at Curio's home theater, at Curio's home theater, the Calvary Center for Culture and Community, 48th Street and Baltimore Avenue in West Philadelphia. 215-921-8243 or curiotheatre.org.