Amtrak's 30th Street Station now glows like the cathedral it wants to be
A new public art initiative "Art at Amtrak" brings site-specific installations into rail stations along the Northeast Corridor.
Listen
1:09
From Philly and the Pa. suburbs to South Jersey and Delaware, what would you like WHYY News to cover? Let us know!
The 50-foot-tall windows that illuminate the grand hall of William Gray 30th Street Station in Philadelphia have been covered with translucent panels that bathe the waiting area in a soft color.
Called "Euphonic and Chromatic Drift," Philadelphia artist Adam Crawford has drawn outside the lines of the station's window pane grid, designing an abstract pattern of graphics that repeat and spiral by their own logic.
"I like to think of it as a contemporary cathedral, in an agnostic way," said Amtrak curator Debra Simon, who commissioned Crawford to design this site-specific window mural for the historic Art Deco building.
"I'm not trying to fight it or overwhelm it," she said. "I'm trying to complement the amazing architecture: The height, the span."
"Euphonic" is the latest installation by Art at Amtrak, a system-wide railroad initiative that began last year to bring artwork into train stations, particularly along the busy Northeast Corridor. So far, there are installations at Penn Station in New York, Union Station in Washington, D.C., and now Philadelphia.
30th Street Station is an architecturally protected building, on the National Register of Historic Places, which makes it difficult to alter the space to accommodate an art installation. That is why Simon settled on the windows: the installation of vinyl panels adhered to glass is temporary, leaving no impact on the building.
Each installation hired an artist local to that station, to make a piece that responds to the station. All are temporary, and rotating, after about 6 months a new piece will take the place of the predecessor.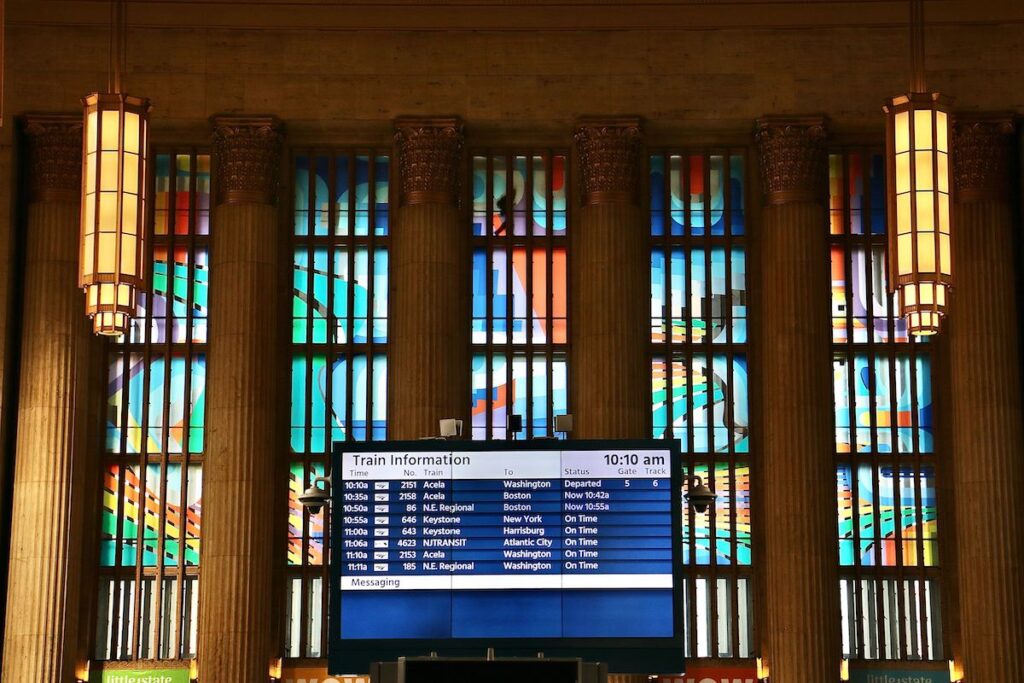 "We want to increase ridership on all of our lines: on the Northeast Corridor and also system-wide, our national network," said Sharon Tepper, director of Art at Amtrak. "We really want to inspire curiosity and ideas and hope, and just new experiences every time someone walks through a station. That's why we established this as a rotating program."
30th Street Station is the 3rd busiest train station in the U.S. Every day approximately 12,000 people move through its grand hall.
Crawford, the artist, has been painting murals around Philadelphia for several years. His work can be seen at the Cherry Street pier and on the Union Transfer and Fillmore concert halls.
He said that rather than responding to the formidable architecture of 30th Street station, he was reacting to how it sounds: the hum of shuffling footsteps, suitcase wheels, incoherent traces of conversation, train announcements, and the deeply echoing acoustics generated by the cavernous space.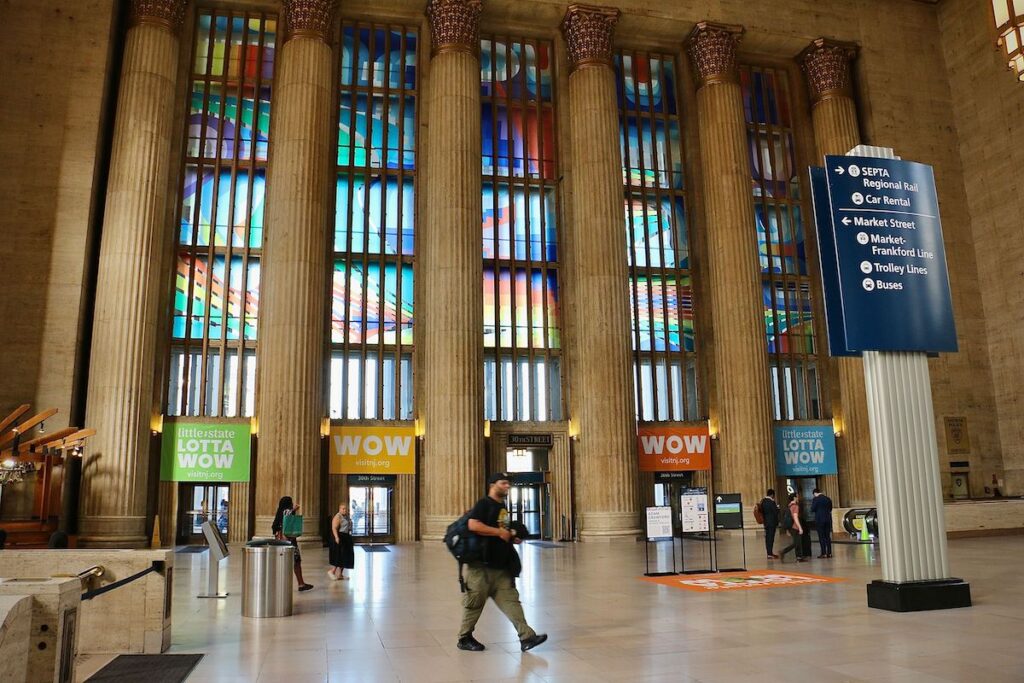 "The sound of people, and the flow of people going in and out, a lot of the atmosphere here is the echoing of people doing their everyday transient stuff," Crawford said. "I think of sound a lot."
When he is not designing graphics and art, Crawford said he spends time composing soundscapes. His abstract windows can be read as visualizing noise.
"There's a sort of flow and harmony to the colors," he said. "If you were to think of sound and frequency: low sound, like bass, and then the higher colors like yellow is a higher frequency. There's a rhythm of where those are placed as your eye travels."
During Euphonic's approximately six months life span, Simon the curator plans to program performances in the space, related to the window panels. Nothing is scheduled yet, but she said she wants to commission a local dance company to make a site-specific work.
Looking up at the western-facing windows, there are catwalks behind the glass sometimes used by train station workers; their silhouettes show against the colored panels. Simon envisions dancers performing a shadow play inside the cathedral-like windows.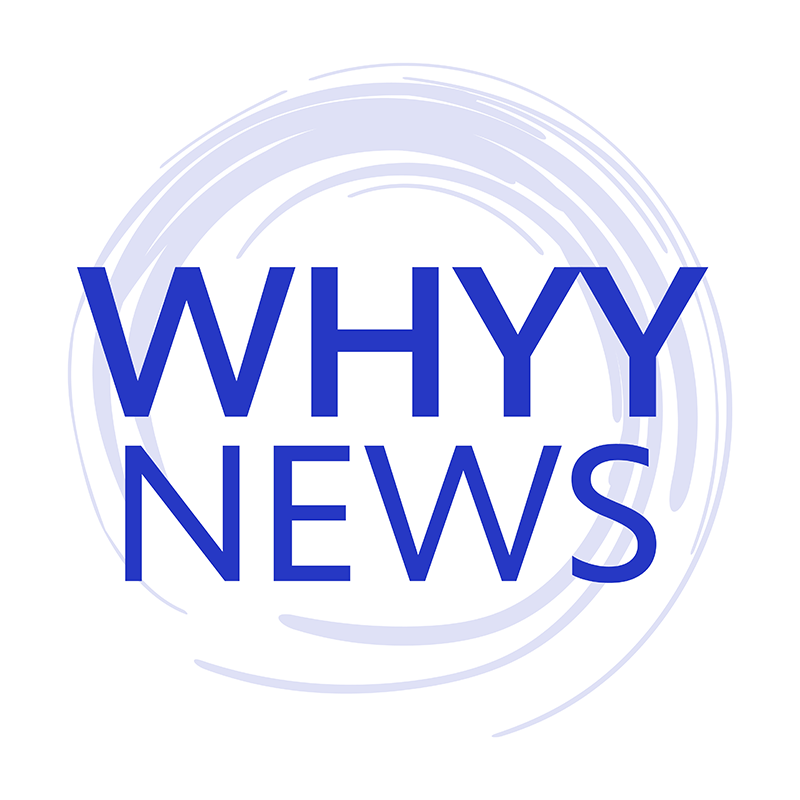 Get daily updates from WHYY News!
WHYY is your source for fact-based, in-depth journalism and information. As a nonprofit organization, we rely on financial support from readers like you. Please give today.