Alligators found in Holmesburg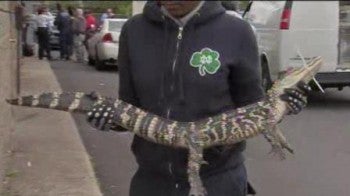 Police this morning found two alligators at a business in Holmesburg.
As part of an ongoing investigation into the industrial complex on the 8100-block of State Road, police raided a business, where they found two alligators in 300-gallon tanks. The gators, each about three to four feet long, wouldn't have grown much bigger, experts say, but are illegal to keep as pets in Philadelphia.
The owner of the garage where the gators were kept will be fined, and the SPCA removed the animals.