Philadelphia to be first big city with disaster plan to protect historic buildings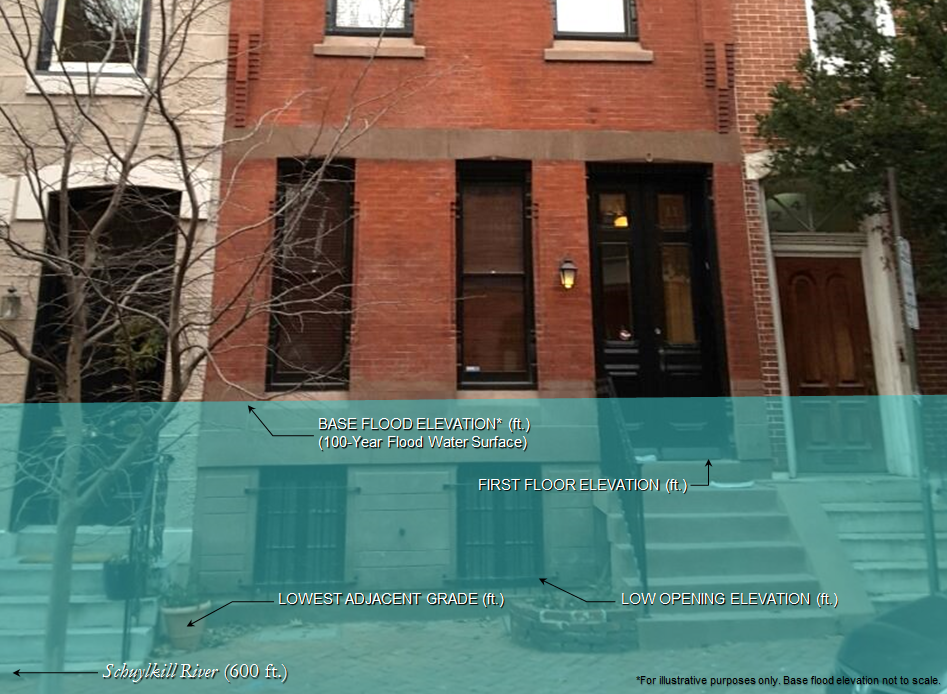 In a city whose identity is so closely associated with its historic sites, the effects of climate change and storms like Katrina and Sandy pose nightmare scenarios. What would Philadelphia be if its landmark buildings and historic districts were washed away?
Since those hurricanes in 2005 and 2012 and because of the increasing severity and frequency of major storms, preservation planners and government agencies have been taking a proactive approach, particularly in Pennsylvania, one of the most flood-prone states in the nation.
Philadelphia is the first major urban area in the U.S. to begin developing a plan to protect its historic buildings from natural disasters, and three other counties in the commonwealth are the targets of pilot projects that integrate surveys of historic resources and protective measures into their hazard mitigation plans.
Planning for Extreme Weather
Partners in the "Disaster Planning for Historic Properties Initiative" are the Pennsylvania State Historic Preservation Office (PA SHPO) and the Philadelphia Office of Emergency Management (OEM), along with other governmental agencies.
It's fitting that the work is coming together this year – the 50th anniversary of the National Historic Preservation Act, which created the National Register of Historic Places, the historic landmark list, and the state historic preservation offices. "So while we're reflecting on our heritage, we're also looking forward to the next 50 years with a strategy for climate change issues," said Jeremy Young, project manager of the initiative at PA SHPO.
The National Park Service provided a $1.5 million grant for the initiative from the Hurricane Sandy Disaster Relief Fund.
"The grant covered bricks-and-mortar repairs in Northampton County, and the balance is for the survey, planning and outreach work" in the pilot counties — Philadelphia, Bedford, Cameron and Monroe — said Cory Kegerise, community preservation coordinator for the eastern region at the Pennsylvania Historical & Museum Commission.
"As Congress was authorizing flood relief for all kinds of effects of Sandy, it authorized $50 million for historic preservation funds for states to protect historic properties," Kegerise said.
In the past, historic preservation was an afterthought in flood and insurance law. The Federal Emergency Management Agency (FEMA) traditionally regarded damage to historic buildings as an impediment to quick disbursement of disaster funds because it required additional consultation, Kegerise said.
"When the grant opportunity came about, we looked at how Pennsylvania might best utilize it. We structured the application to be oriented to proactive planning and strategy development. We wanted to push the idea of preservation out of reactionary mode to front-end planning, and figure out where historic buildings might be and how to prevent damage to them."
Philadelphia Central District floodprone historic buildings | Source: PHMC, Jeremy Young

Philadelphia citywide registered historic buildings, various flood risk | Source: PHMC, Jeremy Young
Threatened areas
A preliminary assessment identified 505 historic buildings in Philadelphia that are listed on the local or national registers of historic places and located in flood hazard areas, which would be inundated during a Category 1 hurricane. Hundreds of other historic buildings would be vulnerable in Category 2 to 4 hurricane events.
About half of Philadelphia's flood-prone historic buildings are in Center City. Over 100 are in Manayunk, and more than 100 are in the Navy Yard, which is "particularly hazard-prone," Young said. The threatened areas cited include Boat House Row, the Rittenhouse-Fitler Historic District, the Schuylkill Historic District, and Fort Mifflin.
Historic homes in Bridesburg and Holmesburg and a large concentration of buildings at the Frankford Arsenal are also in flood hazard areas. Many of the buildings in the old arsenal complex are part of a business center, "so this is a matter of preserving the economic vitality of the city, too," Young said.
The city's highest profile historic sites – the iconic Colonial buildings — are not of the highest concern in cases of storm surge.
"Fortunately, when William Penn laid out the street grid, the more important buildings were located out of harm's way on high ground," Young said. Independence Mall is not susceptible to flooding, though its buildings could be damaged by severe wind events, he noted.
FEMA National Flood Hazard Layer | Source: PHMC, Jeremy Young

Historic Building Elevation Survey, U.S. Army Corps of Engineers | Source: PHMC, Jeremy Young
Addressing Vulnerabilities
Of the $1.5 million granted to the state, $200,000 was dedicated to the project in Philadelphia, which is being conducted in two phases.
The first phase, involving two teams, began in mid-January. A team of architectural historians recently completed their survey of the historic resources in the flood hazard areas. The U.S. Army Corps of Engineers (USACE), which is providing an additional $135,000 for the Philadelphia pilot project, is leading a second survey team that is collecting detailed building elevation and flood vulnerability data, which will help planners understand how and when the structures may be damaged during flood scenarios. That team's work is expected to be completed in April.
In the second phase, the USACE's National Nonstructural Flood Proofing Committee will develop measures to protect up to 25 different kinds of historic buildings found in Philadelphia, including the city's distinctive, historic rowhouses.
The committee will include preservation architects, rehabilitation specialists, and planners, Young said. "We'll begin to analyze the data that the survey teams collected, and from there we'll determine which buildings are considered the most vulnerable.
"We'll also engage the public and ask them to tell us which buildings they most value," Young said, and consult with property owners who want to pursue measures to protect their buildings. The public engagement process hasn't been determined yet, but Young said it will probably involve community meetings, online surveys, social media and other tools.
There are complex issues involved in determining mitigation measures, which must balance risk reduction and maximum protection with minimal impact on an historic building's character and integrity, Young said.
Funding the next steps
Philadelphia's Office of Emergency Management is responsible for updating the city's Hazard Mitigation Plan every five years, and will incorporate the recommendations from the initiative in the plan due in 2017 to FEMA.
Historic buildings have been referred to briefly in the cultural section of the OEM's filing in the past, but this is the first time a major city includes disaster mitigation measures for historic structures, said Laura Duff, hazard mitigation planning coordinator at OEM. Nationwide historic resources are infrequently included in disaster planning.
The OEM plan looks at a wide range of geographic and demographic characteristics of the city and develops risk assessment for natural and human-caused hazards. The plan includes "a collection of projects that are ready to go if the money becomes available," Duff said.
But for mitigation measures, there are "not a lot of funding dollars," said Noelle Foizen, OEM deputy director for public affairs.
The inclusion of hazard mitigation strategies in the city's plan will make it eligible for federal disaster assistance both before and after a storm event, Kegerise said. "That's why we were so attracted to getting this grant money. We'll be able to use some of the disaster dollars to improve, retain, and preserve the historic buildings."
The initiative takes disaster planning beyond the traditional focus, Young added. "When you include a community's historic built environment, we can make planning not only about life and property, but about sense of place as well."
WHYY is your source for fact-based, in-depth journalism and information. As a nonprofit organization, we rely on financial support from readers like you. Please give today.