All in Time keeping watch in Fox Chase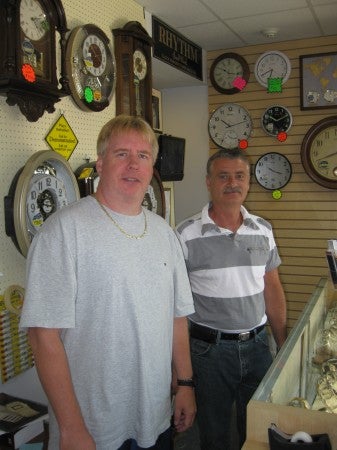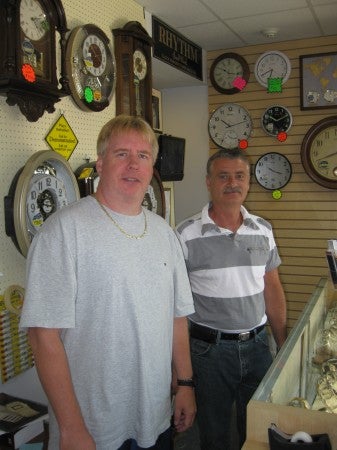 The death knell was sounded for standard clocks and wrist watches in the later part of the last century due to the invention of digital clocks and the advances in cell phone technology.
Why would anyone need a standard clock or a wrist watch when you can awake with the red numbers on your alarm clock or just check your cell phone for the time? Well it seems Americans enjoy the sweep of the second hand, the click of the minute and hour hands on our wrists, in our homes and yes in our public squares or meeting places. There is something about watching time gently pass in front of your eyes.
Problems arise when you need a clock or wrist watch fixed. Where do you take it? Do you dispose of it and buy another? The answer now is located in Fox Chase.
All in Time – Watchmakers & Clockmakers at 7948 Oxford Ave. opened in the heart of Fox Chase in November 2010. Paul Piehl and Roman Fridman noted this area of the Northeast was lacking in watch repair shops. They opened the shop after working for Jules Jurgensen for the last two decades. The family-owned business closed in June 2010 and Piehl and Fridman opened their business shortly thereafter.
Having lost their positions when the watch company closed, it is ironic that these two watchmakers are the only authorized Jules Jurgensen Service Center. As time specialists, they also repair all brands of watches and clocks and never send out for repairs, as all repairs are performed on the site. The shop offer lines of Jurgensen, Citizens and Seiko watches for sale. Of special note are the Bulova and Howard Miller Grandfather Clocks and the amazing assortment of Rhythm wall clocks and mantel clocks.
If you need that watch repaired, want to pick up a reasonably priced watch, desire a grandfather or wall clock you now have a place to go in Fox Chase. No repair is too large or small for the Time Specialists at All in Time.
G.E. Reutter resides in the Fox Chase. You can visit him at his website.