6-alarm fire rips through Dietz & Watson warehouse in Burlington County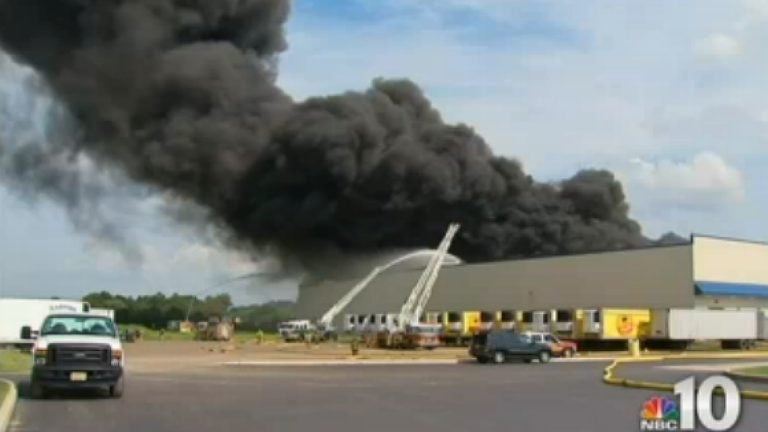 (Updated: Sept 2, 2013 at 11:38 a.m.)
A massive fire that severely damaged a southern New Jersey food warehouse continued to burn Monday morning, nearly 24 hours after it broke out.
Dozens of firefighters were battling the 11-alarm blaze at the Dietz and Watson distribution plant in Delanco. Officials said about 50 percent of the fire had been contained, but their efforts were being hampered by water supply issues and the threat of electrocution due to the thousands of solar panels on the building's roof,
______________________ Earlier story posted Sept 1 at 5 p.m.__________________
Crews are battling a six-alarm fire at a Burlington County, New Jersey food warehouse.
The fire broke out at the Dietz & Watson factory on Cooperstown Road in Delanco around 2 p.m. Thick, black smoke could be seen billowing from the roof of the facility for miles away.
Officials say the fire is currently contained between the trusses and the solar panels on the roof. There have been two explosions so far and at least one wall has come down.
"It's just an intense fire," said Delanco Fire Chief Ron Holt. "It's going to take some time and we don't know what it's going to do. The problem we have with this fire is the whole roof has solar panels on it, so we can't get on the roof to fight it."Related Stories
In 2010, the company installed more than 7,000 solar power modules, which officials claimed would reduce the facility's energy use by nearly 20 percent. Buildings with solar power systems "can present a variety of significant hazards" for firefighters including electrocution, according to the National Fire Protection Association.
The Burlington County hazmat team was called in to test the air quality and say that it is safe. There have been no evacuations at this time. So far, no injuries have been reported.
Sandy Iwanicki, who lives near the warehouse, said she initially thought a plane had crashed.
"It looked to me like the kind of scene you would see if a plane crashed the black smoke was immense it was amazing," said Iwanicki.
Fire officials are concerned that the water and foam being using to fight the blaze could cause the roof to collapse. All firefighters have been called out of the building as a safety precaution.
"The hazard right now I'm worried about is whether I will have a structural collapse," said Holt.
Dietz & Watson officials released a statement regarding the fire on their twitter page.
"Thanks for your thoughts and prayers everyone. Our Delanco, NJ distribution warehouse employees are safe," according to the statement.
Officials say the building was not in operation Sunday. Two security guards were working outside the building.
The distribution center is approximately 300,000 square feet, the size of five football fields.
The company, founded in 1939, opened the center in 2007. It is their main distribution center. They also have processing facilities in Philadelphia, Baltimore and Corfu, New York.
______________________________________________
NBC10 is a content partner with NewsWorks