Postcard from Pittsburgh!
Aug. 6
By Andrew Goodman
For PlanPhilly
When it comes to matters of urbanism, Philadelphia compares itself more to Northeast Corridor cities such as New York, Boston, and Washington, than it does to its fellow statesman, Pittsburgh. Perhaps this is because we know that the effects of industrial decline and suburban expansion have had an even greater effect on the Steel City than the City of Brotherly Love — Pittsburgh has lost over half its population (680,000 in 1950 to 330,000 in 2000) while Philly only lost one-quarter in that time.
But Philadelphians should not turn the other cheek or thumb their nose when discussing the Iron City. Pittsburgh is a smaller version of the best sections of Philadelphia, marked by walkable neighborhoods connected by commercial corridors on the same scale as Baltimore Avenue or Frankford Avenue. And despite falling on hard times, Pittsburgh has learned how to maximize the vacant land left by dirty industry quicker and better than Philadelphia. At the convergence of three rivers — the Ohio, Allegheny, and Monongahela — Pittsburgh has 36 miles of shoreline and is quickly creating models for riverfront development that surpass anything going on in Philly. So to all the yet-to-be-named members of the new Delaware Waterfront Corporation, take note: we could learn a few things from Pittsburgh.
THREE RIVERS RUN THROUGH IT
Rivers are sovereign in Pittsburgh. While one could live a normal life in Philadelphia without ever encountering the Delaware or the Schuylkill, the same cannot be said for the Steel City. For example, anyone commuting into Pittsburgh's downtown or the university area featuring Pitt and Carnegie Mellon must cross a river using one of Pittsburgh's many charming spans (which explains the city's other nickname, City of Bridges).
Because of the water's prevalence, the City of Pittsburgh takes its riverfront development very seriously; the Planning Department creates a new riverfront plan every ten years. Since it finished its last one in the mid-1990s, Pittsburgh has covered 12 of its 36 miles of riverfront in trails, creating a serious regional asset that connects cyclists all the way south to Washington, DC.
How did Pittsburgh accomplish this so quickly? Planning Department veteran Dan Sentz explained it simply: former mayor Tom Murphy loves to jog. The concept of a continuous riverfront trail was so important to Murphy as part of his legacy that he bought land at (or sometimes above) market rate to complete as much trail as possible during his tenure.
The lesson of political will is very clear in Pittsburgh. And the result is a very interesting mix of trail sections: some with picturesque views of elegant bridges, others that pass along the freight railroad tracks, and others that are so green you might feel as if you're in Fairmount Park along the Schuylkill.
'THE POINT:' PITTSBURGH'S "SIXTH SQUARE"
Anyone who defends the Great Plaza as a model for grand public space design should take the drive along I-80 to see Pittsburgh's Point State Park, also known as "The Point" because of its location at the confluence of the Ohio, Allegheny, and Monongahela Rivers.
Originally opened in 1974, The Point was recently renovated thanks to $25 million from the Pennsylvania Department for Conservation and Natural Resources. The project included improving its green spaces and historical installations, as the park includes remains of both Fort Pitt and Fort Duquesne. The Fort Pitt Museum at The Point commemorates the site's importance during the French and Indian War.
Wireless Internet hubs were installed, kiosks provide information on the site's history, and new benches were installed — designed specifically to curb the problem of the homeless sleeping in the park at night. Finally, its signature fountain was revamped with new pipes as well as seating and wading areas for families and children.
It is clear from these renovations that Pittsburgh understands the importance of maximizing its most centrally located riverfront park. Similar opportunity exists at Penn's Landing to make it a public space that celebrates its historical significance as well as its spot in the Philadelphia city fabric. And $25 million from the state would certainly help the cause.
REMEDIATE THIS!
The central Delaware landscape is defined by large parcels of land leftover from a time when industry ruled the riverfront. Now that these operations are gone, questions remain about how best to redevelop this land, much of which is said to be contaminated because of its old industrial functions. While our only examples of post-industrial development along the central Delaware so far are high-rise gated communities (Waterfront Square), asphalt concert venues (Festival Pier/incinerator site), and suburban-style big-box stores (Pier 70), Pittsburgh has some better models that Philadelphia can reference.
The most successful one so far is SouthSide Works, a 34-acre town center that offers open-air retail, office, entertainment, and residential uses on a former steel plant site. Though the site first housed training facilities for the Steelers and Pitt Panthers, it now has over 300,000 square feet of retail, a town square for public performances and block parties, a riverfront trail that connects to Pittsburgh's expanding trail network, and the global headquarters of American Eagle Outfitters. This $300 million complex is a large reason for the recent rebirth of the South Side neighborhood, which is now seeing new people move onto the blocks that once housed thousands of mill workers.
What makes this New Urbanist-style redevelopment stand out is the fact that it is connected into the Pittsburgh urban fabric. Residents in the adjacent South Side neighborhoods bus or walk to the Works, integrating it into the existing city in a way that strip malls or suburban developments cannot be assimilated. This reuse of land in a way celebrates and strengthens the existing city is a great example of what it means to be "sustainable" on an urban scale.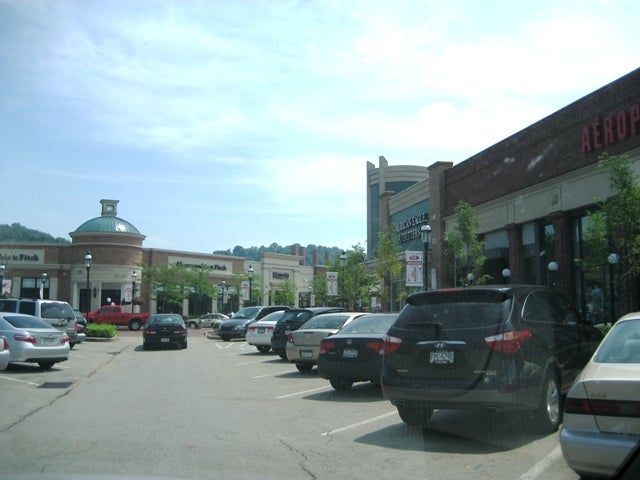 CASI-YES?
Any Philadelphian cannot help but notice while strolling on Pittsburgh's trail that ground has already been broken on its riverfront casino in the North Shore district. These photos were taken last month of the Majestic Star the week construction halted due to missed contractor payments. As you can see, the parking garage was the first thing constructed, and it will contain over 3,000 parking spaces despite an almost-complete billion-dollar subway connector under the river into the North Shore.
So for any Philadelphians curious about what the Gaming Control Board's casino model looks like in reality, consider this your first glimpse.
However, there are some important differences between the Majestic Star and Philadelphia's Foxwoods and SugarHouse casinos. Primarily, its neighbors are not single-family homes. It sits comfortably in Pittsburgh's stadium district, next to PNC Park (Major League Baseball stadium that rivals CBP) and Heinz Field (National Football League stadium). There are neighborhoods to the north, but they are separated by a sea of highway overpasses and ramps that rival some of the most extravagant displays of auto domination that California has to offer. So while Pittsburgh is a useful comparable, it shows that Philadelphia's concerns with casinos are very unique at this time.
So as Philadelphia begins the master planning of its original riverfront, it would be remiss to ignore its cousin on the other side of the state. If Pittsburgh can redevelop its riverfront so successfully with only one-fifth of the population as Philadelphia, the opportunities for the City of Brotherly Love are very promising.
Contact the reporter at agoodman@design.upenn.edu
Andrew Goodman received a B.A. from the University of Pennsylvania; and an M.C.P. from the University of Pennsylvania (urban design concentration). He joined Praxis part-time in the summer of 2005 and full-time in January 2007. Other civic engagement projects he has worked on at Praxis include the Franklin Conference on School Design, Creating a Civic Vision for 40th and Market Streets, the Civic Vision for the Central Delaware Waterfront and the Kimmel Center Public Spaces project.
WHYY is your source for fact-based, in-depth journalism and information. As a nonprofit organization, we rely on financial support from readers like you. Please give today.