315-323 N. 12th Street

July 24
In The Zone is a periodically updated listing of large or significant zoning changes, developments, building additions or demolitions to come before the Zoning Board of Adjustment.
Items are listed in order of hearing date. If significant items are missing from this or previous lists (see below), or if you have general news regarding the Zoning Board of Adjustment, please contact reporter at thomaswalsh1@gmail.com. Public hearings are held at 1515 Arch Street, on the 18th floor.
The following items are on the agenda for upcoming ZBA hearings:
Tuesday, August 12, 2008; noon
The owners of the 10-story building at 315-323 N. 12th Street (just north of Vine, between Pearl and Wood streets on the east side of the street) are seeking a use variance to build two more floors and convert the structure to 145 residential units. The limited partnership which owns the building is represented by Blank Rome's William Kerr and Reed Lyons.
Tuesday, September 9, 2008; 9:30 a.m.

Photo by Isaac Steinberg
A special permit and zoning variance for the partial demolition of 223-225 S. Sixth Street and the building of a 17-story addition is sought to create a "12-family dwelling and library" that would apparently alter two historic buildings.
The project would breach the wall of the adjacent structure, 219-221 S. Sixth Street, the home of The Athenæum of Philadelphia, a special collections library (known for its architecture and historic design collections) founded in 1814. It is an historic Italianate Revival brownstone built in 1845.
A "unity of use" agreement will be filed. The buildings are on Washington Square, on the east side of Sixth, near St. James Street, between Walnut and Spruce – a half block from Independence Square.
The building to be partially demolished, at 223 S. Sixth, is a three-story, red-brick Colonial Revival mansion wedged between the Athenæum and the J.B. Lippincott building (another striking Italianate building, erected in 1900 as headquarters for the publishing giant, now slated for condominiums).
According to the Independence Hall Association, 223 S. Sixth was built by Mayor Richardson Dilworth and his wife Ann in 1957, and designed by prominent architect G. Edwin Brumbaugh. The IHA's Web site, www.ushistory.org, says Brumbaugh "also restored Washington Square in the mid-1950s. The mansion was built to show the first family's commitment to the revitalization of Society Hill, then a run-down part of the city. It proved an inspiration to other 'pioneers' who followed into the community."
Owners John J. Turchi, Jr. and Mary Elizabeth Turchi are represented by attorney Neil Sklaroff.
Wednesday, September 17, 2008; 1 p.m.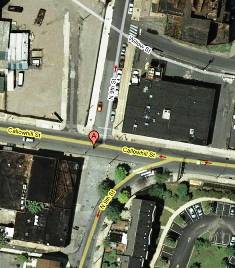 Wing Lee Realty Investment, the owner of 900-902 Callowhill Street, is seeking several zoning and use variances for demolition and a multi-use development. All structures on the lot would come down, with a building as high as 15 stories in their place.
Plans – at least those listed in the ZBA's hearing schedule – include a supermarket on the first floor; a restaurant on the third floor; parking with 185 spaces on the fourth and fifth floors; a health center, meeting rooms and offices on the sixth; a hotel (with 52 units) on the seventh; and 130 apartments on floors eight through 15. There would also be an underground parking lot for 165 vehicles.
Attorney Glenn Hing represents the owner.
– Thomas J. Walsh
WHYY is your source for fact-based, in-depth journalism and information. As a nonprofit organization, we rely on financial support from readers like you. Please give today.