Straight talk from Inga Saffron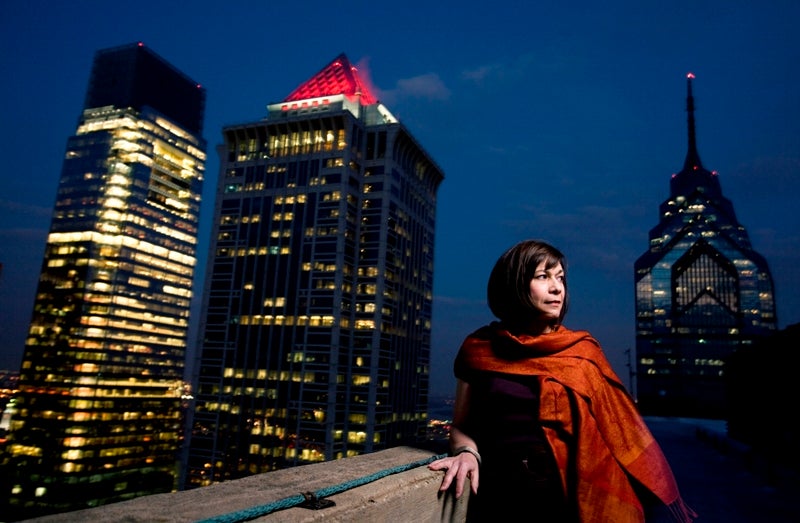 Photo by Ryan Donnell for Planphilly

By Kellie Patrick Gates
For Planphilly
Inquirer architecture critic Inga Saffron – who was a Pulitzer Prize finalist for the second time this year – sat down with PlanPhilly reporter Kellie Patrick Gates earlier this year to talk about current planning and design issues in the city. This is what she had to say that recent day, on a bench at Rittenhouse Square.
PlanPhilly: How did you get to be The Inquirer's architecture critic?
Saffron: "I previously worked in Jersey, then as a foreign correspondent." (Saffron first joined the paper in 1985. One of her correspondent jobs was in Yugoslavia, where she covered the war. The experience made her think a lot about cities and the dynamics of cities.) "The whole purpose of the war in Yugoslavia was to destroy cities. It was the city vs. the countryside. A lot of people think it was the Serbs vs. the Croats vs. the Bosnians. But it was the multi-ethnic cities vs. the single ethnicity countryside."
(She also worked in Moscow.) When she returned in late 1998, "I volunteered to be the architecture critic. I had no competition – no one lese wanted it."
PlanPhilly: Do you like being the architecture critic?
Saffron: " I love it. I think it's the best job in town, the best job in journalism. This is a refreshing and exciting time. I'm really excited to see how it turns out."
PlanPhilly: Mayor Michael Nutter talks a lot about planning. His first appointments were all zoning and planning related. Is this something new for a Philadelphia mayor?
Saffron: "He is clearly differentiating himself from Street in a good way." Both Street and his predecessor, Ed Rendell, were "anti-planning," Saffron said. The city also lost its planning muscles due to inactivity. "When you look at the past 25 to 30 years, there was only one brief period of serious building before the current boom, which is now ending. Between 1989 and 2000, almost nothing was built. Here is a city out of the habit of planning, after a long dry spell."
Between 1989 and 1991 was the worst of it, Saffron said. There had been an overbuilding of office space, so there was an oversupply, she said. Then came the Savings and Loan Crisis – the government bailout was in 1989. To illustrate the market forces at the time, Saffron tells a personal story.
"The previous owner of my (Center City) house had bought it in 1989, at the top of the market. We bought it in 1998, and we paid $20,000 less than she had. After nine years, the price hadn't recovered."
When Rendell became mayor in 1992, "he came in thinking that what's kept the city from building is too much regulation. He was anti-planning, and Street continued that Laissez-faire approach to development. So we had 16 years of no planning. And unfortunately, during that time, we had the biggest private construction boom this city had seen since the stock market crash (of 1929)."
Saffron can see it Rendell's way, to a point. When no one is building in your city, you want to do whatever you can to change that, she said. "But you can cut through the red tape and make the process more stream-lined and still have oversight."
Saffron said that Rendell "took a simplistic and overly extreme position that in the end was self-defeating." She sites two proposed entertainment complexes as examples – one proposed by Simon Properties for Penn's Landing and another, from Disney, for 8th and Market.
"At both Penn's Landing and 8th and Market, he cut the planners out of the projects," she said. The two were competing against each other, she said. As part of the Disney proposal, the Parking Authority bought space for a parking garage. It is now a parking lot. "There was no way to evaluate the public investment. A lot of money was spent by the Parking Authority."
Neither proposal panned out.
Street "adopted the same anti-planning philosophy as Rendell, only worse," Saffron said. "After the Simon collapse, he had a 22-month RFP for a developer. He refused to see Penn's Landing in its larger context, and essentially said to the developers, 'You tell me what you want to build.'"
The new baseball stadium also shows a lack of planners' involvement, Saffron said. It would have been much better at Broad and Spring Garden, she said. "There's no real multiplier effect of new businesses where it is now. Every other major city that has built a baseball field recently has done it in the city center."
By 2008, when developers wanted to build the super-tall American Commerce Center at 18th and Arch streets, "they went to the neighborhood group first, not to a central authority" Saffron said. This is a big indicator of how much the city planners' role had been devalued, she said.
Not that she blames the city's neighborhood associations for taking an active role in planning. "They took matters into their own hands. They have a right to be involved, and as no one else was involved, they were left to do it themselves. They are volunteers who were not trained, and had no experience in what to ask for," she said. Many associations paid for their own master plans, she said, and it's astonishing that a volunteer group would have to assume such a role. "It's as if the city had said, 'We're not picking up your trash anymore. You can handle it yourself.'"
PlanPhilly: So how is Nutter doing?
Saffron: "Nutter is more worldly and sophisticated. He sees the need for a better balance between making it easier for developers and looking out for the public good.
"I thought the thing with Stamper Square was a pretty good compromise, given the situation. Nutter hired Andy Altman, who said that you can't give carte blanche rezoning. If you give rezoning, there should be a price.
"It's so simple. Why hadn't anybody thought of that before? Rezoning was done left and right under Street, and no one thought to ask for money for it. It's a very good rule of thumb: If we give you a special deal, it comes with a price – a public price.
"Unfortunately, in the past, the price was campaign contributions."
Saffron said it's way too early to judge how well Nutter will do, though. "You can't change the world in 100 days," she said. "But he hired people who are clearly skilled and pro-planning. He hired a director of sustainability. Planning is a theme at a lot of events. You can't change the world on day 1 or day 100, but you can set an agenda. You can hire people who believe in planning as a philosophy, and you can talk about that philosophy as a leader. You can change people's expectations, and the expectations of developers and developers' lawyers.
"He has done what a leader does. We have to wait to judge how well he does, but he's set the boat on the right course."
The fact that development has slowed just as a mayor who says planning is important does not concern Saffron. "We are entering a much slower time, but it's good to catch your breath, to evaluate what you have done and get perspective on it." Besides, she said, planning has a much greater effect in the future than in the present, so any planning now will be in place to guide the next boom, she said.
Plan Philly: So what is your role in planning and design in Philadelphia, and do you see your role changing with this new administration?
Saffron: "I think about that a lot. Street was such a fat target for a columnist because he did things so badly. When you have someone who is more sophisticated, the response of the critic is different – but you can't be a cheerleader, and you can't be a nitpicker. As a newspaper critic, you have to be an independent voice with no stake in the outcome.
"That said, columnists always have a hobby horse they beat over the head. In the last decade, (my horses) have been parking and parking garages, waterfront planning, public spaces. What my hobby horses will be in the new administration? They'll come to me, I feel."
At the heart of things, it all comes down to quality of life, Saffron said. "Are there enough public spaces, are there enough parks? Are there enough amenities? The population is much more mobile now, and they have more choices about where they live" so it's the amenities that persuade people to chose a city to live in.
Saffron already has some "hobby horse" ideas. "Councilman James Kenney brought up a good issue, that sidewalks are often blocked by construction," she said.
"We've talked so much about planning, but I'm really an aesthetic," she said. And she'll continue to write about the looks of projects in the city. She brought up a recent column in which she panned the appearance of the Symphony House condominium on Broad Street. "Good urban values can do a lot for mediocre design," she said. "You can get pretty far with good urbanism, but you can't go all the way. I think the city has to continually raise its aesthetic aspirations."
PlanPhilly: What is your favorite building in Philadelphia?
Saffron: "That's like asking a mother 'who's your favorite child?' There are lots of buildings I like and enjoy."
PlanPhilly: A slightly different question, then. In the past 10 years, what's the best example of design and planning you've seen? And what's the worst example?
Saffron: "The best example is the University of Pennsylvania re-orienting the campus outward to Walnut Street, and beginning to reconnect to the city. You can see a visible transformation of Walnut Street. They literally turned buildings around so that front doors are facing Walnut Street. They built new buildings with public spaces – outdoor and retail space. There's a critical mass of residential and a 24-hour environment. They wanted a livelier edge (for the campus) and they wanted it to be safer, and to reconnect with the city. It's no longer a fortress."
Saffron said she could not choose just one worst example, so she gave several: "Jefferson Garage. We've damaged big blocks of Chestnut Street – there's a hole between two thriving ends. And it's bad for cities if they can't connect their thriving parts. The fact that Trader Joe's has no door on Market Street. Condos 2323 have no retail on the first floor. Penn's Landing. The utter neglect of East Market Street."
PlanPhilly: What do you think of the casinos, both in terms of design and planning?
Saffron: On planning "it's another planning failure under the Street administration. But the whole way casinos were conceived in the state was an example of poor planning and anti-democratic. It was very top down, and there was a lot of taking away local control.
"When Massachusetts proposed casinos, they had a public referendum. We didn't. There was no broad public discussion. And the Street administration, instead of taking a strong, activist approach, took a very passive approach.
"There was a study, but they only evaluated the sites the casinos proposed. Why not look at what would be the best site for the city? So, it was 450-500 pages of a stupid report ranking the sites the casinos chose. It didn't even say clearly 'we like this one and that one.' Because it did not take a strong point of view, the Gaming Control Board used other criteria, mostly what will make the most money for the state?
"The Street administration didn't believe in control of the city's own destiny. It was a failure of leadership."
And the design aspect of the casinos?
"It's so formulaic there's almost no design," Saffron said. The state dictated many things, and industry standards dictated many others. "The state insisted on a certain number of slot machines. The state will take 54 percent in taxes – the second highest tax rate in the country. When you take that much out, you're taking it out of design."
Saffron went to Harrah's Chester casino one night. "There is an incredible neon display on the façade. I thought it was great, in pure appreciation of the commercial self-promotion aspect, it was fabulous," she said. But inside, it was kind of low-budget."
Saffron said Pennsylvania – particularly Philadelphia – would be better off with full-service casinos that included table games.
"Everyone knows slot machines are the low end of the market, even though they produce most of the revenue. Table games attract more affluent, more educated people – and out of town customers. It's the table games that cause the industry to provide hotels, shops and restaurants. In a city like Philadelphia that already has a tourist industry, we would be better served to have higher-end casinos. If the rest of the state couldn't bear table games, it should have been an exception for Philadelphia."
Saffron compared serious gamblers to serious golfers. "They see casinos like golfers see golf courses – they like to try different ones. They will travel to casinos with amenities. Slot parlors are convenience gambling for the locals."
PlanPhilly: But the local casinos have planned future phases that include things like hotels, condominiums and retail spaces.
Saffron: "It's all bullshit unless table games are introduced. I don't believe we'll ever see hotels and the other amenities unless there are table games."

PlanPhilly: Where do you think the proposed casinos should be built?
Saffron: "I like the airport location. There's good highway access, it has infrastructure, there are no neighbors. If we got one off of the river, it would be better."
Some other proponents of an airport location believe it would likely attract more out-of-town visitors who are passing through the airport, anyway. Saffron doesn't think the location would add many more visitors. The appeal is mostly that something aesthetically displeasing would be far away from residential areas.
Saffron said she would prefer that no casinos were located on the river. Of the five proposals made to the Gaming Control Board, Pinnacle and Trump were her favorites. "Pinnacle had the best design and amenities. Trump had the Budd site – an 80-acre industrial site. The geography separates it from the neighborhoods, and it could be accommodated with slight improvements in the expressway."
Saffron said if she were "King of the World," she'd put one of the casinos at the airport, and another at the Budd site."
Contact the reporter at kelliesgates@gmail.com
WHYY is your source for fact-based, in-depth journalism and information. As a nonprofit organization, we rely on financial support from readers like you. Please give today.