Sizing up the American Commerce Center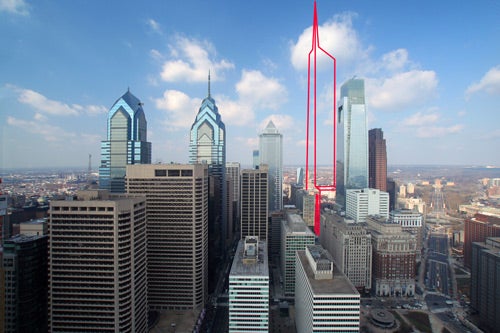 Graphic courtesy of Brad Maule/Phillyskyline

April 3
By Steven Ujifusa
For PlanPhilly
If constructed, the American Commerce Center would soar 1,500 feet into the air, surpassing the Comcast Center by five hundred feet. The first several levels of the mixed-use structure would include shopping, dining, and a movie theatre. The public access portion of American Commerce Center will be topped by a rooftop garden perched six stories above the street. The east tower, which tops off at 500 hundred feet — the old height limit of William Penn's hat atop City Hall — will house a hotel and meeting rooms. The western tower (the tallest portion) is reserved for office space and will contain 63 rentable stories. Both towers will be connected by another roof garden.
If realized, the building would be crowned by a sleek triangular spire, oriented towards the Benjamin Franklin Parkway and the Art Museum. Loading docks will be located on Cuthbert Street.
Bill Louie, a principal at the architecture firm of Kohn Pederson Fox, recently presented plans of the proposed American Commerce Center. Other members of the American Commerce Center project team include Garrett Miller of Walnut Street Capital, Lloyd Sigal and Lilei of Kohn Pederson Fox, and Thomas Chapman of Blank Rome LLP.
Sigal, of Kohn Pederson Fox, says that the American Commerce Center offers a "vision of the 21st century for Philadelphia." Sigal adds that "this can be a catalyst for how this part of Philadelphia can grow in the future. The project is mixed-use in nature, with a large amount of public space and activity spaces and green terraces."
One of the building's most notable features is a "window" cut out of the building's east side, which will frame Arch Street Presbyterian Church. The historic domed structure now sits cheek-by-jowl with the Comcast Tower. Lilei, another architect at Kohn Pederson Fox, says that that this design feature demonstrated "greater historic sensitivity towards the church than the traditional straight up-and-down high-rise gesture, which would have been devastating."
"This is a terrific, forward-looking urban design," said David Brownlee, chair of the art history department at the University of Pennsylvania. "My main concern is that people will be asking why we are building the Freedom Tower in Philadelphia?" Brownlee also had misgivings about the tower's proposed location on Arch Street, which is not a main thoroughfare. "I wish it had been placed on Market or Broad rather than Arch," he said.
Craig Schelter, former head of the City Planning Commission and PIDC, thinks the project's ambitious scope will be a great boost for the city's self-image. "I'm really excited a developer could think a building of this quality could be marketed in Philadelphia," he said. "However, the retail and traffic circulation at street level needs some more consideration. We saw a lot of images of what Kohn Pederson Fox has done in Asia, but they could have demonstrated more of their projects in Philadelphia. For example, how were they able to make the access at the Four Seasons Hotel work when they planned that project?"
David Feldman, executive director of Habitat for Humanity Philadelphia, expressed similar concerns about the site's ability to handle the tremendous amount of new traffic the tower structure will generate. "There are a lot of exciting design elements and it had a great approach towards Arch Street," noted Feldman "but it does not adequately address the additional cars and service vehicles that will be using 18th and 19th Streets." Feldman also had strong reservations about the building's appearance. "It's blocky, has weird angles, and not very inspiring. It does not have an artistic top like Liberty Place or the Verizon building."
Some observers are captivated by the building's green features, most notably its green roofs and proposed LEED certification. One of them is www.phillyskyline.com's Brad Maule. "This will be benchmark in green construction," Maule said. "The environment is on everyone's mind today, and in a place as pessimistic as Philadelphia, we need a big example of green construction. The Onion Flats in Northern Liberties are a great example of green design but they not big enough. This would be a great benchmark for Mayor Nutter, a green building that he can point to with pride." Maule then added, "If the money is there, why not build it?"

Contact the reporter at steven.ujifusa@gmail.com