Nutter revokes SugarHouse license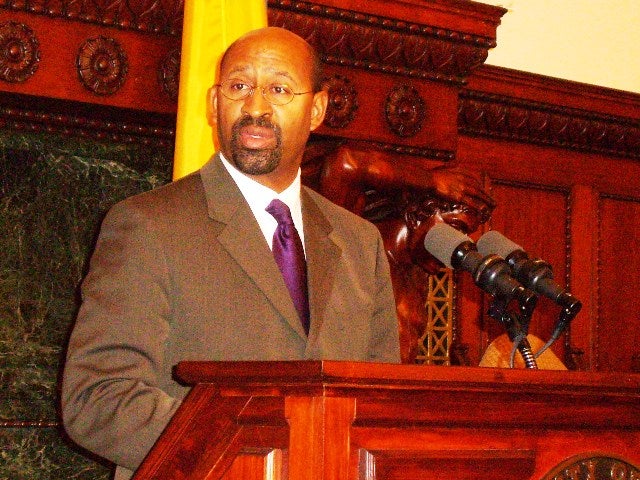 Jan. 24
By Matt Blanchard
For PlanPhilly
Mayor Nutter's Commerce Department today revoked a key license that would have allowed SugarHouse Casino interests to build on 12 acres of submerged riverfront land.
The "riparian lands" license was originally issued in November by Street administration commerce director Stephanie Naidoff. But at a 2:30 p.m. press conference on Thursday, Nutter said that decision was "based on certain fundamental errors" and "an abuse of discretion".
Among several such "errors", Nutter said the city had failed to adequately assess the economic and social impacts of casinos on surrounding neighborhoods.
"This is not your garden variety development," he said. "There is very little experience across the country with a development of this kind … A legitimate review will ask 'What are the real costs? What are the real benefits?'"
Further, Nutter said the license had been "rushed" at the tail end of an exiting administration.
"There's a credibility-of-the-process question here, about how we do business in Philadelphia," he said.
SugarHouse has 30 days to file an appeal for a second, expanded hearing before the city commerce department. The 12 riparian acres represent more than half the casino's proposed site on the Fishtown waterfront.
Anti-casino activists applauded the move.
"I'm profoundly relieved that we finally have a mayor who appears to be making decisions on the merits," said Ed Goppelt, author of the political blog Hallwatch.org.
Sugarhouse will fight
Sugarhouse, however, looks ready to resist. So far, the casino has won two rounds before the state Supreme Court. A statement issued by SugarHouse CEO Greg Carlin on Thursday suggests the casino will fight Nutter's move.
"We fully expect the City, regardless of a change in its administration, to honor all of its contractual obligations," Carlin wrote. "We have been advised by our legal team that the City's action to rescind our submerged lands license is contrary to law given the pending litigation surrounding that license."
Former commerce director Naidoff, too, defended her decision to grant the license.
"We used our best judgment and carefully considered," Naidoff said. "I think the opinion will stand for itself."
Nutter's acting commerce director, Duane Bumb, saw it differently.
"The city had not reviewed submerged lands for 20 years," said Bumb, who had been deputy commerce director under Street when the license was issued.
"It was a little-known process involved here, and that probably should have caused us to be more cautious," Bumb said. "We hurried it more in a way that was helpful to the project," he said, than it may have been to other concerns, such as the community.
A legal tangle
If Nutter's move succeeds, it may preempt a pending yet another State Supreme Court case.
When the Street Administration issued the license, it appeared to buck an assumption that riparian lands are controlled by the state, not individual municipalities – and state legislators joined with the Philadelphia City Council in filing suit to stop the license.
The Street administration, however, produced a 1907 law granting the city some level of control over submerged riparian lands. Judges are preparing to decide whether that law applies in this case, but Nutter said yesterday the issue is "moot." While defending the city's right to issue such licenses in theory, he said revoking this particular license renders the pending court case irrelevant.
It remains to be seen whether the courts agree.
Where will it end?
With the casino battle now sprawling across several domains – red-bellied turtles, Revolutionary War archaeology, state courts, zoning law and local politics – one might wonder which way the battle is trending.
Anti-casino activist Hillary Regan said her side is upbeat, with the solid backing of local politicians, and an ongoing campaign to lobby City Council.
"It's the right climate to win," she said.
Frank DiCicco's legislative aide, Brian Abernathy, said he was encouraged to see Nutter's concern for the river wards, and commitment to open, public government.
As to where it will all end, however, Abernathy sounded a note of resignation.
"Everything's going to end up in court," he said, half-joking. "It will all funnel down to a series of court cases, no matter what we do."
Nutter's sticking points
Nutter outlined about six reasons for revoking the Sugarhouse riparian license, explained to varying degrees:
– The city should have considered whether a casino is an appropriate use for riparian rights.
– The Sugarhouse project approved by the Philadelphia City Planning Commission was substantially different from that originally approved by the state Gaming Control Board.
– The commerce director's decision to grant the license was rushed, with only one public hearing
– The public and the General Assembly "expect" state control of riparian lands
– Wetlands mitigation concerns were not answered
– The license was issued at the end of an outgoing mayor's term
Nutter declined to express a strong personal opinion about the future of casinos in Philadelphia, saying only that he was "not a fan" of either riverfront site. Neither did he say whether Sugarhouse ultimately deserves to receive a riparian license.
"We are not finally deciding this particular matter, but inviting Sugarhouse into a hearing," he said, adding later: "This is about process and procedure."
WHYY is your source for fact-based, in-depth journalism and information. As a nonprofit organization, we rely on financial support from readers like you. Please give today.