2015 New Jersey primary election results of key races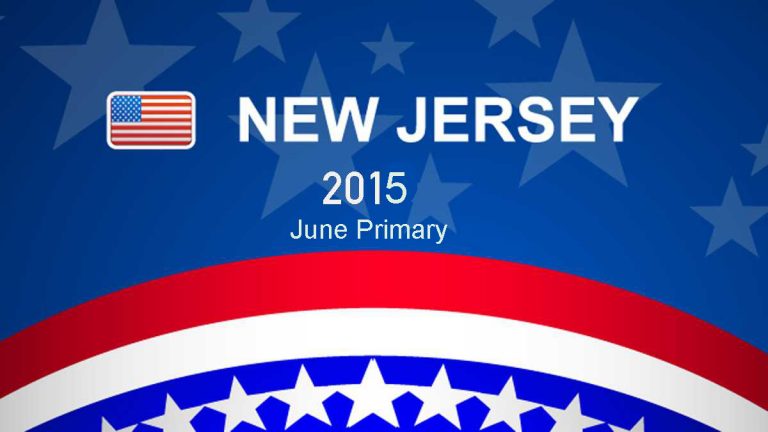 A former aide to Sen. Bob Menendez and his ticket mate have won the Democratic primary for the open Assembly seat in Hudson County.
Former aide Nicholas Chiaravalotti and Angela McKnight defeated Joseph Conte and Ray Regalado and Bruce Alston and Washington Flores.
McKnight is the founder of a nonprofit that aims to help seniors.
The winners had the support of the influential Hudson County Democratic Organization. The district has been solidly Democratic and they're poised to succeed outgoing Democratic incumbents Charles Mainor and Jason O'Donnell.
The district includes Jersey City and Bayonne.
___
9:35 p.m.
Incumbent assemblymen Jamel Holley and Annette Quijano have defeated two slates of challengers to win the Democratic primary in Union County's 20th District.
Holley and Quijano defeated Elizabeth Board of Education member Tony Monteiro, Gi uliano Farina, Jorge Batista and Vivian Bell.
The race was among the most interesting in a primary that saw only five of 40 contests with challengers.
Quijano has served in the Assembly since 2008 and is a former chief of staff to state Sen. Ray Lesniak. Holley is the former Roselle mayor who was selected for the seat after Joe Cryan resigned.
The incumbent spent nearly $500,000 in the race. State records show data for their opponents was unavailable.
___
9:30 p.m.
Incumbent Republican Assemblyman Parker Space and ticket mate Gail Phoebus have won a GOP primary in northwest New Jersey.
Space and Phoebus defeated challengers Marie Bilik, of Andover, and Nathan Orr, of Branchville.
Phoebus joined the ticket after incumbent Assemblywoman Alison Littel McHose said she would resign earlier this year.
Phoebus has served as Andover mayor and is now deputy mayor.
Space returns after winning election in 2013. He had earlier b een appointed to seat after a vacancy.
The district covers the northwest corner of the state, including all of Sussex County and parts of Morris and Warren counties.
___
9:20 p.m.
Incumbent Democratic assemblymen Reed Gusciora and Elizabeth Muoio have won their primary in central New Jersey.
The ticket fought off a challenge from Lawrenceville attorney Dan Toto in the 15th District race.
Gusciora has served in the Assembly since 1996, while Muoio was tapped this year to fill the seat vacated by Bonnie Watson Coleman. Muoio serves as chair of the Mercer County Democrats.
Together the incumbents have raised almost $100,000 to Toto's $4,200.
___
9:15 p.m.
Incumbent Republican assemblymen DiAnne Gove and Brian Rumpf have defeated two challengers in a southern New Jersey GOP primary.
Gove and Rumpf defeated Fredric Kociban, of Little Egg Harbor, and Howard Height, of West Creek, in the 9t h District race.
Gove has served in the Assembly since 2009 and Rumpf since 2003.
State records show the incumbents spent a combined $61,000 while the challengers opted not to raise money.
The 9th District includes parts of Atlantic, Burlington and Ocean counties.
___
8 p.m.
Polls have closed on New Jersey's primary elections for Assembly races across the state.
Registered Democrats and Republicans went to the polls Tuesday, though only five of the state's 40 districts were contested.
Each district sends two people to the Assembly and candidates usually run together as a ticket. Candidates are vying for a chance to be on the general election ballot for the Nov. 3 contest.
Experts expected turnout to be low, and the poor weather traditionally keeps voters away from the polls. They also said turnout could be lower than usual since the Assembly alone is at the top of the ticket.
Sixteen years ago was the last time voter s saw this at the polls. Turnout was just 6 percent then.
___
5:46 p.m.
Voters are still finalizing their picks in the primary, but this fall's main event is already coming into focus.
The polls close at 8 p.m. on Tuesday and just five of the state's 40 legislative districts feature competitive races.
That mirrors roughly the number of competitive races experts say they expect on Nov. 3 when voters will elect a new General Assembly.
The Assembly is atop the ticket for the first time since 1999 for the first time in 16 years because of a quirk in term lengths.
At stake for Democrats is the opportunity to build on their majority. They control 48 of 80 seats. Republicans have a chance to capture the majority for the first time since 2001, though, analysts that would be a difficult.
___
6 a.m.
A quiet primary season will wrap up as New Jersey voters head to the polls to pick Democratic and Republican candidates for Novem ber's Assembly election.
Polls opened at 6 a.m. Tuesday and will close at 8 p.m. across the state. Only voters registered with either party can cast votes in the state's closed primary.
The Assembly is atop the ticket for the first time in 16 years because of a quirk in term lengths, and in 35 of the state's 40 districts the primaries are not contested. Some voters will cast ballots for other offices, like freeholder and county executive. Others will have only uncontested Assembly races on their polls.
Experts expect turnout to be quite low. In 1999, the last time Assembly races topped the ballot, only 6 percent of eligible voters went the polls in the primary – fewer than 300,000 voted in that election.
Here's a look at the profile of this week's election:
Democratic voters in New Jersey's 15th, 20th, and 31st districts will see contested races, while the GOP features contests in the 9th and 24th districts.
Each district elects two people to the Assembly, and most party-backed candidates run together as a ticket.