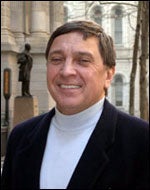 Frank DiCicco
Age: 61
Education: Graduated from St. John Neumann High School. Took a real estate course at Temple University and has a real estate license.
Professional: Life-long government/politics worker. Court administrator of Philadelphia Traffic Court from 1991-95. City Councilman since 1996.
Personal: Married to Maria. Two grown children, Frank and Christian, from a previous marriage.
Philadelphia resident: Since birth. His family has lived in the same zipcode since his grandparents came from Italy.
Neighborhood: Passyunk Square
Appointed by: City Council Chairwoman Anna Verna.
Q&A
Why is zoning reform important to you? Because the last time (the code) was revised was about the time I was born. It's antiquated. It's not reflecting of today's environment. Building standards and materials have all changed dramatically in the past 40 to 50 years. Much of what we have in the code today acts as a disincentive for developers who want to do business in Philadelphia.

Why are you a good choice for this commission? With my experience in politics for the last 40 years or so, I have always had something to do with development, more so since I've been on Council. My district, the first councilmatic district, has more development than any of the other districts, and has for the past 10 to 12 years running. I deal with the Civic Associations.
We all want to see development happen. And we want the developers to do the right thing by the neighborhoods. Too often, when the developers have a proposal to build something, it winds up in conversations, in disagreements, between the developer's wants and the community's needs. That takes time, and time acts as a disincentive to developers.
I believe if we can get this in place, if we can set things up right in the new code, a lot of decisions that are being made ad hoc between the developer and the community groups can be made on the front end.
I have been dealing with this all of this time, and I understand what the issues and problems are.
What is the most pressing zoning issue Philadelphia faces? For me, it's two casinos. Casinos are the big issue in my district right now.
Citywide, it's (building) height. At Broad and Washington, there is a parcel that's been vacant for more than 20 years. There have been several proposals, but they've never come to fruition. The big issue is height. People aren't used to height, but its part and parcel of a city. We have to figure out where it is acceptable and where it would be too dense and out of character.
What should be done to address this issue? (As far as casinos go) I don't think the Zoning Code Commission will get to that. The issue will be resolved one way or the other before the (code revision) is complete.
The establishment of the Zoning Code Commission is a major step in attaining the other goals. We have to change the way we do things.
WHYY is your source for fact-based, in-depth journalism and information. As a nonprofit organization, we rely on financial support from readers like you. Please give today.